iPhone 6 vs. Samsung Galaxy S3: What We Know Right Now
In the past four months, we've started to hear more and more about Apple's rumored iPhone 6 with many rumors starting to firm up as we move deeper into the new year. With rumors flying around, and current smartphone owners thinking about upgrades, we want to take a look at how the rumored iPhone 6 is stacking up with a device that many people are thinking about ditching, the Samsung Galaxy S3.
Back in May of 2012, Samsung introduced a smartphone that would help propel it onto the same pedestal as Apple and its iconic iPhone. That device was the Samsung Galaxy S3, the company's best selling smartphone that is currently in the hands of millions of consumers in the United States and around the planet.
The Samsung Galaxy S3 is nearing its second birthday and that means that many consumers are coming to the end of their contract. The Galaxy S3 arrived in June and July in the United States and we're already getting questions from Galaxy S3 owners who are thinking about ditching their device when their contract ends.
There are, of course, a number of smartphones on the market right now that should be tempting to Galaxy S3 upgraders. Devices like the Samsung Galaxy S4, Galaxy S5, Galaxy Note 3, LG G2, Nexus 5, Nokia Lumia Icon, and iPhone 5s are just the tip of the iceberg when it comes to potential options. And let's not forget about all of the rumored smartphones.
One of the biggest rumored names is iPhone 6, the device that is expected to take over for the iPhone 5s at some point later this year. And while many Galaxy S3 users will likely be looking at Android smartphones, there are others that are probably weighing a switch to Apple and its iOS software.
iPhone 6 rumors suggest that Apple might be ready to make some significant changes to the iPhone including another jump in screen size, something that will make the decision for many smartphone shoppers that much more difficult.
The iPhone 6 release is still several months away at least but there are still enough credible rumors to warrant an early comparison to the Samsung Galaxy S3. This comparison aims to help set the expectations of current Galaxy S3 owners who might be thinking about making a change. It will also help prospective Galaxy S3 buyers put things into perspective as we head deeper into the year.
Release Date
The Samsung Galaxy S3 was first released back in May of 2012. In the United States, it emerged in June and July. Since then, we've seen Samsung release two new Galaxy S smartphones, the Galaxy S4 and Galaxy S5, that has effectively wiped the Galaxy S3 off of shelves. Consumers can still find it at some retailers but it's no longer easy to find.
What this means is that those who are thinking about buying the Galaxy S3, new or used, will want to call ahead before going down to a store in an attempt to get hands on. We always recommend going hands on before buying so it's certainly going to be worth the trouble.
Of course, Galaxy S3 owners and those thinking about buying one are going to have to wait to physically compare the iPhone 6, Apple's rumored 2014 iPhone, to Samsung's aging former flagship.
iPhone 6 launch rumors almost exclusively point to an arrival in fall. As we've pointed out several times already, the rumors make sense given that Apple's past three iPhones launched in the fall. Apple tends to stick with a very particular release cycle so consumers can assume that the iPhone 6 will debut sometime after WWDC.
One of the more credible iPhone 6 release date rumors comes from the CEO of a company that partnered with Apple to sell the iPhone in Russia. Earlier this year, he claimed that the iPhone 6 release date would land in September, 2014 though he declined to offer a release date, probably because he doesn't have one.
What's interesting is that this is the second Apple partner to point to the fall iPhone 6 release date and it represents the most direct iPhone 6 release date claim because it comes from a company that has an instrumental role in helping Apple sell the iPhone.
While iPhone 6 release rumors have pegged its arrival for the fall, they haven't been very specific. In other words, it's not clear exactly how long Galaxy S3 owners and potential Galaxy S3 buyers will have to wait before they can make an informed decision. At the very least, it's looking like several months.
We've seen a number of recent iPhone 6 release date rumors emerge but here is a rundown of the latest:
Display
When the Samsung Galaxy S3 first arrived, it was praised for having one of the best displays in the business. Its 4.8-inch 720p display provided users with great looking games, movies, television shows, and more. That was almost two years ago and Android smartphones have shifted from 720p display panels to panels that support full HD, 1080p content.
Back in 2012, DisplayMate called the iPhone 5s display "the best smartphone display we have tested to date." The publication's claim carried over to the iPhone 5s which sports the same 4-inch Retina Display with 640 x 1136 pixel resolution at 326 pixels-per-inch. In other words, the past two iPhone displays are, according to one of the leading voices in display technology, better than the Galaxy S3's. And rumors suggest that the iPhone 6 will widen the gap.
Reports suggest that Apple could introduce two new iPhones at two new sizes. One iPhone 6 model could come with a display that's between 4.5-inches and 4.8-inches in size. A majority of rumors specifically point to a 4.7-inch display. That model is rumored to have a higher 1920 x 1080 pixel resolution which would put it on par with many of the top Android smartphones, just not the Galaxy S3.
Rumors also point to a larger 5.5-inch iPhone 6 that would compete against Samsung's Galaxy Note. However, it looks like this model could be delayed into next year.
A report from Reuters claims that while Apple is planning a 4.7-inch iPhone 6 release for this fall, the larger 5.5-inch iPhone 6 may be delayed. In fact, rumors are starting to point to two possible release dates. EMSOne, Reuters, Ming-Chi Kuo, Steve Milunovich from UBS, and a new report from The Commercial Times all point to a delayed release for the larger 5.5-inch iPhone 6. The Commercial Times suggests that the 5.5-inch iPhone 6 may have been pushed into 2015.
So while consumers may not get a monstrous iPhone 6, they should get an iPhone 6 display that is around the same size of the Samsung Galaxy S3's display. With better resolution. The video below shows how a 4.7-inch iPhone 6 would match up with some of the biggest names including the Nexus 5 and iPhone 5s.
The Samsung Galaxy S3 uses Corning's Gorilla Glass to protect the screen from scratches and damage but it would appear that the iPhone 6 may take things a step further.
Apple will reportedly utilize sapphire for the iPhone 6 display. A Sapphire display would mean a more scratch-resistant display. If true, we could wind up seeing a iPhone 6 that not only comes with a bigger sized, higher-resolution screen but a display with improved battery efficiency and image quality.
Design
If Apple's iPhone 6 does come with a larger display, its overall footprint will likely be more in line with the Samsung Galaxy S3. The iPhone 5s is much smaller than the Galaxy S3 due to its 4-inch display.
iPhone 6 design rumors remain inconclusive despite several alleged iPhone 6 photo leaks. A recent Macotakara report shared two possible sets of iPhone 6 dimensions for both the 4.7-inch model and 5+inch model.
While it might come with a larger overall size, the device may be thinner than the 8.3mm Galaxy S4 while still offering room for components and a larger battery. The rumored iPhone 6 dimensions are listed below, compared to Samsung's Galaxy S3, Galaxy S4 and Galaxy S5.
iPhone 6 (4.7) -140 x 70 x 7 mm
iPhone 6 (5.7) – 160 x 80 x 7 mm
Samsung Galaxy S3 – 137 x 71 x 8.6 mm
Samsung Galaxy S4 – 136.6 x 69.8 x 7.9 mm
Samsung Galaxy S5 – 142 x 72.5 x 8.1 mm
Well known leakster Sonny Dickson claims that the iPhone 6 may be as thin as 5.5mm, down from a 7.6mm thick iPhone 5s. This smaller size could come in part from new display technology that reduces the thickness needed for display backlighting, as shared in a report on LEDInside of TrendForce.
Ming-Chi Kuo of KGI Securities, in a note shared by MacRumors, says that he believes that the iPhone 6 will come with a power button on right and narrower bezels. The thinner bezels could potentially lead to an edge-to-edge display, something that we've seen pop up in rumors as of late.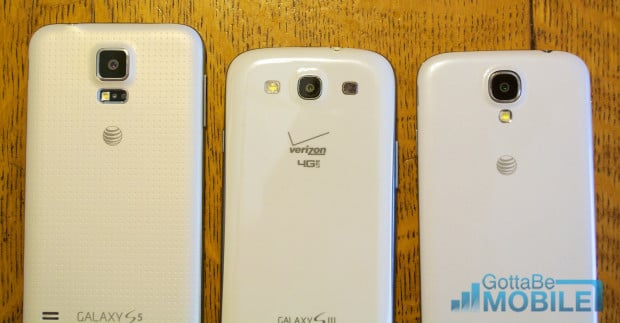 Samsung's Galaxy S3 design was one of the most intriguing aspects of the smartphone. However, its curved polycarbonate plastic design now looks outdated compared to some of the premium smartphones that have arrived in recent years. The HTC One, Samsung Galaxy S5 and iPhone 5s all come to mind.
It's still not clear what kind of build materials Apple will use for the iPhone 6 but it would be surprising to see Apple take a step backwards after releasing a gorgeous premium industrial design two years in a row.
Camera
When the Samsung Galaxy S3 first came out, it had one of the better smartphone cameras on the market. Two years have gone by and the camera is certainly showing its age. While it can still take decent looking photos and video, the improvements that companies like Samsung and Apple have made to their smartphones make the camera look its age.
The Galaxy S3 does come with one of the best camera applications in the business, we absolutely love Samsung's camera app and we know others do too, but the iPhone 6's camera may be too hard to resist. Rumors suggest that it will offer some significant improvements over last year's iPhone 5s camera, a camera that blew the Galaxy S3's out of the water.
While Apple may not join the race to push more megapixels in 2014, the iPhone 6 camera should be improved over the iPhone 5s'. AppleInsider reports that Apple is planning to focus on "image-enhancing components" based on discussions with people familiar with the matter. So while the iPhone 6 may not have a 13MP camera sensor like the Samsung Galaxy Note 3, its camera could still be on par, or better, than Samsung's shooter.
iPhone 6 rumors also suggest that the iPhone 6 will arrive with Optical Image Stabilization, a feature that the Samsung Galaxy Note 3 doesn't have. Only a few flagship smartphones boast OIS including Google's Nexus 5 and the LG G2. None of Samsung's devices, including the Galaxy S5, come with the technology on board.
If the rumors do pan out, the features would allow users to take better looking photos and videos and enhance low light photography by using a special gyroscope and technology.
Specs
The iPhone 6 is probably going to come with more than just a new display, a new design and a new camera. We'll likely see Apple perform its yearly hardware maintenance (just like Samsung) and offer some improvements over the iPhone 5s and iPhone 5. In fact, rumors are already pointing to a number of potential iPhone 6 feature upgrades.
Here, we take a look at how the iPhone 6′s rumored specifications compare to the specifications that are on board Samsung's Galaxy S3. The point is not to make the Samsung Galaxy S3 look bad, it's to highlight potential differences.
iPhone 6
iOS 8
4.5-4.8-inch and 5 -5.5-inch Sapphire displays
2GB RAM
16GB / 32GB/ 64GB / 128GB storage options
3.2MP HD front-facing camera
8-10MP rear-facing camera
802.11ac WiFi
Touch ID Fingerprint Sensor
Samsung Galaxy S3
Qualcomm Snapdragon S4 Plus Processor
Android 4.3 Jelly Bean
4.8-inch 720p display
1 or 2 GB RAM
16GB / 32GB storage options (U.S.)
1.9MP front-facing camera
8MP rear-facing camera
2,100 mAh battery
802.11 a, b, g, n WiFi
Regular Home Button
Software
The Samsung Galaxy S4 and iPhone 6 will run two completely different operating systems. Samsung's Galaxy S3, though it looks like it will get Samsung's latest Android upgrade, Android 4.4 KitKat, in the future.
From the look of things, the Samsung Galaxy S3 will be lucky to get Android 4.4 KitKat. The device is nearing its second birthday and Google recommends devices get support for up to 18 months. Samsung typically offers 24 months of support which means that the Galaxy S3 could get Android 4.4. In fact, we've already seen Sprint confirm it for the U.S.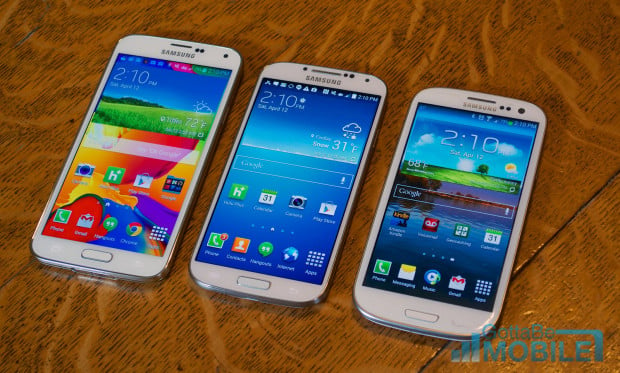 Android 4.4 or not, the device will not be running Apple's iOS 8, the software that is expected to debut at WWDC and arrive on board the iPhone 6 when it hits shelves.
Mark Gurman at 9to5Mac recently shared many details about the new version of Apple's iPhone and iPad software. Health and fitness are a major focus and a collection of iOS 8 mock ups show what a Healthbook feature could look like.  Gurman and his sources also hint at plans for a better Apple Maps, a standalone iTunes Radio app and more.
There is also talk of a much improved Siri. Techcrunch recently reported that Apple bought Novauris last year for an undisclosed sum. Apple is also rumored to be including Shazam support inside iOS 8, a feature that would let iPhone and iPad users use Siri to detect the song that is playing. There is also talk of VoLTE support.
Price
The Samsung Galaxy S3, thanks to its age, is dirt cheap. The retailers that still have it on sale are selling it for far below the device's original $199.99 price tag. What this means is that the Galaxy S3 will almost certainly have a cheaper price tag than the iPhone 6, unless of course Apple is planning on selling the iPhone 6 at no cost to consumers.
Apple's new iPhones have historically landed for $199.99 on-contract, or the price that the Galaxy S3 landed at nearly two years ago. However, this year's iPhone 6 could break the mold.
In November, Chris Caso of Susquehanna Financial Group made a bold prediction. He claimed that the price of the iPhone 6 could jump up as much as $100 from the price of the iPhone 5s. He also added that "the potential for the iPhone 6 price point to move higher," and that "we think Apple could get away with a $50 to $100 premium for a larger screen size iPhone 6."
Caso's prediction was recently backed up by well known Jefferies analyst Peter Misek who says that he also believes that there is a potential for a $100 price jump. A $100 price jump would put the iPhone 6 at $299.99 on-contract, or, the current price of the Samsung Galaxy Note 3.
In other words, Galaxy S3 owners that are thinking about upgrading to the iPhone 6 would be wise to start saving right now. The iPhone 6 will likely command a premium price.

This article may contain affiliate links. Click here for more details.