iPhone 6 vs. Samsung Galaxy S5: What Rumors Reveal Right Now
As we get closer and closer to the fall, we're starting to see consumers struggle with a very tough decision: Buy the Samsung Galaxy S5 or wait for the iPhone 6 to arrive to decide between the two. While we can't answer that question for you, we can help point you in the right direction. Today, we want to take an updated look at how the rumored iPhone 6 is stacking up with the Samsung Galaxy S5.
In 2012, Samsung announced the Galaxy S3, a device that featured a massive redesign and a number of high-end features aimed at pulling consumers away from big name devices like the iPhone. Thanks to its features and a massive marketing campaign, the Samsung Galaxy S3 was able to successfully combat Apple's iPhone and establish Samsung as one of the premier smartphone manufacturers in the world.
In the years since, we've seen the Galaxy S and iPhone continue to wage war on one another. In 2012, Apple released the iPhone 5, the first iPhone with a larger 4-inch display, 4G LTE data speeds, and the Lightning dock standard. In 2013, Samsung released the Galaxy S4 to compete against the iPhone 5 and Apple's lesser iPhones. Apple fought back with last year's iPhone 5s, a souped up version of the iPhone 5 that brought Touch ID, a new processor, a better camera, and new colors to the table.
This year, Samsung struck again. In February, the company took the stage and announced the Samsung Galaxy S5, a replacement for the Galaxy S4 and a device that the company is currently marketing as its flagship smartphone model. As we've noted, the Galaxy S5 is one of the best smartphones on the market and a solid candidate for most people in the hunt for a new smartphone.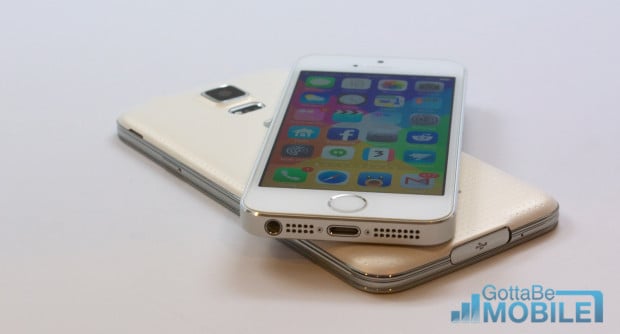 In the weeks since its release, we've received a number of questions from smartphone shoppers. One of the most prominent questions pertains to this year's iPhone, a device that is currently called iPhone 6.
There is reason to be interested in both the Samsung Galaxy S5 and the iPhone 6. The Galaxy S5 is a top device, the iPhone 6 is rumored to be a pretty significant upgrade. And while you still can't walk into a store and compare the iPhone 6 to the Galaxy S5, there are enough details out to warrant an early comparison.
We can't tell you which phone to buy right now but we can arm you with as much information as we possibly can. That said, this is how the iPhone 6 rumors stack up with the Samsung Galaxy S5 right now.
You'll Need to Wait
You're not going to be able to buy the iPhone 6 until the fall, it's as simple as that.
Literally every single iPhone 6 release date rumor points to either to September, October or November and for those just tuning in, the timing of the release makes a whole lot of sense. It's before the holidays, it's the same window that Apple's used before, it lines up well with Apple's fiscal year which ends on September 27, 2014.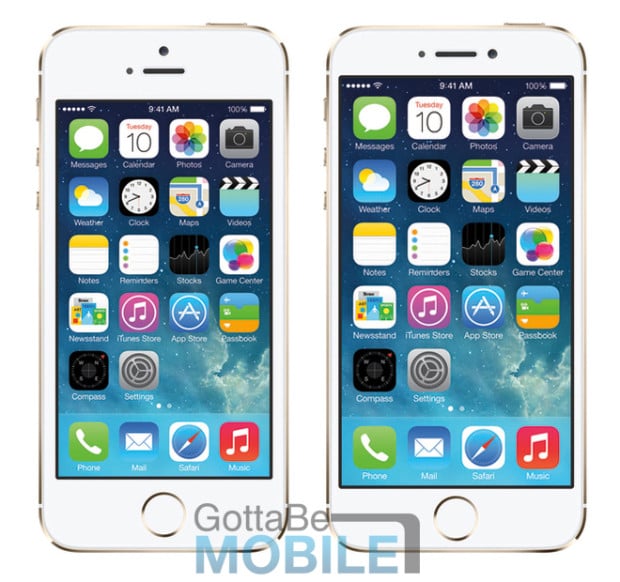 We typically see the new iPhone release arrive early enough to count opening weekend sales on the final quarter of their fiscal year. Apple sold more than 5 million iPhone 5 units in 2012 and combined new iPhone sales topped 9 million with the iPhone 5s and iPhone 5c in 2013. In other words, September is the safest bet right now when it comes to the iPhone 6 release.
For those that aren't keeping track, here is a rundown of some of the iPhone 6 release date rumors:
As we've pointed out, the other key piece of the puzzle is the iOS 8 release date which Apple recently confirmed for the fall. New iOS software is always accompanied by new iPhone hardware. In other words, iPhone 6 release date rumors have firmed up around the fall and more specifically around September and October.
There is no question that the iPhone 6 will arrive on a multitude of carriers, in a variety of retailers and in a number of different regions around the world. It will almost certainly match the Galaxy S5 in this regard.
One other thing of note. Rumors suggest that Samsung will be releasing a souped up Samsung Galaxy F later this year, perhaps alongside the Samsung Galaxy Note 4. The Galaxy F may not be a Galaxy S in name but it's looking like it could be a very solid addition to the Galaxy family.
Rumors point to a 5.3-inch QHD display, Snapdragon 805 processor, 16MP camera, 2MP front-facing camera, LTE-Advanced support, microSD support and Android 4.4.3 KitKat. It also appears to have a metal design.
It's not clear where it might land but it's a device that we recommend keeping tabs on as we get closer to September.
Size Difference
Thanks to a series of iPhone 6 leaks, we have a pretty good idea about what we can expect from the iPhone 6 design. Rumors have pointed to a metal redesign that includes a slimmer frame as thin as 7mm, changes to the buttons, and two new screen sizes including a 4.7-inch model and a 5.5-inch model. The 4.7-inch model is expected to debut in September while the larger model could come later in October.
So what does this all mean? Well, it means that the iPhone 6 could be a whole lot thinner than the Samsung Galaxy S5 which measure in at 8.1mm thick. It also means that we could see an iPhone that is a little closer in size. Apple's iPhone 5s and its 4-inch Retina display are much smaller than the 5.1-inch Samsung Galaxy S5.
From what we've seen, the 5.5-inch iPhone could be a lot larger than the iPhone 5s and the Galaxy S5. However, the smaller 4.7-inch model may not be that much bigger than iPhone 5s and actually could be a lot smaller than the Galaxy S5. The photos below will give you a rough estimate of the 4.7-inch models size compared to the Galaxy S5.
The dummy unit is thinner and shorter than the Samsung Galaxy S5 which hints at a more pocketable smartphone. The iPhone is well known for being easy to store and easy to use with one hand.
As we've pointed out, the Moto X, which sports a 4.7-inch, is actually comparable in size to the 4-inch iPhone 5s. Thin bezels, button placement and other little nuances help free up the space and keep the device's form factor compact and easy to use with one hand. This is key for smartphone owners and it's something that Apple appears to have keyed in on with the iPhone 6.
Looks
After an iPhone S release, we typically see Apple focus in on the design of the iPhone. The company has never used the same design three times in a row So, in what should come as a surprise to no one, iPhone 6 rumors point to a major redesign that could leave the iPhone 6 looking more like the iPod touch than the iPhone 5s.
We already mentioned the size differences but there should be some other differences, and similarities, as well. One key difference will be the build material. Apple is rumored to be using metal for its next iPhone. The Samsung Galaxy S5 is not made out of metal. Instead, it features a perforated back comprised of a plastic matte material. It's a lot sleeker than the Galaxy S4's design but it pales in comparison to the iPhone 5s'.
iPhone 6 rumors continue to point to the use of sapphire crystal for the display. Sapphire would essentially render the iPhone 6 scratch proof. It's still not clear if both iPhone models will have it. The Galaxy S5 uses Corning's Gorilla Glass to protect its front side from damage.
While the iPhone 6 could come with sapphire, it may not come with the IP67 certification that the Galaxy S5 has on board. The Samsung Galaxy S5's design is both water and dust resistant. While Apple could have a surprise up its sleeve for the iPhone 6 design, we haven't heard anything about water or dust resistance. This could be an area where the Galaxy S5 has an edge.
iPhones never come with a microSD card slot or a removable back plate. The Galaxy S5 has both. And the iPhone 6 design is expected to feature Touch ID fingerprint technology to match the iPhone 5s and the Samsung Galaxy S5.
Beautiful Looking Content
The Samsung Galaxy S5's 5.1-inch Super AMOLED display is one of the best in the business. Movies, games, and the web all look fantastic. DisplayMate, one of the leading voices in display technology, believes that the Galaxy S5 trumps the Retina Display. However, Samsung's advantage may not last for too much longer as the iPhone 6 is expected to feature not just a size change but a resolution change as well.
The iPhone 6 screen is rumored to have a sharper 1704 x 960 display with the same widescreen 16:9 aspect ratio that's found on Apple's iPhone 5s and iPhone 5. To get a feel for how that resolution change might impact the iPhone 6, take a look at the mockup below.
If Apple does increase the resolution and the pixel count on the new iPhone, and all signs currently point in that direction, then we'll get a new Retina Display that delivers crisper, better looking content than the Retina Display on the iPhone 5s. iPhone 6 rumors also indicate that Apple also might increase the size of some apps in order to better take advantage of the resolution and the screen size.
So, at the very least, we would expect it to be on par with the Galaxy S5's display. Either way, you're going to get a solid experience from both of these smartphones.
Powerful Hardware
iPhone 6 rumors tell us that the next iPhone will almost certainly be able to match the Samsung Galaxy S5's power.
The Galaxy S5 comes with a ton of high-end features including a 16MP camera, Snapdragon 801 processor from Qualcomm, 2GB of RAM and a massive stock battery. Samsung's Galaxy S5 camera, in particular, is a standout.
iPhone 6 rumors suggest that we'll see the iPhone 6 deliver at least three key hardware upgrades including a brand new camera with image stabilization, a new A8 processor for better performance and battery life, and support faster data speeds. These are all expected. Apple always performs yearly maintenance on the iPhone and typically, the camera and the processor are part of those yearly iPhone upgrades. Samsung did the same with the Galaxy S5.
There are also two wild cards that we've heard could make the final cut on Apple's new iPhone. One, NFC. Near-Field Communication would allow users to treat their iPhone 6 like a debit or credit card. The other, wireless charging. Wireless charging, like NFC, has been available on Android smartphones for a number of years now. Both of these are available on the Galaxy S5.
Here's what's important. Both of these devices will almost certainly offer enough firepower to the average user. There will, however, be some smaller less noticeable differences (image stabilization for example) that consumers will need to look into before buying. Some of these smaller differences will be huge for many users.
Software
The iPhone 6 will likely run iOS 8, an operating system that will look and perform much different than the Android software found on the Samsung Galaxy S5. iOS 8 doesn't look a whole lot different than iOS 7 so those curious about the different looks will want to take a look at the video below. It will give you a rough overview.
Both the Galaxy S5 and the iPhone 6 will run powerful software and it's going to be up to consumers to decide which one suits them best. This is why we highly suggest waiting for the iPhone 6 to arrive before coming to a final decision. It's important to go hands on with these two devices because of the two different operating systems.
Price Difference
The Samsung Galaxy S5 retails for $199.99 on-contract and around $650 off-contract. This could fall in line with the price of one iPhone but maybe not the other.
Rumors tell us that if Apple does release two iPhone models, the larger iPhone 6 will be more expensive than the 4.7-inch model. Analysts continue to point to a $100 price difference between the two with rumors pointing to $199.99 and $299.99 price points. This makes sense given how Samsung has structured its Galaxy S and Galaxy Note price points.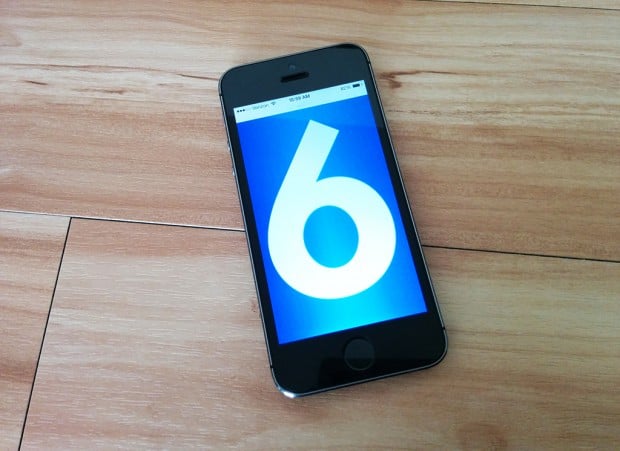 What's important to note though is that the Galaxy S5 will likely see a dramatic price drop by the time the iPhone 6 arrives. Already, we're seeing it on sale for $99 on-contract and we would not be surprised if the price plummets at certain retailers when the iPhone 6 arrives. We're talking bargain bin pricing and price tags much cheaper than the iPhone 6.

This article may contain affiliate links. Click here for more details.