iPhone 6 vs. Samsung Galaxy S6: What We Know So Far
With a Samsung Galaxy S6 launch date now rumored to be just a few short weeks away, we're starting to see consumers weigh the idea of buying Samsung's Next Big Thing. With that in mind, we want to take an early look at the Samsung Galaxy S6 vs. iPhone 6. Here, we examine the latest Galaxy S6 rumors and offer an early look at how the device could compare to Apple's 4.7-inch iPhone.
In September, after months and months of rumor and speculation, Apple took the stage and announced several new products including two brand new iPhones dubbed iPhone 6 and iPhone 6 Plus. The devices, which replaced the iPhone 5s as the iPhone flagship, arrived with a ton of new features on board including larger Retina displays. Unsurprisingly, Apple's sold millions of iPhone 6 models around the world and the device is a top option for those looking to get a new smartphone.
The smaller iPhone 6, the 4.7-inch model, is the company's most popular model and it's a device that will remain relevant for months to come. And that's precisely why people are starting to debate between it and one of 2015's rumored flagships, the Samsung Galaxy S6.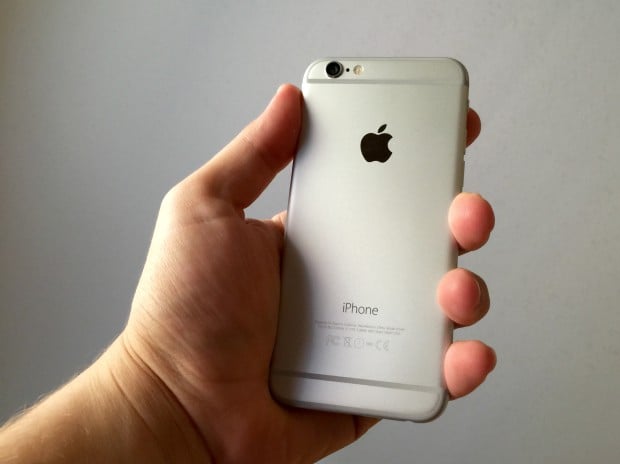 Over the past couple of weeks Samsung Galaxy S6 rumors have begun to pick up, teasing consumers who are thinking about buying a new smartphone and those looking to either buy or replace a iPhone 5s. In response to these rumors, we've received a number of questions from curious consumers who are trying to decide what they want to do about the Galaxy S6.
The Samsung Galaxy S6 is shrouded in mystery and we cannot profess to have all of the details. What we do have though are a number of credible Galaxy S6 rumors and years and years of experience. While we can't offer a full iPhone 6 vs. Samsung Galaxy S6 comparison just yet, we can help set the stage for those debating between the two devices. Here's what you need to know right now.
Samsung Galaxy S6 Release Date
With Samsung Galaxy S6 rumors picking up steam in recent weeks, we've been bombarded with a series of questions about Samsung's iPhone 6 competitor. Readers, friends and family want to know if the Samsung Galaxy S6 release date is worth waiting for and how far away it is. We can't answer that first question for all of you, each situation is going to be a little bit different, but what we can tell you is that we have some idea about when the Galaxy S6 release date might arrive.
If we take a look at Samsung's past, we can get a better idea about its future. Samsung's Galaxy S5 and Galaxy S4 both arrived in April while the Galaxy S3 release was spread out over May, June and July. Galaxy S6 release date rumors suggest that we'll see the device land in the first half of the year, perhaps as soon as the first quarter. Galaxy S6 release date rumors have also hinted at the second quarter in particular. And while they are mere rumors, they are believable.
Samsung's track record is one of the key reasons why. The company usually sticks to a year cycle for its flagship smartphone releases and this rumored window fits what its done in the past. It's worth mentioning that Galaxy S4 users are coming off contract in April and Samsung will likely do everything it can to keep them as customers.
Second, the Galaxy S6 launch mirrors Samsung's previous Galaxy S launches. Last year, Samsung was rumored to have shown off the Galaxy S5 behind closed doors at CES to select partners. This year, the Galaxy S6 was rumored to be at CES 2015. Even the timing of the first Galaxy S6 rumors has matched up with what we saw from the Galaxy S4 and Galaxy S5.
Finally, the few Galaxy S6 release rumors we do have put a launch in a familiar window. A new report from Business Insider says that as of right now, Samsung is planning a Galaxy S6 launch at Mobile World Congress 2015 in Barcelona, Spain. MWC 2015 kicks off on March 2nd which puts a possible Galaxy S6 launch date just a few weeks out.
If this is true, it means that the Galaxy S6 release will probably arrive in March, April or May. Samsung usually gets its devices out just a few weeks after their announcement date. So if you're trying to decide between buying the iPhone 6 or Galaxy S6, you still have some time to think about your options. Make good use of your time.
Go hands-on with the iPhone 6 (and iPhone 6 Plus) before it comes out.
Design
Apple's revamped iPhone 6 design is made entirely out of metal and it's one of the more slimmest and most impressive smartphone designs on the market. It's a standard that Samsung's slowly, but surely, catching up to and it's looking like the company might put forth its best effort yet with this year's version of the Galaxy S. Samsung always keeps its designs under lock and key but the few rumors we have heard suggest that it could be a departure from last year's Galaxy S5.
Galaxy S6 design rumors suggest that the company's new smartphone is dubbed Project Zero behind the scenes and that it will be built from the ground up. It's still not clear what that might mean though many suspect that the new design will include premium build materials. All signs currently point in that direction.
Samsung's Galaxy Alpha arrived with a metal frame last year as did the Samsung Galaxy Note 4. The company also released a Galaxy Note 4 with a curved display called the Galaxy Note Edge that incorporates a metal frame. One popular theory is that the company used these devices as a dry run for the Samsung Galaxy S6 and its design.
Business Insider thinks that Samsung will introduce a Galaxy S6 design that features metal and one that features a curved display and metal like the Galaxy Note Edge. We've seen other rumors agree with that information. Italian blog HDBlog.it claims that the new Samsung Galaxy S design will finally feature an aluminum chassis.
We haven't seen the Galaxy S6 design leak out just yet and design rumors are extremely hard to buy into. That said, it's clear that Samsung is trending toward a new design language that could match up with the iPhone 6's sleek aluminum design. While we may not see an all-metal Galaxy S6, there's reason to believe that it won't be a cheap, plastic smartphone.
Display
The iPhone 6's 4.7-inch Retina HD is one of the nicest displays money can buy but there's a very good chance that the Samsung Galaxy S6 display will offer better resolution.
Apple's Retina Display is solid but Samsung's new Quad HD panel is, considered by many, to be the best display available. For instance DisplayMate, one of the leading voices in display technology, believes that to be the case. With that Quad HD display now on the Galaxy Note 4, there's reason to believe that Samsung will deliver a similar screen, or better, on the Galaxy S6.
Alleged Galaxy S6 benchmarks point to a jump in resolution and credible rumors including a leaked User Agent Profile on Samsung's website suggest that the next Galaxy S will make the jump up to Quad HD. It's a natural evolution and one that could put the iPhone 6 at a disadvantage. Screen size is another story though.
In addition to Quad HD resolution, Samsung might be increasing the screen size of the Galaxy S to 5.5-inches. Before you scoff at this, note that this doesn't mean there will necessarily be a huge bump to the overall size of the phone. LG's 5.5-inch G3 is much smaller than the 5.7-inch Galaxy Note 4 thanks to its thin bezels. It's also comparable to the 5.1-inch Galaxy S5.
We won't go as far as to say that it will be on par with the size of the iPhone 6 but there's a chance that it may not be that much larger, even if it comes with a larger display.
We also mentioned a curved version of the Galaxy S6. Rumors continue to point in that direction though we're still not sure if it will come with one curved edge like the Galaxy Note Edge or two. If Samsung does go this route, the curved Galaxy S6 Edge will almost certainly be more expensive than the non-curved model. And for many consumers, it will be unnecessary. We suggest checking out the Galaxy Note Edge so that you get some idea about what to expect.
Specs
The iPhone 6 comes with a ton of firepower including a new A8 64-bit processor, one of the best smartphone cameras money can buy, a 128GB option, Touch ID, and more. Samsung's Galaxy S smartphones are always a spec showcase and Galaxy S6 rumors point to the arrival of a number of powerful specifications that could help it match up nicely with the iPhone 6.
Galaxy S6 rumors point to the arrival of a Snapdragon 810 processor from Qualcomm. If true, the Galaxy S6 would feature a chip that is optimized with better graphics support, enhancements for battery life, and a whole lot more. It's not clear how it will stack up in real life scenarios with the A8 but it will almost certainly be able to keep pace.
Samsung Galaxy S6 camera rumors allege that Samsung is still trying to decide between a 16MP camera and a 20MP camera. The two purported Galaxy S6 benchmarks that we've seen include both sensors so it appears that the company is weighing both. A recent leak suggests that Optical Image Stabilization, a feature found on the Galaxy Note 4, will be on board this year's Galaxy S model. The front facing camera will also supposedly be a 5MP sensor.
Apple's iPhone 6 comes with a top of the line 8MP camera though it doesn't feature OIS like the iPhone 6 Plus. We haven't noticed too much of a difference between the two cameras though it's still a feature worth noting.
We've also heard that Samsung will shift to a 32GB base model for the Galaxy S6 instead of a 16GB base like the Galaxy S5. The iPhone 6 is available in 16GB, 64GB and 128GB through the Apple Store. If the Galaxy S6 does shift to 32GB, 64GB and 128GB with a microSD card slot, Samsung will will the internal storage battle.
More recently we've heard that Samsung will use a touch-based fingerprint sensor instead of a swipe-based one. Apple's iPhone 6 uses a touch-based sensor and it's much better than the sensors found on the Galaxy Note 4 and Galaxy S5. This shift isn't confirmed but given that its old standard was widely panned in the press, we could see Samsung making this switch.
Software
We still don't know exactly what will be on board the Galaxy S6 though we imagine that it will be Android 5.0 Lollipop or another version, possibly Android 5.0.1 or Android 5.0.2 Lollipop.
Software rumors also suggest that the Samsung Galaxy S6 could come with a trimmed down version of TouchWiz that's closer to the software found on the Nexus 6. That would be a significant change and one that would probably be welcomed by many Android enthusiasts including those that covet vanilla flavored Android.
The iPhone 6 does not run Android. It runs iOS 8, Apple's latest piece of software. Android and iOS do share some things in common but the look and feel of Android 5.0 and iOS 8 is vastly different. You'll need to investigate both before coming to a decision. Software is very personal and that's a decision buyers will have to make once the Galaxy S6 arrives.
As far as software support goes, the iPhone 6 could potentially best the Galaxy S6. Apple tends to keep its devices updated for three years. The iPhone 6 isn't even a year old yet.
Samsung on the other hand tends to keep devices updated for 24 months before kicking them to the curb. Plans could change but that would mean that the Galaxy S6 would lose support before the iPhone 6, even though it's newer. Keep that in mind.
Carriers
The iPhone 6 is available on a number of carriers including the big five. It's also available on a ton of regional and pre-paid carriers in the United States. The Galaxy S6 is rumored for AT&T, Sprint, T-Mobile, U.S. Cellular, and Verizon but smaller carriers remain out of the picture for now.
The Galaxy S, like the iPhone, usually comes to smaller regional and pre-paid carriers so there's a chance it will match the iPhone 6. That is uncertain at this point but we'd bet on it getting a widespread release in the United States.
Price
Apple's iPhone 6 starts at the familiar $199.99 price slot, a price point that's also usually occupied by the Galaxy S6. We haven't heard any Galaxy S6 price rumors yet but if we do see two Galaxy S6 variants emerge this year, we could see Samsung utilize two different price points.