iPhone to Android Part One – Making the Switch
Since Best Buy is offering a free Samsung Fascinate this week, I picked one up. It isn't the latest & greatest Android smartphone, since it came out last fall. But it is a nice Android phone running Froyo thanks to the update a couple of weeks ago and who can beat free – at least free until I get the next Verizon phone bill.
How does it compare to an iPhone? This is less about the Fascinate and more about Android. We don't plan to hash out the iOS v. Android debate. Instead we plant to offer comparisons for those who are interested in possibly making the switch from the previously dominate smart phone platform to the up and coming smart phone platform. Yes, iOS still is a powerhouse, but even the biggest Apple fanboy has to admit that Android is making a serious run at that dominance. Fanboy or not competition is always good for consumers. So, how easy will the switch be?
Packaging
The ever vaunted Apple "out of the box" experience has some competition. Not every Android phone will be the same, but the Fascinate offers a good out of the box experience. First, let's compare the packaging. The Apple iPhone is simple and straightforward. The box is small and you get the phone, a charging cable and ac adapter cube. You also get some headphones with a mic. There is minimal documentation and the SIM card tool, if needed.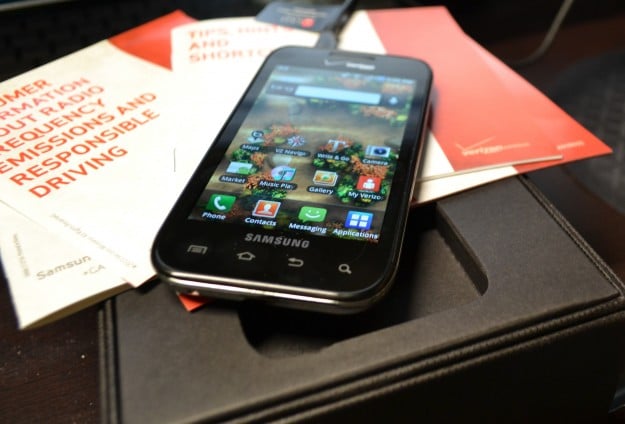 With the Samsung Fascinate, you also get a simple box with the phone, the charging cable and AC adapter. There is a lot more documentation, but it's the useless kind that most of us will just set aside.
As far as packaging goes, this is a wash. Neither has the edge. This changes from company to company however. So it is not really a fair iOS v. Android comparison. With the Fascinate, however, there is no clear advantage to either side.
Setup
With an iPhone you either have it set up at the store or you plug it into your computer and set it up. If you choose to do it yourself, you have to use a computer. Once you do there are a minimal number of apps to play around with. The App Store is ready for you to download add-ons to make the phone come alive. This can happen quickly and if you already have an iPad or iPod Touch you might already have many that will work. They key here is, like the packaging, it is simple. You will have to add some accounts like email, your Apple App Store account info, and any others like that.
With the Samsung Fascinate and many of the Android phones I have looked at, there seems to be more pre-installed. It reminds me of the PC v. Mac when it comes to pre-installed software. PCs have a lot of crapware and Macs have a basic set of apps without a lot of fluff. In the few hours I've had the Fascinate, I'd say that the built-in apps are more useful than the iOS apps. However, this is a double-edged sword since it takes longer to get going. There are more apps to test out and configure. If you are a geek who likes to play with such things, then you will be in heaven. If you are someone who just wants it to go out of the box, this will be overwhelming.
Since Android is a Google product, integration with Google should be easier, but it is not. That's not to say its harder. It is about the same. I have three Google accounts I use – a personal email address for my own domain, a personal email address that is a basic Gmail account and one for our website. Setup is straightforward in both iOS and Android.
The only reason setup is maybe a little harder on the Android side is there seems to be more to set up besides the basic things like email accounts, calendars, and an app store account.
Interface
Finally, out of the box the interface of the iPhone is simple. You have one page of icons and the Settings app is right there staring you in the face. On an Android phone there are multiple screens and an Applications button. There are more buttons and more to learn. That also means there is a little more functionality, but it will take a little longer to get your bearings. The interface is just a little more complicated and cluttered. We will cover this more about in a later post.
What's Coming
Going forward we will look at the following:
Cost of making the switch
How comparable are the apps
How easy is it to find sufficient alternatives
Can your Android serve as an MP3 player
What would you like to read about? Do you have any concerns about making the switch or have you already done so and would have some advice for us? Comment below or contact me at Kevin at Notebooks dot Com. If you would like, make a short video either asking or answering these questions and post it to YouTube and I will respond with a video and post it here.

As an Amazon Associate I earn from qualifying purchases.