iPhone X Pre-Order Problems: 5 Things to Know
Apple won't be able to meet the demand for the iPhone X on release day, which means more people staying up tonight and more iPhone X pre-order problems. If you're reading this, there is a good chance you've run into a website error or another iPhone X pre-order problem that prevents you from placing your order.
Here's what you need to know to fix common iPhone pre-order problems in seconds and what you can do to still try and get your pre-order in tonight so that you can get your new iPhone on November 3rd.
You will need to move fast, so we are going to be as short as possible to help you get past these errors and get your order in. Seconds and minutes may mean weeks of waiting.
The Biggest iPhone X Pre-Order Problem: You Can't Get to the Website
It's 12:01 or 3:01 and you can't load the website you are trying to order from. It might be Apple, Verizon, AT&T or Best Buy.It doesn't matter, you just can't order. There is hope. Here's what to do.
Open the app for your carrier, the retailer or just the Apple Store app. This will allow you to get directly to the ordering process in most cases and it will get you past these issues.
If that fails, you can try turning off WiFi and using your phone's LTE connection to make the order. If these fail, you can refresh the page or you can go close your browser and try again.
When you see this problem, don't waste time trying to tweet at your carrier or call them on the phone. You need to act fast to use another device, app or internet connection to order.
Everyone Else Can Pre-Order But You
We see this happen every year. One carrier will go live just a little early or another will come online late. We've seen AT&T take a while in the past. This is all up in the air and you can expect to see it change up depending on carriers and how everything works this year.
That's why our iPhone X pre-order tips recommend using multiple sources to look for your pre-order. This allows you to order from Apple or Best Buy on your carrier without the need to use your carrier's website or app.
You Have to Pay Extra to Upgrade
Sometimes you will login and you will get to the checkout phase and see that you need to pay more to upgrade. This happens often when you are on an annual upgrade plan, where you need to finish off a certain number of payments.
This may not be as much of an issue as in previous years since the iPhone X pre-orders are starting up a month later. Still, you should check your iPhone upgrade before hand if you can and if you are seeing it now, you may just need to pay it and deal with it later. By the time you call or chat with support, you'll be waiting a long time to get your iPhone X.
iPhone X Payment Problems Stop You From Buying
It's a strange world when AT&T's site has their shit together. Apple Store crapped out processing payment. AT&T, no problem. iPhone 6+ get.

— Craig Harris (@crankycraig) September 12, 2014
Another problem we expect to see is not being able to pay. This can happen when the pre-orders don't complete the payment options or when your card is declined. You should always have a backup payment option and you may even want to have a plan to buy the iPhone X without a payment plan in case that runs into issues.
One of the biggest issues is that you some people will see payments declined for fraud. Visa and MasterCard often don't know that you are making the purchase, so it could be flagged leaving you unable to pay until you talk to your credit or debit card company. You won't be able to figure this out in 5 minutes at 3 AM. Use a different card if you can.
How to Fix iPhone X Pre-Order Problems Fast
When you run into iPhone X pre-order problems you need to act fast. Try another device like your laptop or iPad. You can close your browser and try again or reload the page.
You can also try another retailer. Best Buy, Apple and all of the carriers are going to be selling the iPhone at the same time. There is more than one option.
Try connecting on LTE instead of on your WiFi. Double press the home button and force close the Apple Store app and then re-open it to try again. These steps will help you fix most pre-order problems, if you act fast.
The Best iPhone X Cases
x-doria Defense Lux iPhone X Case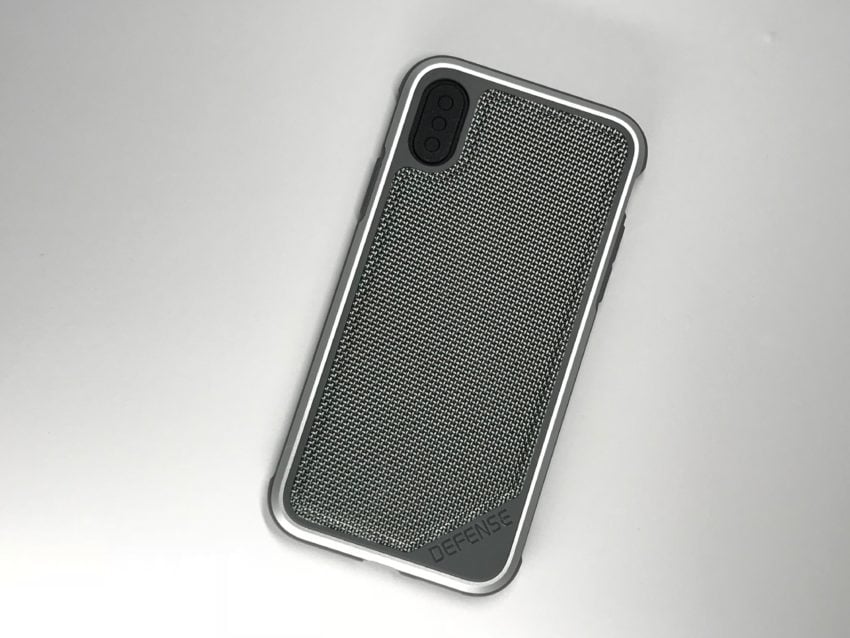 The x-doria Defense Lux iPhone X case is amazing. This case looks great, feels awesome and offers military grade drop protection without adding much bulk.
We love the look of this case in Ballistic Nylon and Black Carbon on the iPhone X. These cases not only offer a cool look, but the back is actually textured like the material listed. The Ballistic Nylon case has a soft, but grippy feel to the back just like you'd expect from looking at it. The Black Carbon feels like textured carbon fiber and looks awesome.
We didn't mean to, but we did drop our iPhone X in this case and our doorbell camera caught it on video. The case iPhone survived without any problems.
x-doria designed this case to protect your phone from drops up to 10 feet on concrete and there is . sound channel to direct the speaker towards you instead of straight out the bottom. The raised edge keeps the screen safe when setting the phone face down on a table.
$34.99 at x-doria

As an Amazon Associate I earn from qualifying purchases.