iPhone X Pre-Order Tips & Tricks
The iPhone X pre-order date is just a few hours away and those of you looking to buy Apple's new flagship should start preparing for the big day.
iPhone X pre-orders start on October 27th at 12:01AM Pacific Time. Those of you living on the west coast of the United States will need to stay up late tonight while those of you living on the east coast will need to set an alarm so you don't miss the start of pre-orders.
Staying up late or waking up early for the start of iPhone X pre-orders doesn't guarantee you a delivery on November 3rd, but it's the only way to avoid waiting in line on release day. Apple says it will have iPhone X stock on November 3rd though it's encouraging customers to arrive early. Stock could run out quickly.
If you want the iPhone X on November 3rd or soon after, you'll want to put in a pre-order. Rumors have pointed to lengthy shipping delays and well-known Apple insider Ming-Chi Kuo claims the iPhone X won't be widely available at launch due to various production issues.
Unlike the iPhone 8 and iPhone 8 Plus, there's a very good chance the iPhone X will sell out hours after it goes on sale in the United States and countries around the world.
If you've gone through the iPhone pre-order process before you know you'll need to be on your toes. If you want a precise color with the right amount of storage for your needs, you'll need to be ready to go when the clock strikes 12:01AM Pacific. If you're unprepared, you might not get the model you want and you might have to endure a long wait for your iPhone X.
We've put together a list of iPhone X pre-order tips and tricks that will help you right now and when the calendar turns over to October 27th later today.
If this will be your first time pre-ordering an iPhone or you simply want some additional advice, take a look at our list of iPhone X pre-order tips below.
Favorite the iPhone X You Want Right Now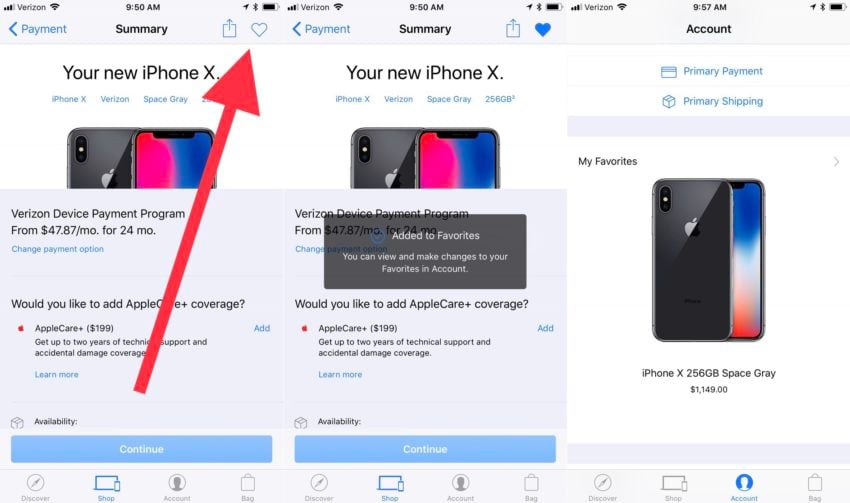 If you plan to buy the iPhone X via Apple take a few minutes, right now if you can, to favorite the iPhone X model you want.
If you have a few minutes you can go through the process buying your iPhone X right now. Open up Apple's iPhone X page in your browser or in the Apple Store app (make sure you're logged in) and select the iPhone X model you want to pre-order.
Select the Color, Storage and how you want to pay and then tap the little heart next to the "Select" button (if you're doing this via Apple's website) or the heart in the upper right if you're doing this inside the Apple Store app. This will store the iPhone X model you want in your Favorites.
When iPhone X sales are live you'll simply head to your Favorites and tap or click on the iPhone X. This will take you directly to the option you want.
It will only take you a few seconds and it could help you save some crucial seconds/minutes when iPhone X pre-orders start.