Is Asus Working on a Phone That Docks Into a Tablet?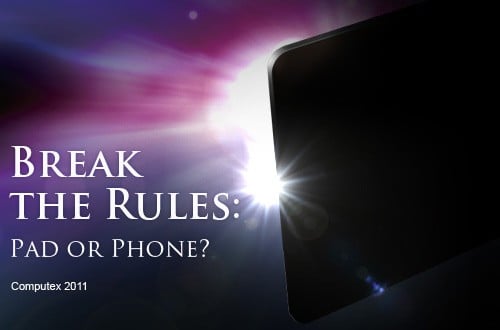 Remember the Motorola Atrix 4G Tegra 2-powered Android smartphone for AT&T that conveniently converts into a 'laptop' with the optional, yet expensive, Laptop Dock? It appears that Asus may be working on a similar phone-dock concept, this time though, rather than a laptop dock, Asus may be bring a smartphone with a Tablet Dock.
Teaser shots of an "Asus design" product glimpses the edges and corner of a potential "pad or phone," as Asus asks, and urging users to "break the rule." One shot hints at the back side of what appears to be a tablet with a small protrusion, perhaps where the phone is situated when docked.
The "pad or phone" teaser suggests that Asus may be branding this smartphone/tablet concept as a member of the Eee Pad line.
Such a concept that merges, or blurs the lines, between phone and tablet may be a smart move for the Asus team as it doesn't require users to manage two data plans–one for the phone, and one for the tablet. However, it is still to be seen if carriers will force users who purchase the bundle to acquire a tethering plan, much like what AT&T is forcing users to do when they pick up the Atrix with the Laptop Dock combo. If the concept is sold as an unlocked, non-carrier subsidized item, Asus could perhaps bypass any carrier restrictions with mandating a separate data plan, a tethering plan, or an expensive add-on.
Asus already has the popular Eee Pad Transformer Android 3.0 Honeycomb tablet on the market, which has been a popular seller. The tablet is the first of Asus's designs to blur form factors. The tablet has an optional keyboard dock that combines a traditional laptop/netbook keyboard along with a touchpad. When docked to the foldable keyboard, the Eee Pad Transformer, which debuted earlier this year at the Consumer Electronics Show, takes on the form factor of a laptop, utilizing the tablet's display as the screen for the laptop.
While tablets have become a popular emerging technology category, users often note that tablets do not provide enough functionality to completely displace a laptop and is often too big and do not provide voice functionality to replace a smartphone. On one hand, the Eee Pad Transformer tries to take on the laptop category and Asus's latest entry, which is expected to debut shortly at the Computex trade show in Taiwan, may try to take on the smartphone market.