Is HTC Teasing Us with the HTC Incredible HD for Verizon Wireless?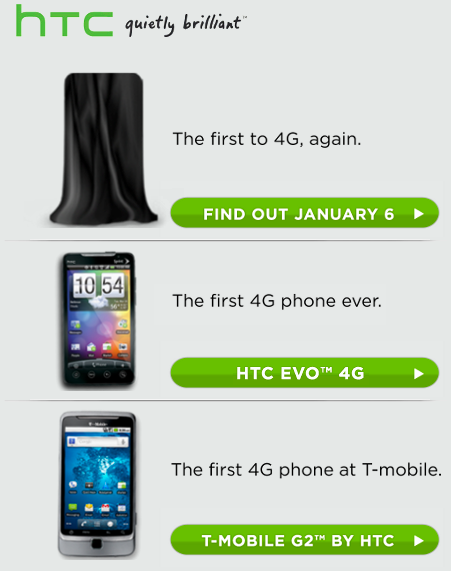 Recent leaks of the HTC Incredible HD with 4G LTE marking seemingly indicate a launch or announcement at CES. If that wasn't enough, HTC has created a teaser site that may help to solidify that the company is indeed working on a 4G device of some sort, highlighting a mystery device, the Sprint HTC EVO 4G as "the first 4G phone ever" and the T-Mobile HTC G2 as "the first 4G phone at T-Mobile." The mystery device is said to be "The first to 4G, again," suggesting that HTC may be among the first 4G devices to launch with Verizon Wireless's CES announcements of 4G smartphones. HTC says that the mystery device will be announced on January 6th.
Verizon Wireless had stated in October at CTIA that the carrier intends on announcing 4G smartphones at CES, with a launch of those devices in 2011. The carrier had already launched its 4G LTE network in 38 metropolitan areas and a number of airports, but the only supported devices at this time are USB data modems for laptops.