Is the Galaxy Note 8.0's Large Display Wasted On a Phablet?
At Mobile World Congress, Samsung had made the Galaxy Note 8.0 official. Specs for the device confirm what we already heard rumored before–an 8-inch screen with a similar 1280 X 800 resolution to the original Galaxy Note 5-inch phablet, quad-core Exynos 1.6 GHz processor, 2 GB RAM, S-Pen capabilities, and models with optional mobile broadband as well as WiFi. The device will run TouchWiz, Samsung's proprietary UI on top of Google's Android 4.1.2 Jelly Bean operating system, which would give it access to features like Google Now for intuitive search.
Smartphone or Tablet UI?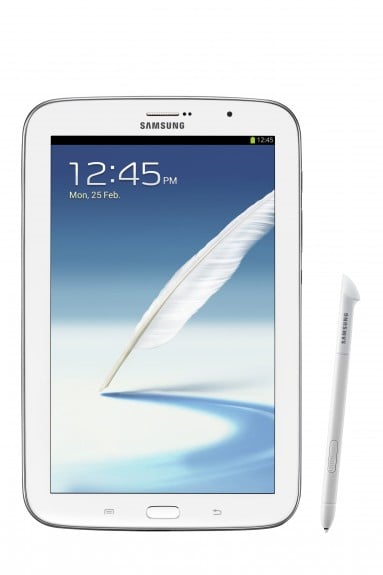 What's curious, however, is that no where in Sasmung's press release–and we haven't heard much by way of the media in attendance in Barcelona at MWC–does it make mention of the Android experience will be geared towards the tablet or smartphone space. Based on the configuration of the device and the fact that Samsung has made it a portrait-oriented device with phone capabilities, it looks like the device may bear the same phone experience as the Galaxy Note and Galaxy Note 2 phablets, rather than the tablet experience that's catered to the Galaxy Note 10.1 slate.
Does this actually make a difference? For prosumers and pro users, this definitely does make a difference as it means that smartphone apps are blown up. For example, the CNN news app has two versions, a smartphone edition and a tablet edition. If the Galaxy Note 8.0 will be a smartphone Android experience, it means that it will only be able to run smartphone editions of apps like CNN, which means that the app is just blown up and doesn't make use of the larger high definition screen. Essentially, a tablet version of CNN will give you more to look at and view, and apps designed for tablets will make better use of the screen real estate.
This has been one of my primary gripes with the Galaxy Note 2's 5.5-inch 1280 X 720-pixel display as it doesn't make smart use of the high resolution and larger screen–compared to a traditional Android smartphone that is–so I am stuck with looking at primitive appearing apps if they were designed for lower resolution smartphone screens of smaller display sizes. This issue will be more glaring on an even larger 8-inch display.
We've reached out to Samsung for clarification on whether or not the Galaxy Note 8.0 will run a tablet-optimized edition of Jelly Bean or the smartphone version, and we're still waiting for confirmation. If in fact it runs a smartphone-edition of Android, this would be a shame as the competing iPad mini has a tablet-optimized version of iOS to take advantage of the added real estate.
The Galaxy Note 8.0 is slightly larger than the 7.9-inch iPad mini and is a tad heavier. The device doesn't have a removable battery and users do have access to a micro SD card slot and a micro SIM slot if they choose the global HSPA+ model or an LTE model. There will also be a model with WiFi only.
Galaxy Note 8.0 Phone Home?
The device does offer voice call capabilities for the global HSPA+ model, though likely the U.S. LTE variant will remove that feature when it arrives. When the first generation Galaxy Tab 7 tablet debuted, it offered voice call capabilities internationally, but American carriers stripped that feature when it landed on AT&T, Sprint, T-Mobile, and Verizon.
New Features
The device does offer some new features. Now, the S-Pen will also work with the capacitive touch buttons that flank the home button. If you recall, on the Galaxy Note and Note 2, the digitizing stylus did not work on those capacitive buttons and was only usable on the touchscreen itself. This is a nice touch as you don't need to switch between using the S-Pen and your fingertips.
Additionally, there will also be an infra-red port so you can use the Galaxy Note 8.0 as a universal home remote control for your entertainment center, much like how you've been able to do that with a Galaxy Tab tablet.
There's also a new Reading Mode that can be quickly activated from the drop-down notification bar at the top as a widget. Activating Reading Mode is said to adjust the screen brightness to conserve power when all you're doing is reading.
Pricing and Availability
The device is slated for a second quarter release globally and in the U.S. Specific pricing information is not available at this time.

As an Amazon Associate I earn from qualifying purchases.