Is the Galaxy Note Good For Business?
Now that BlackBerry is no longer the default choice for enterprise, business users are looking to Android and iOS for their work handsets. There are already a few Android phones for this demographic like the Motorola XPRT/Droid Pro.
However, since at least last year Samsung has started courting the boardroom set with their smartphones and tablets. In October they put an easy to remember acronym to the collection of software and services they'd incorporated into the Galaxy S II and Galaxy Tab lines: SAFE, which stands for Samsung Approved for Enterprise.
One of the first official SAFE devices is the Galaxy Note. Does this oversized phone belong in your briefcase?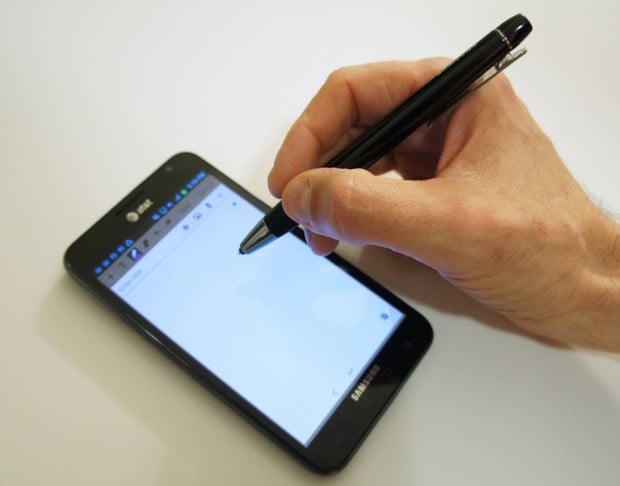 Security
The biggest issue surrounding mobile phones in a business setting is security. Can you get your corporate email without fear of someone listening in? Is data protected? What if you lose the device? Samsung's SAFE addresses all of these issues.
On top of the existing encryption in Android, Samsung adds 256-bit hardware-based encryption that applies to both the on-board memory and an SD card (if you add one). Plus, there's built-in Mobile Device Management that allows users to lock down a device if it's lost or stolen.
Though Android can connect to Microsoft Exchange ActiveSync corporate email accounts, the two-way communication between phone and server isn't as complete as on other mobile operating systems. Samsung's email, calendar and contacts apps are fully compatible with Exchange. If you create or edit a contact or event on the Note you won't have to worry about whether the data will sync properly.
The Note also has full VPN support for secure connections to the company server.
Hardware and Accessories
The Galaxy Note's 5.3-inch display is either the phone's greatest asset or biggest drawback, depending on who you ask. It is larger than other phones and, though it fits in the front pocket of a normal pair of slacks just fine, it remains noticeable. However, this is minor compared to the benefits for business users.
With the larger screen comes more real estate for viewing data, reading and editing documents, and showing off graphics or video. The high 1280 x 800 resolution means a high pixel density, so fonts and other elements remain crisp, making for a better reading experience.
Performance-wise, the GNote is speedy thanks to a dual-core processor, 1GB of RAM, and connection to AT&T's LTE network. It can handle even complex business applications such as the SAP Business Objects Viewer, demoed in the video below.
Samsung's Galaxy Note accessories add welcome functionality for enterprise. A $19.99 Micro USB to USB adapter allows for connections to thumb drives and input devices like keyboards and mice. It's useful for quick transfers — you don't need a computer or an Internet connection, just a thumb drive.
The $39.99 HDMI Smart Adapter connects to a full-size HDMI cable (via the micro USB port) to output anything from 1080p video to a presentation to a game.
S Pen and Apps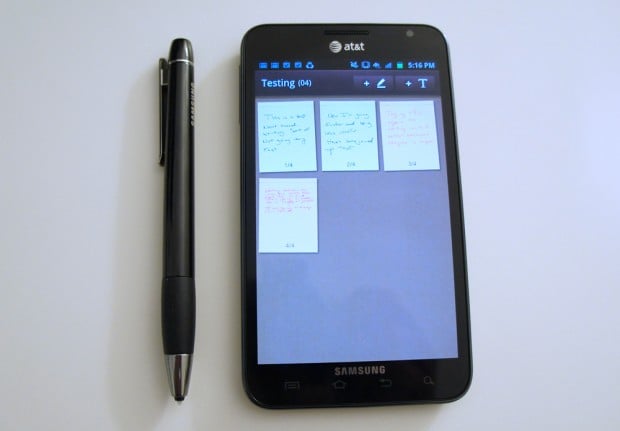 The included S Pen is the Galaxy Note's best accessory and another of the phone's most talked about aspects. While consumers may not find much need for it, business users have long embraced stylus and pen input on a variety of devices from Palm Pilots back in the day to tablets and tablet PCs today.
In combination with pen-enabled apps like S Memo ezPDF Reader (available in the Android Market) the GNote can replace a small notebook for jotting short notes or the need to print out documents to mark them up for editing.
Samsung pre-loaded the full version of Polaris Office for viewing and editing docs, spreadsheets, presentations and more. In the Samsung Apps store you can search for other apps designed to work with the pen such as WritePad handwriting recognition, Evernote, Skitch, and TouchRetouch.
Handwriting recognition is available in the S Memo app and via the Samsung keyboard, though it's not as fast or efficient as Palm's Graffiti.
See Also: Galaxy S Pen and Holder Kit Mini-Review
The Bottom Line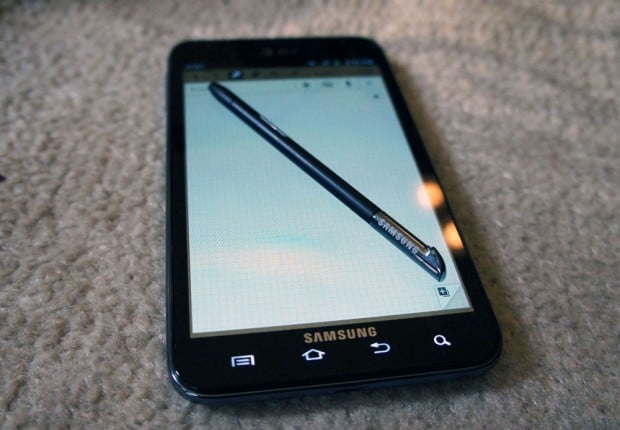 Business users who want to do more with their smartphones than check email and view data or documents will appreciate the versatility of the Galaxy Note. And thanks to Samsung's security and other SAFE features you won't have to worry about switching devices to take care of work stuff when you're sitting at home.