Is This LG's Nexus Optimus Smartphone for Google?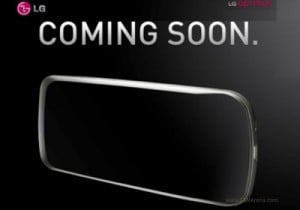 While the last leaked images of the alleged HTC-made Nexus smartphone turned out to be fakes, a new teaser by LG for an Optimus-branded smartphone without any physical or capacitive touch Android navigation buttons could signify that the phone is built for Google's next-generation Android smartphone platform called Ice Cream Sandwich.
As Ice Cream Sandwich is intended to unify the tablet-specific Honeycomb platform with Google's smartphone-centric Gingerbread OS, the operating system will take on many attributes of Honeycomb, including the lack of any hardware buttons on the front. Instead, those buttons have been moved to the OS interface and is now part of the status bar and task bar on the screen display. Without capacitive touch or hardware buttons, users can hold Ice Cream Sandwich devices in any direction and it would still be in the correct orientation and the buttons should be where they ought to be.
Not a lot of information is known about this latest Optimus smartphone, except that the teaser shot shows that it is 'coming soon.'
In the past, the next-generation Nexus smartphone is rumored to be built by either HTC or LG, and this latest image could indicate that Google has tapped LG to build its third-generation Nexus smartphone. The first device, the Nexus One, was built by HTC. Samsung had followed up with a second-generation device, called the Nexus S for T-Mobile and a Nexus S 4G for Sprint's Now Network.
Via: GSM Arena
Update: We're hearing that this is old, so that's 0-2 on the Nexus 3 so far. Sad.

As an Amazon Associate I earn from qualifying purchases.