iTablet Thumb Keyboard Comes with Rear Touchpad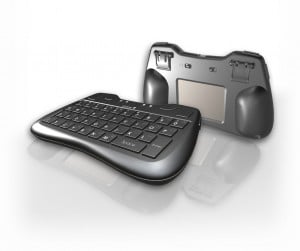 iTablet Thumb Keyboard is looking to bring a compact Bluetooth keyboard to market for thumb typists that will feature a trackpad or touchpad on the rear. The company is targeting the keyboard not only at the smartphone and tablet market, but also as a means to control living room TV boxes, such as the Google TV sets, and gaming systems.
The company did not announce the suggested retail price of its thumb keyboard, but it did say that the U.S. and UK keyboard versions are available immediately, followed by other keyboard layouts in the third quarter.
The thumb keyboard and trackpad may be a good companion accessory for users who want to remain productive on the go, but don't want to carry a thicker device with a sliding keyboard, like the HTC Arrive on Sprint with Windows Phone 7, for example, or the Sidekick 4G with Android on T-Mobile. Currently, manufacturers who make devices either make devices with a sliding landscape-oriented keyboard with a smaller screen and a thicker design to accommodate the keyboard, or a larger screen with a slimmer overall thickness. With a Bluetooth keyboard like the iTablet, users can choose to still maintain a device with a large screen, like the HTC Thunderbolt or HTC EVO 3D, and still be able to have a keyboard.

As an Amazon Associate I earn from qualifying purchases.