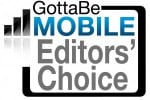 The Jabra Elite 85h deliver great sound, impressive battery life, and great style along with smart active noise canceling that adjusts to your surroundings. While you used to have to buy Bose if you wanted good noise-canceling headphones, Jabra is here with an exciting offering that quiets the world around you at the same level as Bose and Sony and delivers impressive call quality as well.
The Elite 85h headphones stand out in a crowded market of ANC headphones offering incredible value at $299, which is why they earn a Gotta Be Mobile Editor's Choice Award.
[letsreview]
After going head to head with the Bose QC35 noise canceling headphones I've used for years, the Jabra Elite 85h quickly replaced them in my gear bag — and not just for the sound quality.
The Elite 85h battery life is so long you might not even remember to appreciate the USB C charging port. Jabra packs in eight microphones to deliver noise canceling and you can use an app to adjust the smart ANC modes as well as the overall EQ of the headphones.
Jabra's offering is a little heavier than the Bose QC 35 and Sony noise-canceling headphones, but I still found them very comfortable for extended use at my desk, while trying to work in a hospital cafeteria for most of a day and for watching movies in bed.
How good is the Elite 85h noise canceling? It's definitely on par with Sony and Bose offerings and it's an essential part of my work routine. While I enjoy coffee shop background noise, I'm not a fan of the constant hum our air conditioner makes or the loud chattering that comes with working in bigger public spaces.
The Elite 85h headphones not only block out almost all of the air conditioner hum at home (it is right outside my office window), but they also work wonders at blocking out other activity around the house. With the headphones on I no longer hear Netflix playing on the living room TV and I can barely hear the home phone ring, And that's without anything playing. If I put on music even on a low level I can easily retreat into an area free from distractions. You can also switch between ANC, HearThrough, and ANC Off with a small button on the bottom of the left earcup.
During my side by side testing between the Bose QC35 and the Jabra Elite 85h, I found the noise canceling handled background noises at the same level.
One trick that Jabra offers which you won't find on the competition is SmartSound. This uses AI on your phone and the built-in microphones to check the environment around you and automatically switch between commute, in private or in public. Each of these options offers different levels of noise cancellation and sound settings, and you can further configure the EQ for each mode. The in public option enables HearThrough, which uses the microphones to let some sound in. It's handy if you need to be aware of your surroundings, but still, want to keep your headphones on.
The sound quality is quite good, whether I am jamming out to Spotify playlists, watching movies on my iPad or streaming The Beard Guys and ChocoTaco on Twitch. Streaming music sounds good across a range of genres and the EQ options in the app make finding the right sound easy.
If you are constantly taking calls on your headphones, the Elite 85h has a distinct advantage thanks to Sidetone. This lets you hear yourself while you are on the call. It's a feature we see in a lot of gaming headsets, but not in many ANC headsets. This simple feature means you won't keep raising your voice through the call since you know how loud you are talking. You can adjust the amount of sound that comes through and you can even give callers a bass or treble boost.
The overall style and design of the Elite 85h stand out thanks to the fabric on the earcups and the headband. While this is still a headphone with a plastic shell it feels more substantial than the QC35 and looks more upscale. These headphones fold flat and pack into a carrying case that easily holds a charging cable and 3.5mm headphone jack.
I like that the earcups turn towards your body when on your neck, which makes for a more comfortable wearing position when you need to take the headphones off but not set them aside. The Bose QC 35 headphones rotate the opposite direction and aren't as comfortable. Even with the slightly heavier weight, I found the long term comfort very good. These headphones include a 2-year warranty that even covers water and dust.
The headphones turn on when you swivel the earcups and off when you turn them back to flat. It's a handy option, but it is easy to accidentally turn them off when you pick them up from a table or desk. Another feature is ear detection. When you take the headphones off, music can automatically pause and then resume when you put them on. You can turn off the auto resume feature. This even works with YouTube videos on my Mac. You can also use this detection to automatically answer calls when you put the headset on.
The headphone buttons on the right ear cup let you control playback and volume as well as answer calls. A small button on earbud lets you quickly access your digital assistant of choice and doing so enables HearThrough so you aren't shouting due to ANC.
This fabric looks nice, but it will pick up dirt or dust more than hard plastic. It's fairly easy to clean with a damp cloth, but worth noting. Jabra offers five color options; black, copper black, gold beige, navy and titanium black.
Jabra's working magic with the Elite 85h battery life. The headphones are rated for 36 hours with ANC enabled. This is long enough that I don't need to charge daily, don't need to charge at all on most trips and if I do let the battery life run down too much, 15 minutes on a charger adds 5 hours of playback. When I do need to charge I don't need a micro USB cable as I did for my QC35 headphones, I can grab my MacBook Pro or iPad Pro charger because the Elite 85h use USB C.
The Jabra Elite 85h headphones are $50 cheaper than the Sony Wh1000XM3 and the Bose QC35 II headphones, which is one reason to buy them over the competition. With noise cancellation that is on par with the competition, great sound quality and better call quality the Elite 85h are the ANC headphones to buy in 2019.