Jawbone Up Now Works With Android
The Up, Jawbone's fitness tracking bracelet is now compatible with Android, making it one of only a few fitness trackers that support Google's platform.
Starting today Jawbone Up users can download a free app from the Google Play Store that lets their fitness tracker interact with their Android smartphone or tablet. The app is free, but won't work without the Jawbone Up accessory.
The Up app helps users sync fitness data from their Jawbone Up as well as track food they eat throughout the day. Like other fitness tracking apps Up by Jawbone will graph the user's data so they can compare their day-to-day activity. The app will also help users track their sleep, showing them how well they slept throughout each night.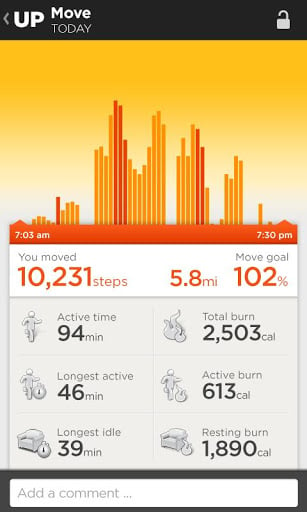 To sync the Jawbone Up with an Android device with the app users simply plug the tracker into the headphone port of their phone. Unlike other devices, the Up doesn't use Bluetooth to sync with phones which likely helps keep its size down. The Up fitness tracker also lacks a display so users can only see their fitness data after they sync the device to the app.
The Jawbone Up uses a vibrating feature to wake up users at the best time in their sleep cycle. The vibration will also remind users when they should get up and move around a bit after sitting in one place for a long time.
Jawbone's Up is only one of a few fitness trackers to support Android. FitBit recently released its own Android app, but it only works on the Galaxy S3 and Galaxy Note 2 at the moment. Samsung also announced its own fitness trackers as part of S Health on the upcoming Galaxy S4.
Nike, potentially the most popular company in mobile fitness, recently said it has no plans to bring its FuelBand app to Android. Android users looking to sync data on their phone will have to look at alternatives from Jawbone, FitBit, Samsung and any other company that decides to support the platform.

As an Amazon Associate I earn from qualifying purchases.