Video: Kindle Fire Hands-On – Amazon's Android Tablet Burns The Competition
At today's launch event I didn't get much chance to play around with the Amazon Kindle Fire tablet because there were few units on display and they were carefully controlled by the army of Kindle vice presidents on hand to show it off. Why so worried, Amazon? What is it about your tablet that made people afraid to even let us hold it to see how light it is?
This kind of thing doesn't bode well for launches. And it didn't seem so justified. From a distance the Kindle Fire looks like a pretty sweet tablet. Maybe they're afraid once we got into the details, the shine would start to rub off a little…
First, the good. I was able to hold the tablet for about 6 seconds to discern that the Kindle Fire is nice and light. It doesn't look quite as comfortable to hold as the new 7-inch Galaxy Tab thanks to slightly boxy sides. However, the shape and size is very close to the BlackBerry PlayBook, which is nice to hold (despite everything else). The soft-touch back is a bonus.
The IPS display does pop some nice colors and did appear to do well with viewing angles. Text shows up nice and crisp and video playback proved smooth. The display is super glossy, though. I have my doubts about how well that's going to do in the sunlight.
Though the room was very noisy, I was able to hear the audio in movies and music, so the volume is decent at least. You can't expect great audio quality from a tablet, but the output demonstrated during the keynote sounded decent enough for occasional listening and audio books.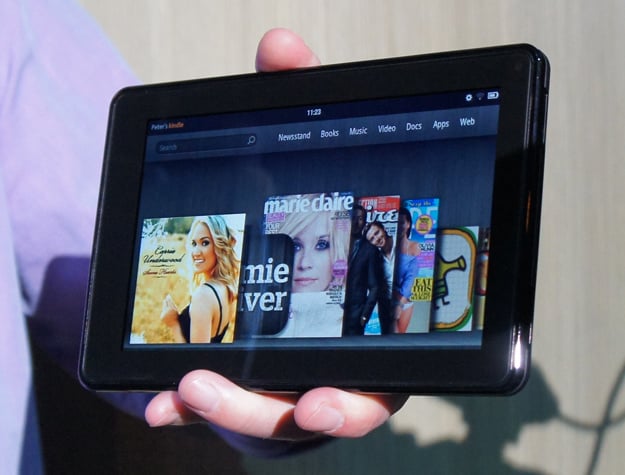 There's only one port on the device: a microUSB on the bottom for charging and connecting to a Mac or PC. Owners will be able to sideload their own content onto the device like documents, photos and video. However, no sideloading apps — you have to get them from Amazon's App Store.
There's no SD card slot, either, so you're stuck with the 8GB of internal storage. This isn't too bad since your content is stored in the cloud. You can download media to the device for offline viewing, then archive it again once you're done to make room for the next thing.
Performance-wise, in the demos the tablets did well on the basic stuff like scrolling through recent content on the home screen and playing video. However, when moving from one app to another or back to the home screen, I noted some lag. This may not be present in the versions that ship, though.

Inside there's a dual-core Texas Instruments OMAP processor — probably not as good as a Tegra 2, but good enough for what users will likely do with this tablet. Fruit Ninja runs well on it, and that's a game where you can really tell if the system is too slow to handle things. The RAM is unknown.
Amazon clearly learned a lot by studying the Nook Color. Just like Barnes & Noble's tablet, the Kindle Fire is based on Android with a UI heavily modified to Amazon's purposes. Specifically, the base is Android 2.3 Gingerbread, though most normal users will never see it. The good side of that is you'll be able to use most of your favorite Android apps on it as long as they're in the store.
The Amazon reps on hand said that the tablet will play sideloaded video via the Gallery app, so it should support any video format that stock Android supports. If so, it has a leg up on the Nook Color, as that device has some format and size limitations.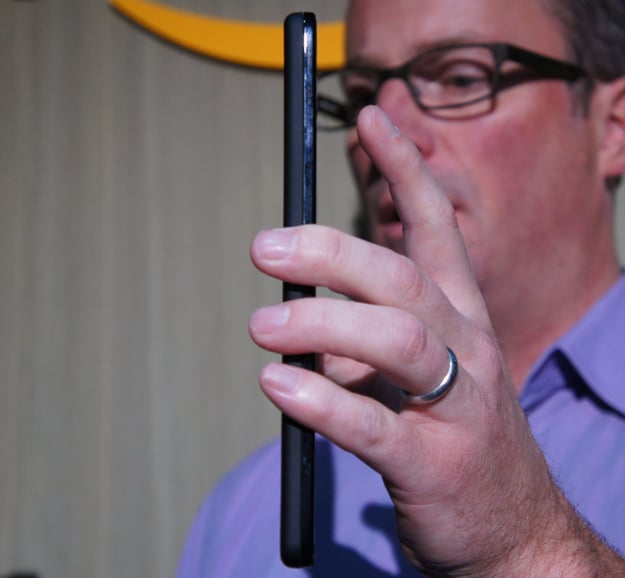 However, the Kindle Fire and Nook Color diverge in a very important way: Amazon's tablet is meant for media. Yes, you can play games and videos on the Nook Color but the main functionality of that device is reading. Here, users will finally get tablet access to Amazon Video on Demand, something customers have wanted for a long time. Plus, you can play the MP3s in the cloud player and read Kindle books and magazines in color. Currently, the Fire's $199 price tag is $50 below the Nook Color.
If you want to try the Kindle Fire in person before you buy, Amazon will also sell them via their retail partners starting around November 15th. There are no firm details on which partners will take the device, but you're likely to see it in the local Best Buy if no where else. In the mean time, check out the gallery below.

As an Amazon Associate I earn from qualifying purchases.