Kindle Fire Overtakes iPad 2 as Top Selling Tablet at Best Buy
We knew that Amazon's $199 Android-powered tablet, the Kindle Fire, was selling well. After all, it has occupied the top spot at Amazon since before it was released and Amazon itself claimed that it sold more Kindle's during this Black Friday than any Black Friday before it. And while we still don't have official numbers, we do have even more evidence that suggests that the iPad might finally have some viable competition in the sales arena.
Best Buy's website now lists the Kindle Fire as its top selling tablet, ahead of  an assortment of Apple iPad 2's.
There is no way to know if the tablet is indeed outselling the iPad 2 at the retailer (we'd be shocked) but this is definitely a place where no other Android tablet has ventured before and it should be acknowledged.
At the very least, it's becoming pretty clear that Amazon's tablet, a device that was met with mixed reviews, is top dog as far as Android tablets are concerned. Barnes and Noble's competitor, the Nook Tablet, currently sits at #8 on Best Buy's list.
Just behind the Toshiba Thrive.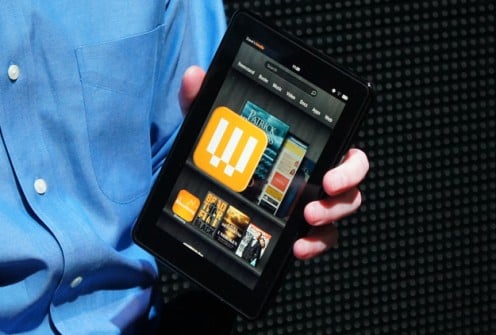 (Read our review of the Amazon Kindle Fire.)
It'll be interesting to see if Asus' Transformer Prime is able to put a dent into Kindle Fire sales or even better, if it's able to stay on top until the iPad 3 arrives.
Via: TechCrunch

As an Amazon Associate I earn from qualifying purchases.