Kindle Fire Sale Offers New Model for Only $79
Amazon has been going rather crazy with Kindle deals as we get closer and closer to Christmas, and today's deal is quite bananas. Amazon is having a Kindle Fire sale where it's discounting its new Kindle Fire HD 6 down to just $79.
The Kindle Fire HD 6 is one of Amazon's latest tablets to join the Kindle lineup, and it sports a 6-inch display, along with front and rear cameras, but the real show is on the inside.
The tablet sports a 1.5GHz quad-core processor, which is absolutely insane for the money you'll pay for it, and Amazon says that you'll experience 2x the speed and over 3x the graphics performance over previous generation Fire HD tablets.
As for the display, it's a 6-incher with a resolution of 1280×800, which isn't anything to write home about necessarily, but the 252 PPI pixel density is something to admire on a cheaper tablet like this.
The Kindle Fire HD 6 is regularly priced at $99, which is a steal in itself, but $79 is rather unheard of. However, it would make for a great Christmas gift for someone who's been wanting a tablet, but you're not wanting to spend an arm and a leg to buy one.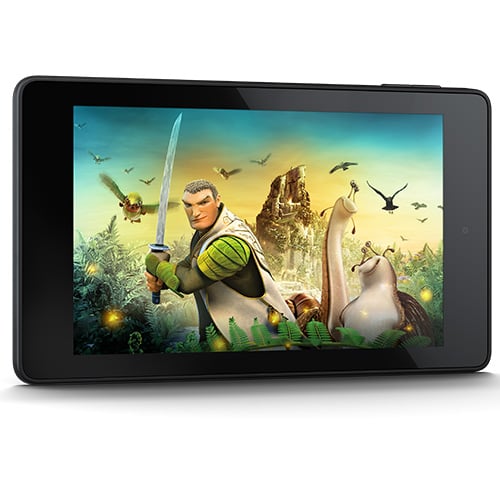 The only downside is that the 6-inch Amazon tablet only comes in 8GB and 16GB storage flavors, so you wouldn't be able to store a lot of stuff on it, but as with all Amazon tablets, it's about streaming content from various Prime services, so having lots of storage is something that Amazon really isn't focusing on.
Amazon has never been shy about discounting its hardware products, dropping the price of its Kindle Fire tablets by $50 for Cyber Monday last year, as well as few other models about a week later, and the company even offered some great deals on their tablets this year for Black Friday and Cyber Monday.
You can usually take advantage of Kindle hardware sales throughout the year, so there's almost no reason to not wait for a good deal on a Kindle e-reader or Kindle Fire tablet, but if you're wanting a cheap Kindle Fire tablet, spending only $79 for it is about the best deal you can find right now, so don't hesitate if you're looking for a last-minute Christmas gift for that special someone, or just a Christmas gift for yourself (you know you deserve it).
Of course, you can find Kindle products for cheaper if you wait for a sale on the entry-level Kindle ereader, which was recently on sale for $59. It's not the lowest price we've seen for the ereader, as we've seen it for as low as $49 in the past, but it's still a really good price.
The $59 will get you the Kindle ereader with Special Offers, meaning that you'll see advertisements here and there. The model without Special Offers (no ads) is on sale as well, priced at just $79 (the same price as the ad-filled version at regular price).
However, if you can handle the occasional ad, $59 is a fantastic price for a decent ereader, and it's pretty much an instant buy considering you're only paying that much dough for something that you'll get a ton of use out of if you read a lot, but you'll have to wait for the sale to come around again in order to take advantage of that price.
Otherwise, $79 for the Kindle Fire HD 6 is about the best tablet deal you'll find right now.

As an Amazon Associate I earn from qualifying purchases.