Kindle Fire vs. iPad 3rd Gen
The first reviews are in and it looks like the new iPad 3rd gen is a hit. Though it doesn't represent a huge upgrade over the iPad 2, the upgrades it did get make it an even better tablet.
(Read: New iPad Review Roundup)
But do they make it the best tablet for you? Different people have different needs, and the iPad doesn't meet all of them. If you're contemplating a Kindle Fire, for instance, you're probably looking for a smaller tablet or a lower price.
Before you go stand in line for Apple's newest slate, make sure it's what you want or need. Read on for our comparison.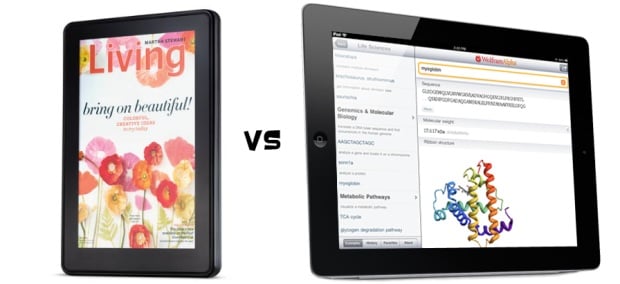 Size
Apple iPad 3rd Gen | 9.5 x 7.31 x 0.37 inches | 1.44 pounds
Amazon Kindle Fire | 7.5 x 4.7 x 0.45 inches | 14.6 ounces
The difference between a 9.7-inch tablet and a 7-inch model may not seem significant just looking at the numbers, but consider how you think you'll use the tablet.
The Kindle Fire's smaller size makes it easy to pull out while standing in line, or on a crowded train/bus, or any situation where you can't get settled or need to hold the tablet one-handed. It's also better for long reading sessions. The iPad is pretty light, but you'll still feel the weight after holding it for a half an hour.
Though tablets are very portable, many people don't take them out of the house much. In that scenario, the iPad is much more attractive. When sitting on the couch in front of the TV, working off a recipe in the kitchen, or catching up on social networks while lying in bed, the larger display is an asset. The weight won't be such an issue, even if you use it for hours.
Display
Everyone agrees that the iPad's Retina Display is beautiful and amazing. The super high 2048 x 1536 resolution has many benefits, including crisper text and beautiful 1080p video.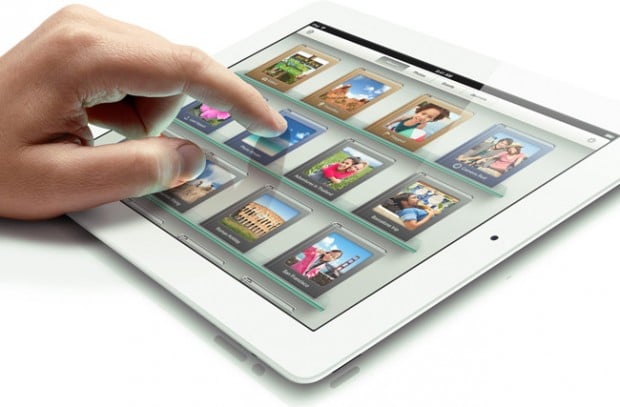 The Fire's 1024 x 600 resolution is not so impressive in comparison, nor is the display quality.
People who play a lot of games and want to watch full HD video will benefit most from the iPad's display. Though text will look better on it, if you only plan to use a tablet for reading email, web surfing, and reading, the iPad is overkill.
Multimedia
One of the advantages the Kindle Fire has over other Android devices it that owners have access to a vast multimedia library of titles to rent or own via Amazon that isn't officially available on any other tablet. The Fire pulls together all the threads of Amazon's media empire from music to books to video. Plus you get third-party services like Netflix.
Customers heavily tied into Amazon's ecosystem and content will be happy with the Fire for that reason.
Amazon spent several years building a media library to rival iTunes, but it's not quite there yet. Like the Fire, Apple's iPad gives users access to a vast trove of movies and TV episodes to rent or own. Although at the moment there's no streaming services similar to what you get with Amazon Prime. Still, the Netflix app is available for iPad, as is Hulu Plus.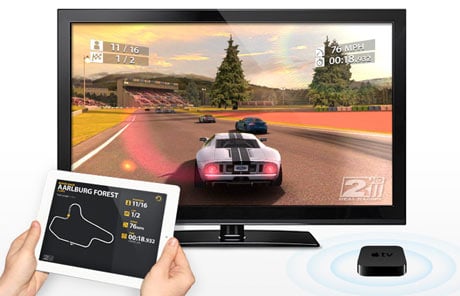 Most consumers will go with the tablet that can play what they already own. However, there is a compelling case to be made for the iPad if media is your thing. Since the aforementioned iPad display is far superior to the Kindle Fire, you're going to enjoy watching video on it a lot more. Especially the new 1080p iTunes videos.
Every major video service has an app for the iPad, including networks like ABC and CBS. The same is not true for the Kindle Fire right now.
Want some icing on the cake? In combination with an Apple TV, users can stream all media on their iPad on an HDTV. The Kindle Fire doesn't have any video output capability at all.
Apps
Right now there are over 585,000 apps available in Apple's App Store and over 200,000 of those are made specifically for the iPad.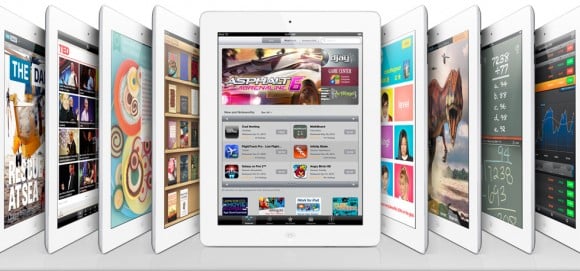 The Fire is an Android device, but does not have official access to the Google Play Store/Android Market. Fire users are limited to what Amazon offers (unless they root). The Amazon App Store has just over 29,000 apps total and 16,500 for the Kindle Fire.
These two app stores have many of the same titles, and most major apps are found in both places. If your app needs are simple – productivity apps, reading, surfing the web, a game every now and then – the Kindle Fire offers that.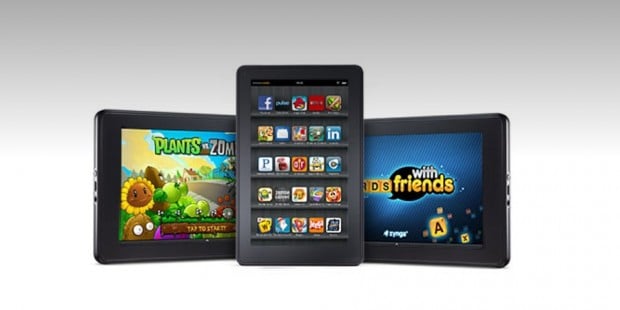 Almost any new, hot app will come out for iOS devices first, though. And thousands are exclusive to that platform, making the iPad attractive for people who want to do everything with it.
Like Apple, Amazon checks every app they offer in their store for viruses, malware, and compatibility with the Fire.
Price and Selection
For many consumers, this is the only comparison that matters. The Kindle Fire is $199, which is affordable for many and fits into a tight budget. As Amazon's commercial is fond of pointing out, you can buy two Fire tablets and a Kindle Touch for the price of one iPad. The trade-off is that the Fire's specs and features are very low-key whereas the iPad aims to offer a comprehensive experience.
There is only one model of the Kindle Fire: 8GB $199, Wi-Fi only. Consumers have their choice of nine different iPads.
There are three Wi-Fi only models — $499 16GB, $599 32GB, $699 64GB – and then three models with the same internal storage plus 4G LTE on AT&T and three more models with 4G LTE service provided by Verizon Wireless that cost $629, $729 and $829.
With the iPad you have much more choice (and much more of a drain on your wallet). But, given the features, Apple's tablet works hard to justify its price.
The Bottom Line
Consumers who have simple needs or a tight budget should go for the Kindle Fire. Though not as well-rounded as the iPad, Amazon's tablet can boast a good content ecosystem, a decent selection of apps, and ultra portability.
People looking for a tablet with more of everything from apps to content to resolution will be happier with the iPad.
(Related: Kindle Fire vs. Nook Tablet)