Kingston Debuts World's Largest 2TB Flash Drive
A few years ago Kingston released the first 1TB USB flash drive in history. An unbelievable amount of storage that fits in the palm of your hand. However, at CES 2017 the company just kicked things up a notch. By unveiling an all-new 2TB Flash Drive called the Kingston DataTraveler Ultimate GT.
Do you need to store over 70 hours of 4K video or 100 PC-games with you at all times? If so, that's what this thumb drive is offering. Kingston calls it the world's largest flash drive. Although it's still relatively small in terms of physical size.
Read: How to Add More Storage to Your iPad
The new Kingston 2TB Flash Drive delivers over 2,000GB of storage in a small package that fits on a keychain. We expected it to be rather large, but after catching up with the company at Pepcom during CES for some hands-on, we came away rather impressed. Read on for all the details, release date and pricing information.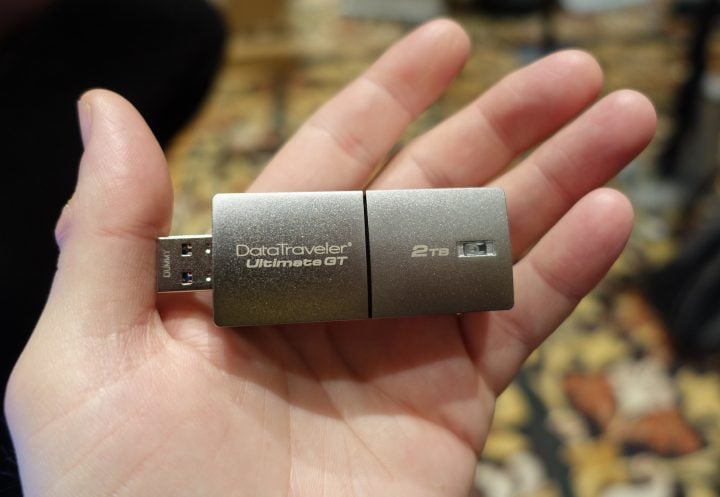 It has been nearly three years since the first 1,000GB Flash Drive was released, and still, no one else has one to offer. Kingston is still the only company with a 1TB thumb drive on the market. Which at a discount is still over $800. More than double the price of popular 512GB options on the market.
Of course, the new Kingston DataTraveler Ultimate GT isn't for average users. This is the absolute highest storage amount around. Especially considering how compact it is. Pictured above is the 2TB drive in our hand. It's durable, made of zinc alloy metal, and surprisingly lightweight.
So what about the specifics, speeds, and how much it can actually store? We have those details too. The press release has a full chart, but just know you can store over 70 hours of 4K video on it. Perfect for all you Drone pilots.
The new drive is made out of lightweight Zinc Allow metal, and claims to support full USB 3.1 Gen 1 performance. Meaning data transfer speeds of 5 Gbps theoretically. We doubt it will actually be that fast, though. Kingston mentions it will hold over a half a millions iPhone 7 photos. Around 520,000 12MP images to be exact. Hundreds of hours of 1080p video and much more.
Kingston's new DataTraveler GT is available in both 1TB and 2TB configurations. They are still the only company offering these storage sizes on the market.
So when can you get one? The company confirmed both new drives will be available starting in February of 2017. Sadly no pricing was made available at this time. However, while talking with reps we were told around $.40 to .50 cents per Gigabyte. Meaning users can still expect to spend around $1,000 or more for the 2TB USB Flash Drive. It does come with a 5-year warranty, and we'd recommend backing up anything to another source. Just in case. Get one next month if you have the cash.