Kinpad Android Tablet Uses an AMD GPU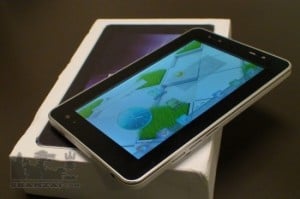 Kinpad is trying to differentiate itself from a number of tablets coming out of China by utilizing a graphics core from AMD. The 7-inch capacitive touchscreen tablet retails for $400, and unlike the U.S. variants of Samsung's Galaxy Tab tablets also features voice calls and SMS messaging, and runs on Google's Android 2.2 Froyo operating system with an ARM Cortex A8-based 800 MHz Freescale processor.
The tablet can handle 3G mobile broadband and the Freescale CPU with GPU functionality can play back videos in 1080p HD resolution.
Netbook News got some hands-on time with the tablet in the embedded video below. In the demo, the guys from Netbook News demonstrated the calling functionality of the tablet, it's customized UI, and system benchmarks. Overall, the device looks similar to an Apple iPad that's been bred with a Galaxy S in terms of styling. The odd thing is that there is a hole for a potential stylus though the device does have a capacitive touchscreen.
In terms of the benchmark, the 800 MHz CPU with AMD GPU is similar in performance to Samsung's Galaxy S smartphone, which runs on a 1 GHz Hummingbird CPU with integrated CPU.

As an Amazon Associate I earn from qualifying purchases.