KT Spider Smartphone Hybrid Blurs Line Between Phone, Tablet, Gaming Console
Thought the Motorola Atrix 4G with its Webtop Lapdock was a schizophrenic device that took on one too many personalities and couldn't decide if it was a phone or a laptop? Well, KT Spider ups the ante and makes a docking smartphone that can blur the line between a tablet, laptop, and gaming console, depending on which optional accessory you dock the device with.
In laptop mode, the concept is not all that dissimilar to the Atrix 4G. The laptop dock will convert the phone into a laptop where much of the processing power will come from the phone and the laptop itself is just a dumb conduit that contains a keyboard, extended battery, and larger display. When the phone is docked, the capacitive touchscreen of the phone becomes the touchpad for the laptop.
https://youtu.be/NcHgSY3xYLo
The Spider Pad tablet will allow the Spider phone to dock to a larger tablet display. The concept is very similar to the Asus phone-tablet hybrid concept that had been demonstrated before.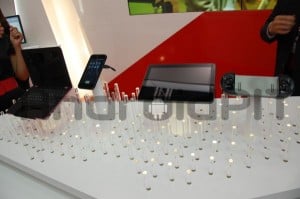 And in gaming mode, the device docks into a handheld controller that gives its users access to a directional pad, joystick, and buttons for gaming, turning the Spider phone into a Playstation Portable unit.
The best part is that even without these optional docking accessories, the phone itself is an excellent piece of hardware. Powered by a dual-core 1.5 GHz CPU, the device has a very high resolution 1280 X 800 pixel display on a 4.5-inch surface. The number of pixels on this smartphone is similar to that on the Motorola Xoom tablet.
The device will be launching in Korea this holiday season, though pricing was not announced.
Via: Engadget