Kyocera Torque Gets an FCC Layover On Way to Sprint's 4G LTE Network
It looks like the rugged Kyocera Torque is now sitting at the FCC for U.S. regulatory approval before it heads over to Sprint's network. The Torque may be among the first ruggedized 4G LTE smartphones as previous rugged efforts–like Verizon's G'zOne Commando–have been focused at 3G networks reserving 4G LTE for more premium flagship offerings.
Many of the phone's specs are still unknown at this time for the Kyocera Torque except that the device was shown to be running on Google's Android Ice Cream Sandwich software. The device will have support for Sprint's 4G LTE network, for which availability is still limited at this time but Sprint is promising expanding LTE coverage. The device will come with LTE, NFC, and WiFi b/g/n radios, according to the FCC filing. Additionally, the Torque will have support for a front-facing camera as well as a rear-facing camera of unknown resolution and an LED flash.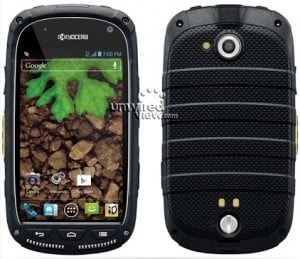 Rugged phones in the past are not known for their 'high-end' specs, and it's unclear if the Kyocera Torque will be the first to break that mold.
The Kyocera Torque for Sprint has a model number of E6710, according to Unwired View.
Pricing and availability information are both not known for the Torque. In the past, Kyocera handsets for Sprint have been priced more affordably, and the Torque could potentially be a more wallet-friendly model on Sprint with a two-year service agreement.
Potential venues for Sprint to announce the Torque may include Mobile World Congress, though that's more of an international show, as well as the CTIA Spring show, though that show is further away.
A close competitor to the Torque may be the Motorola Defy XT, which is sold in the U.S. through MVNO carrier Republic Wireless, which piggybacks on Sprint's network. That device, however, only works on 3G and not on 4G LTE.