Laid hands on the "perfect mobile keyboard"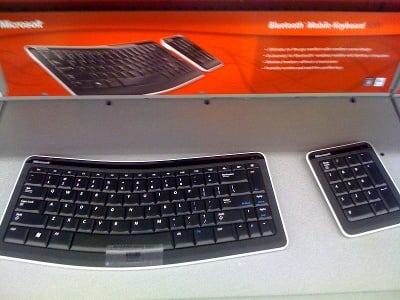 Okay, I can't claim definitively it's perfect, but since Xavier had previously asked if the Microsoft Bluetooth Mobile Keyboard 6000 was the "perfect mobile keyboard", I thought I'd follow that up by expressing my desire to find out.
Put my fingers on it at Staples today, and while I couldn't actually type anything with it since it wasn't connected to anything, the feel was so good that I'm really looking at getting one.
I've long considered getting a mobile BT keyboard, but the size has always been a barrier to me. I'm no good on anything less than full-size and usually work better with ink or on-screen keyboards in that case. The 6000, while slightly smaller than normal, uses Microsoft's ergonomic curve design, which is very comfortable to me. It also includes a separate 10-keypad, which is highly attractive.
As for how I'd use it, I have several options. There's my Tablet PC, which is a convertible, but I like to be flexible in my usage scenarios. I currently use my media PC without a keyboard, sticking with my Wacom Graphire Wireless and media center remote control. I can't say a keyboard wouldn't come in handy some time though.   Once iPhone OS 4.0 is released, I'll have BT keyboard support on my iPhone, which would be useful for typing out emails while leaving the phone docked to my speakers (highly useful since I listen to music all day). And in a bit of irony, when I eventually get an iPad, this super-thin Microsoft keyboard would  make an ideal mobile complement.
List price is $89.95, but Amazon has it for $59.95 and I'm watching eBay for deals. If you have experience with it, please let us know.

As an Amazon Associate I earn from qualifying purchases.