Latest Android Stats Show Gingerbread Just Won't Die
Every few weeks Google releases stats on Android Platform Versions to give us a breakdown of what versions of Android users currently run on their devices, and this week we see what happens when Google introduces a new version of Android.
Today's Android distribution numbers show Android 4.1 Jelly Bean entering the fray with 0.8 percent of the total Android market. That number includes all the Nexus 7 units that users activated until August 1, and every Galaxy Nexus that's running the latest version of the OS. The percentage might be higher if Google and Asus didn't underestimate the demand for the Nexus 7 which is still hard to find.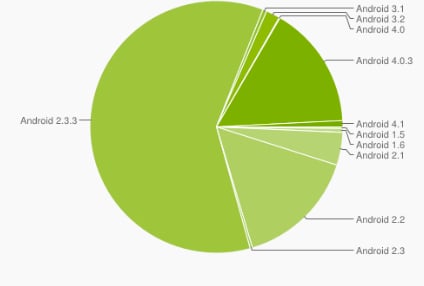 The last major update before Jelly Bean, Ice Cream Sandwich, only has 15.9 percent of the total market. That's better than previous numbers, but still depressingly low for an OS that was launched in later 2011, and is so much better than previous iterations. We're still waiting for some phones to receive the update to ICS, but many phones will get left behind on Android 2.3 Gingerbread.
Read: Ultimate Android 4.0 Ice Cream Sandwich Update List
Gingerbread is possibly the most depressing figure in the distribution percentages. Gingerbread continues to lead the pack with just over 60 percent of the market. That means 60 percent of the Android market can't use new apps like Google Chrome, nor do they have the security features and nicer layout of Android 4.0 or above.
What makes the Gingerbread numbers even more depressing is users aren't the ones making the decisions on the update. Users have to wait for manufacturers to upgrade their phones, and there's no guarantee the manufacturers can or will perform the upgrade.
Read: Ultimate Android 4. Jelly Bean Update List
Other depressing number include 15.5 percent of users still on Android 2.2 Froyo, 4.2 percent on Android 2.1 Eclair, 0.5 percent on Android 1.6 Donut, and 0.2 percent on Android 1.5 Donut. We assume those last two are from a few G1 hold-outs who haven't bothered to buy new phones yet.

As an Amazon Associate I earn from qualifying purchases.