Leaked Document Suggests Droid 4's Launch Pushed Back to February
The Motorola Droid 4, an Android handset with a QWERTY slide-out keyboard and 4G LTE support on Verizon's network, was speculated to arrive today, December 22. Given that there hasn't been any word of a release from Verizon nor Motorola, we can assume that the handset won't be coming today. Additionally, it appears that Verizon is giving its latest devices some breathing room as the Droid 4 is now said to be launching in February instead.
The leaked information now suggests that the handset will launch on February 2, 2012. The device could make a debut at the Consumer Electronics Show in early January and see an announcement by the Motorola and Verizon camps.
Given the close timing between the launches of the Motorola Droid Bionic, Motorola Droid RAZR, HTC Rezound, and Samsung Google Galaxy Nexus smartphones, the move to delay the launch of the Droid 4 may allow for these newer handsets to shine and give them time to generate sales on their own. Also, it wouldn't cannibalize the sales of Verizon's 4G LTE family of phones.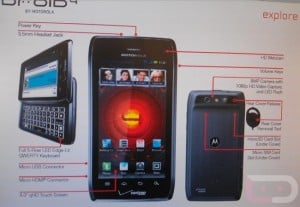 Furthermore, another potential reason for postponing the launch of the Droid 4 may be to give the Droid 3 additional shelf life and not anger early adopters of the Droid 3. Given that the Droid 3, which lacks 4G LTE network connectivity, was only launched in July 2011, launching the Droid 4 in February would give that handset less than six months of shelf life. Verizon could theoretically offer both the Droid 3 and Droid 4 side by side, selling the former as a cheaper premium handset while the latter could be positioned as a higher-end 4G handset. However, selling a Droid 3–as in third-generation phone–alongside the Droid 4–as a fourth generation phone–may cause some confusion.
Additionally, a discounted Droid 3 alongside a premium launch price on the Droid 4, likely to be $300 at launch, will also make Verizon's 4G LTE handset pricing more apparent. Whilke the carrier is offering 4G LTE phones at a premium when compared to 3G phone pricing, there has not yet been a direct comparison for price differences. With a Droid 3 and Droid 4 carrying very similar specs and the major difference is between the 3G or 4G connectivity, the premium pricing will become very much apparent if both devices were to occupy shelf space at the same time at retail.
The Droid 4 is expected to have similar specs to the Droid RAZR and angled corners like the slim RAZR, but with the Droid 3's keyboard and overall form factor.
Via: VZBuzz

This article may contain affiliate links. Click here for more details.