Leaked Encased Galaxy S III Shows Off Large On-Screen Menu Button
In the latest leaked image of a device that is widely believed to be the third-generation flagship Samsung Galaxy S III (or Galaxy S3), it appears that Samsung is taking extra precautionary  measures to keep the design of the phone secret by hiding the device inside what appears to be a plastic housing that resembles that from a larger Galaxy S II smartphone complete with plastic volume buttons and the standard Samsung home button on the front side of the device. Unlike a previous leaked image of the device where we have a near edge-to-edge display, this casing doesn't appear to be elegant, but even with a 'last generation' Galaxy S II design, it doesn't look bad either.
Stuffing a Galaxy S III into a make-shift case design that may be different from the final production hardware is a move that is more commonly associated with Apple, which is more secretive about its products in an effort to avoid leaks, build buzz and hype, and to generate as much attention on the day of announcement as possible. Given Samsung's and Apple's legal battles on intellectual property and patents, the two companies are seemingly employing more similar strategies as of late.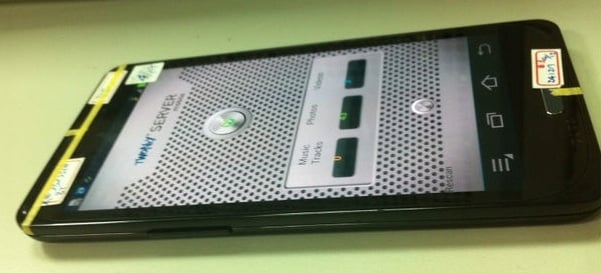 What's interesting from this leaked picture isn't the hardware itself, but rather the software and how Samsung envisions its TouchWiz user interface to interact with the Android 4.0 Ice Cream Sandwich operating system. Unlike on the Samsung Galaxy Nexus, the first device to debut with Android 4.0, the Android navigation keys, which are found on-screen, have been altered a bit. Like the Galaxy Nexus, we have the multitasking, home, and back keys on the bottom of the screen, but on this device it appears that Samsung is giving the Menu key more prominence according to the leaked picture posted on Mobile01.
Interestingly, Google had recently advised developers to not rely on the Menu key and to shift Android app development away from the button. This would give Android a cleaner look and help beginners to the platform see everything that the app has to offer without having to dive into menus and sub-menus, similar to what is being driven on rival Apple's iOS platform. However, given Samsung's shift of the Menu button to a more prominent button to create a four-button lineup on the bottom of the display–on the Galaxy Nexus, it was just three buttons and the Menu key held a smaller placement as a vertical placement of three vertical dots on the right edge of the bottom bar of buttons–suggests that Samsung doesn't think that apps are ready to ditch the menus yet and it will take some time for developers to re-tool their app under Google's new guidelines.
The Galaxy S III will be announced at an event in London on May 3rd.

This article may contain affiliate links. Click here for more details.