Leaked Gmail 4.2 for Android Reveals Pinch to Zoom, Swipe Gestures
Google may be working on a new version of the Gmail app for Android users, bringing the app to version 4.2 and adding new features such as pinch to zoom and swiping gestures. With Google slated to announce the LG-made Nexus 4 (previously rumored to be called the Optimus Nexus) later this month, this new version of the Gmail app can debut on that smartphone along with a slightly updated version of the Android OS. It's unclear if Google will make Gmail 4.2 for Android available for prior versions of Android, including Android 4.1 Jelly Bean and Android 4.0 Ice Cream Sandwich, at this time.
According to the leaked Gmail 4.2 app obtained by Android Police, pinch to zoom works as stated and has been one of the most requested feature for the popular email application on Android smartphones.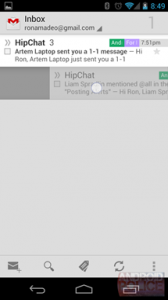 The next feature is the swipe gesture, which is configurable. Like the swipe feature in Android's notification bar that allows users to swipe through notifications to dismiss them, swiping through individual messages in the Gmail app allows users to quickly archive or delete them, based on configured settings. This will definitely speed things up and allow users to quickly triage their email inboxes while on an Android smartphone or tablet.
The nice part is that this is all configurable so you can set your action to delete a particular message, archive it, or have no effect if you're afraid that your fingers may be swipe-happy while reading your email lists.
Also, another new feature is the ability to report a message as phishing, which will help Gmail identify spam and phishing scams through crowdsourcing.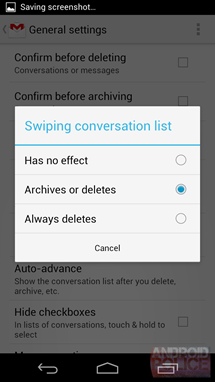 Right now, the leaked app APK installation file isn't being released yet by that publication, but hopefully we'll know by the end of the month if rumors of the LG-made Nexus phones are true.

As an Amazon Associate I earn from qualifying purchases.