Leaked Images Confirm Sprint Galaxy S II Epic 4G Touch Features
While Samsung and Sprint probably were hoping to keep their device under wraps until tonight's announcement, it appears that the device which they will be announcing, the Samsung Galaxy S II aka Epic 4G Touch has been revealed by Samsung ahead of time. Android Central has uncovered a series of official looking images that not only give us yet another glimpse at Sprint's device but also reveal some features as well.
We had seen this device pop up in an image twice recently and while we got a good look at it, we weren't exactly sure about the specifications. 4G WiMax was pretty much a given considering we saw it pass through the FCC with it on board, but what about the rest of the specs.
Well, you'll still have to wait until tonight to find out some of them but the major ones have been revealed. A 4.52-inch Super AMOLED Plus display is going to be one of the highlights of the Epic 4G Touch and it's also going to be powered by a 1.2GHz dual-core processor.
Toss in its 4G WiMax speeds and an 'Advanced Android experience' and you have the recipe for something special.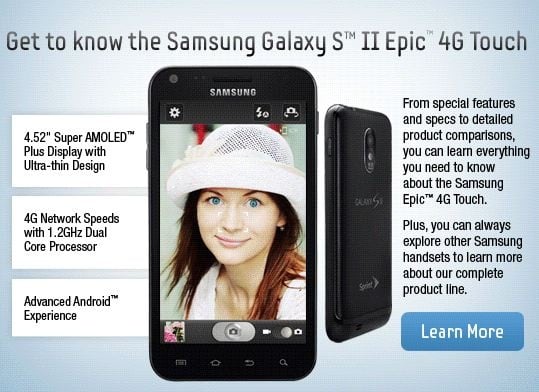 Oh, and we should add that yes, it will be called the Epic 4G Touch and not the Epic Touch 4G. A little odd if you ask me, but I think we'll all live.
Who's excited?