Leaked iPad 3 Panel Shows Camera and Home Button In Familiar Positions
Earlier this week when Apple sent out the invitation to the iPad 3 event, the image contained in the invite spawned a new rumor. While the obvious one was the Retina Display that seemed to be in the image, others began speculating about the lack of a home button in the image. And more specifically, if the iPad 3 would ditch it entirely. Newly surfaced parts seem to prove that rumor to be untrue.
A few new images have popped up showing what appear to be iPad 3 front panels. The panels have the newly designed ribbon cable that has shown up before with other parts. They also show a home button and front-facing camera in very familiar looking positions.
The panels are both black and white, just like the iPad 2. In fact, they seem to look just like iPad 2 panels save for the new ribbon. That lends more evidence to the idea that iPad 3 will look just like the previous iteration, but with better specs and a 1mm thicker back panel.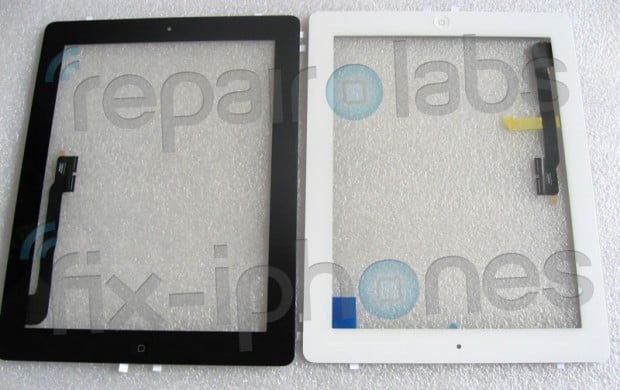 Keep in mind, this doesn't mean the iPad 3 won't have gesture controls. Both the iPad and iPad 2 already have optional gesture controls. They just don't have PlayBook-esque gestures from the bezel around the screen. If you want to, you can still control everything on the iPad without ever touching the home button.
Apple as a company doesn't seem to like putting too many buttons on devices, but potentially confusing new users by eliminating one of them doesn't seem like the best idea.
The iPad 2 currently have four buttons and a switch, all of which serve very specific purposes no matter what orientation the device is in. Bezel gesture controls would mean that the function of each side (assuming it was done like the PlayBook) would change whenever the iPad was rotated.
That doesn't seem like a very Apple thing to do.
Via: Apple Insider

This article may contain affiliate links. Click here for more details.