Leaked Memo Suggests Verizon Galaxy Nexus Release Date is November 17th
Toss another release date into the hat for the Samsung Galaxy Nexus launch on Verizon as Android Central has conjured up an internal memo that clearly states that the highly anticipated device will hit stores not in and around Black Friday as previously rumored but on November 17th, the same day that it will be landing on carriers in Europe.
Now, this document apparently is a "work in progress" according to the source that leaked it. That means that it's possible that Verizon could switch up the date before this memo gets sent off to Verizon stores around the United States.
So, the release date remains unconfirmed.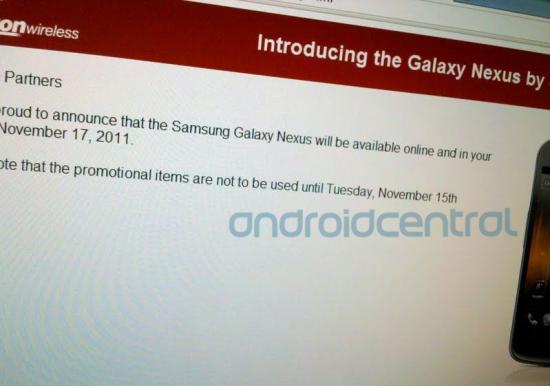 While this is obviously unconfirmed, we have a pretty good feeling that those of you who want to get your hands on this would rather have it in your possession sooner rather than later so today's news is certainly good news.
Let's hope it holds up.

As an Amazon Associate I earn from qualifying purchases.