Leaked Photos Confirm HTC Vigor Features
There is another phone on the horizon that looks to have the credentials to match up against the Samsung Galaxy Nexus, Samsung Droid Prime for Verizon and the iPhone 5, a phone that is codenamed HTC Vigor. And while we think we're pretty sure we know that the HTC Vigor is all about spec wise and form factor wise, some new photos have popped up today that not only show off the phone's design but also confirm some of the features that will on board when this phone hits Verizon's 4G LTE network.
The photos, leaked by TeamBAMF, show off a gorgeous handset that has 4G LTE branding, a Droid Incredible style backing, a crisp display, and an About page that confirms just about every spec that those interested wanted to see confirmed.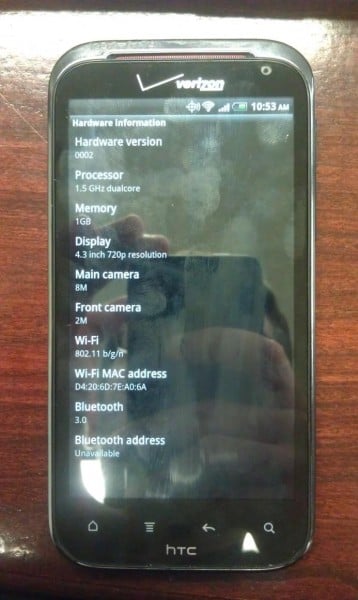 Under the 'Hardware Information' part of the phone's settings, the HTC Vigor is listed as having a 1.5GHz dual-core processor, a 4.3-inch HD display, 8MP rear camera, 2MP front facing camera, Android 2.3.4, HTC Sense 3.5, 1GB of RAM and 4G LTE.
Nothing on the battery size, which we think was confirmed last week. And, of course, there is nothing on the release date either but we believe the phone is coming to Verizon by October 20th. We're also unsure of the HTC Vigor's actual name with HTC Rezound now being the front-runner.
Who's excited?
We definitely are.
Via: Droid-Life

As an Amazon Associate I earn from qualifying purchases.