Leaked Screenshots Show Microsoft Office for iPhone
Microsoft Office for iPhone, iPad and Android will arrive early next year with the iOS version inbound first, according a report from The Verge.
The report also contains images of mobile Office for iPhone which looks a lot like Office on Windows Phone. The screenshots show Microsoft Office Mobile with a Metro (or Modern) aesthetic with support for Word, PowerPoint, and Excel. It appears, however, that users will need to download or pay for each app separately.
Like other Microsoft apps on iPhone and Android like SkyDrive and OneNote users need to sign in with a Microsoft account to access the Office Mobile apps. The account is the same account used in those apps, the Xbox 360, and Windows 8 for users who sync their preferences across devices.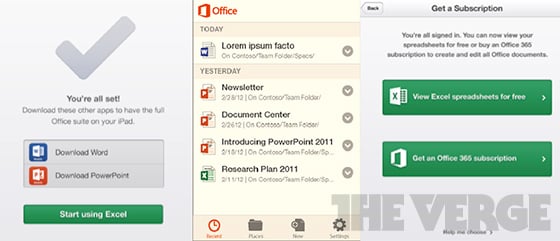 The screenshots also show that users will need to have an Office 365 subscription to edit documents. Users can view any document they want from the apps, but to create new documents or edit existing ones users need to pay. A subscription to Office 365 currently stars at $6 per user per month.
With the Office 365 integration it appears Microsoft is trying to target mostly businesses with Office on iPhone and Android. Individual users can sign up for the service, but pricing plans all refer more to the needs of companies than the needs of individual users.
Even with an Office 365 subscription the apps will only will only allow basic editing. Users who want to handle a lot of formatting will still need a desktop version of Office.
Office Mobile for iOS will likely come to the App Store in late February or early March, and will come to Android in May 2013.
iOS users already have access to Apple's iWorks apps Pages, Keynote, and Numbers, which offer almost every feature of their desktop counterparts on the iPhone and iPad. Both iOS and Android users also have access to Google Drive which has much of the same functionality as Office Mobile for free.

As an Amazon Associate I earn from qualifying purchases.