Leaked Screenshots Show More of BlackBerry 10
Screenshots of BlackBerry 10 leaked to Vietnamese website Tinhte shows off the homescreen, notifications and a Siri competitor in the upcoming OS from RIM.
Many of the screenshots show features that RIM already showed off in BlackBerry 10. RIM already announced BlackBerry Hub, the app that will show any sort of message the phone receives. That includes phone calls, SMS messages, emails, Facebook messages, LinkedIn messages and tweets. The automatically groups all messages together in one screen, but users can view them by service if they choose.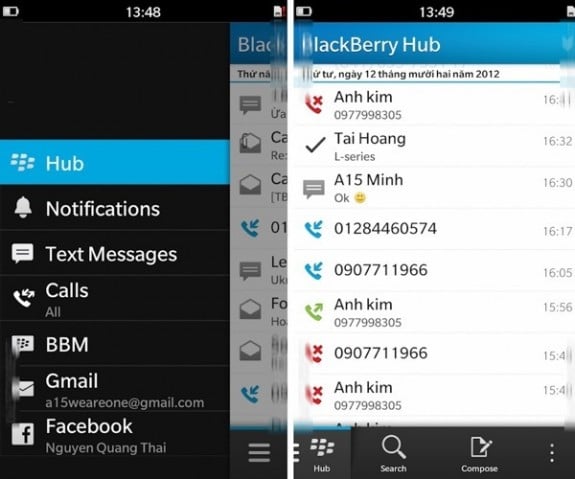 Interestingly the screenshots show what looks like a Siri competitor for BlackBerry 10. RIM hasn't announced anything about such a feature in the OS yet. It's not clear how the app will work beyond accepting voice commands. Based on the screenshots it's likely that it will compete more with Siri as a "personal assistant" than with Google Now and its powerful system of cards and context awareness.
Some screenshots also show apps for Twitter, Facebook and Foursquare. All of the apps look almost exactly like their iOS counterparts with a few changes, but not many.
Facebook in particular looks the same as it does on the iPhone because the screenshots only show the top menu bar with Facebook charms and the news feed. FourSquare's main difference is the design of the menu bar at the bottom of the screen. Twitter's app looks very similar to the iPhone version, except the menu bar moved from the bottom of the screen to the top and the blue bar at the top of the screen looks slightly different.
RIM will officially launch BlackBerry 10 along with its L-Series of smartphones on January 30, 2013 at an event in New York City. The company will likely announce when the phones will come to market, and which carrier will offer them at that event. RIM has to fight an uphill battle against Google and Apple in the smartphone race, and BlackBerry 10 is its first major redesign in several year.