Lenovo Announces VIBE K5 Plus: High Specs, Low Price
At Mobile World Congress this week in Barcelona, Lenovo announced two new Android-powered smartphones: the Lenovo VIBE K5, and the Lenovo VIBE K5 Plus.
Another Mobile World Congress, and another set of smartphones from Lenovo – and this time, they're a better value for the money than ever.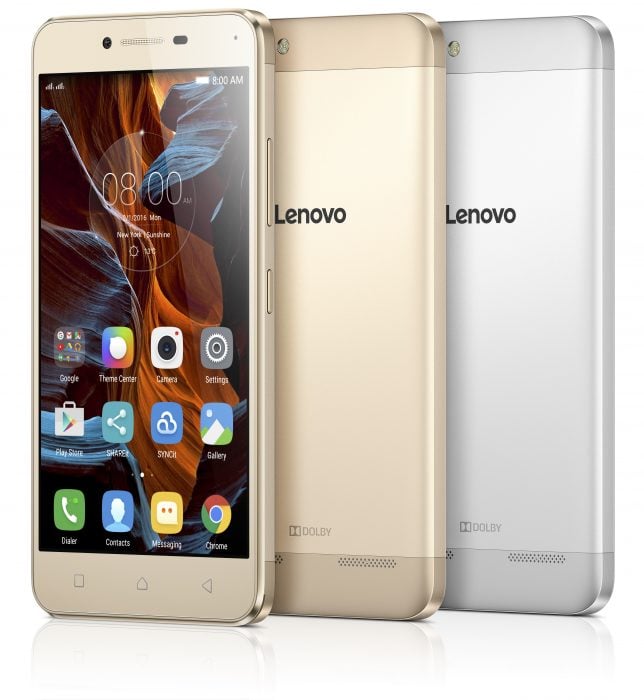 Let's start with pricing. The new Lenovo VIBE K5 Plus will be available in March (Lenovo says the new phones will be sold in countries where Lenovo smartphones are sold – which means not the United States, regrettably) for just $149. We've seen more and more smartphones coming in for well under $200 that don't compromise on the specs; with these new phones, Lenovo is pushing that even further.
The VIBE K5 Plus is a 5-inch phone with a standard resolution of 1920×1080 – it's less than some flagships' 2560×1440, but the difference won't be noticeable outside of using your phone as a VR headset. It features 16GB of built-in storage, with a micro-SD card slot offering you the potential for 32GB more.
Powering the phone is one of Qualcomm's 616 processors; leaked benchmarks have pegged its performance to be similar to LG's G3, which had a Snapdragon 801 inside. The battery is user replaceable and still packs in 2750mAh. A 13MP rear-facing camera has an LED flash and autofocus, while the front-facing cam's 5MP resolution should make for acceptably sharp selfies.
The most interesting spec on the K5 Plus' technical sheet is the inclusion of Dolby Atmos technology: Lenovo put on a pair of rear-facing stereo speakers, suggesting that the K5 Plus doesn't need headphones to deliver quality audio, a feature we've seen few companies (outside of HTC and their dual front-facing speakers) brag about.
Lenovo will offer their new smartphone in Platinum Silver or Champagne Gold, which are similar to the their other phone colors for the past few years (this isn't a complaint; Lenovo makes some pretty phones). The Plus will be 8.2mm thick and weigh 142g; by comparison, an iPhone 6s comes in at 7.1mm and 143g – but it's a smaller-screened phone with a bigger price tag.
You can probably tell from the naming convention, but the Lenovo VIBE K5 (which will also be sold as just the Lenovo K5) is Lenovo's new affordable model. Coming in at $129, the K5 (no Plus) keeps the 5-inch, 1080p display, and swaps the Snapdragon 615 processor out for a lower-cost Snapdragon 415.

As an Amazon Associate I earn from qualifying purchases.