Lenovo IdeaCentre Y900 RE Review: Flashing Lights
PC gaming hardware is a strange place. Every major company in the space is so focused on its own efforts, that hardware partnerships are rare. The byproduct of all of this is a curious divide between PC hardware makers and the creators of some of gaming's best accessories. PC maker Lenovo is hard at work in the gaming space. It's launched fresh idea after fresh idea, hoping to get a foot hold in one of the few growing segments of the PC space. The Lenovo IdeaCentre Y900 RE is perhaps its most curious idea yet.
If you buy your gaming PC from Lenovo, it comes with a pretty cheap mouse and keyboard, despite you having paid top dollar for it. Sometimes this works out, you are free to purchase whatever keyboard and mouse you like the most. For a growing number of casual PC gamers, this isn't ideal. They want to be able to make a single purchase and get everything they need.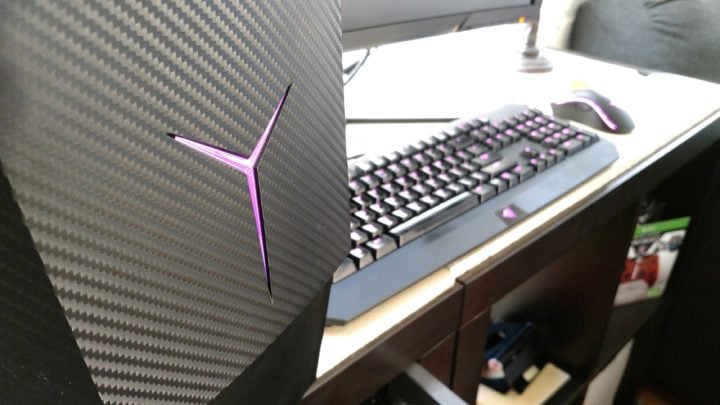 The $2,499.99 IdeaCentre Y900 RE bridges the divide between PC makers and creators PC gaming accessories. Lenovo worked directly with Razer, makers of keyboards, mice and more, to create a gaming PC bundle that includes the company's great accessories. What's more, the Lenovo IdeaCentre Y900 RE itself includes support for Razer's most divisive contribution to gaming yet: Chroma lighting.
Lenovo IdeaCentre Y900 RE Review:  Design & Internals
As its designation suggestions, the Lenovo IdeaCentre Y900 RE isn't a completely new addition to the Lenovo line-up. It's a step up, an enhanced version of the Lenovo IdeaCentre Y900 that the company began offering months ago. That's definitely not a bad thing. Inside and out, that gaming PC had a lot going for it.
Read: Lenovo IdeaCentre Y900 Review: Future Proof
Physically, everything is the same as the machine it improves upon, from the glowing Lenovo logo to the angled air intake and carbon fiber texture that runs almost the entire length of the PC's face. Apparently, Lenovo felt that they were so similar, it needed to adorn IdeaCentre Y900 RE with a Razer Edition badge. I still like the handle built into the tower that makes it easier to move. I still appreciate the four front-facing USB 3.0 ports, media card reader and headset jack, though the USB ports now have a green coloring in a not-so-subtle hint at Razer's involvement.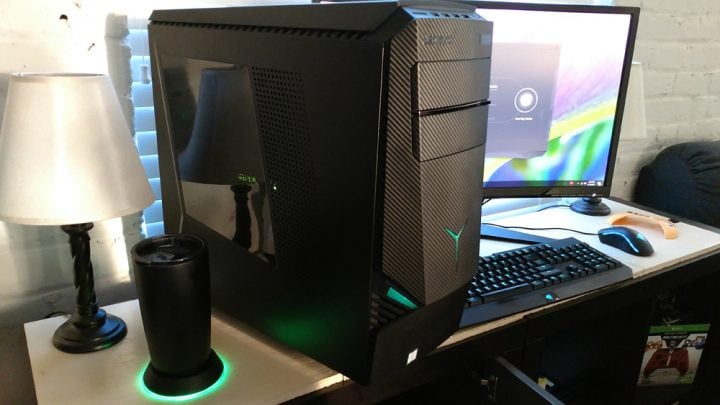 The easy to clean air filter, ample space for adding new components and clear left window into the PCs inner workings are all still there.
The Lenovo Y gaming logo adorns the front of the case that glows red on other machines, is set to green by default. Inside the chassis are four different zones that buyers can customize the lighting for. This is the same technology that comes built into the Razer BlackWindow Chroma Keyboard and Razer Mamba TE Mouse that are packaged with the system. They replace the pedestrian keyboard and mouse included with the IdeaCentre Y900. One set of lights shine through the chin on the front of the system. The other sends hues of different colors through the rear mounted fan.
Lenovo has also taken this opportunity to add a 4GHz Intel Core i7-600K processor that can easily be overclocked using the company's built-in software experience. Gotta Be Mobile's review unit came with an NIVIDIA GTX 1080 Founders Edition graphics card with 8GB of dedicated DDR5 RAM, 16GB of system RAM and a 256GB solid state drive. You can't change its configuration on the company's website, so $2,499.99 is as low as this machine will sell for.
Lenovo IdeaCentre Y900 RE Review: Experience
With specs like those, I assure you that anything you throw at this IdeaCentre Y900 RE will run fine. Planet Coaster and Gears of War 4 Ultimate Edition run well at their highest settings, paired with two of Lenovo's Curved 27-inch gaming monitors. Performance exceeds the IdeaCentre Y900 because of a bump in processor clock-speed. Intricate 4K setups and processor intensive activities, like rendering media and 4K video, are better served by the bump in raw horsepower. The RE has another trick up its sleeve; it's capable of using 64GBs of RAM. Double what the normal Y900 can handle.
Razer's contributions are solid. The BlackWidow v2 Chroma keyboard included with the PC supports all the same lighting technologies that towers does. A braided cable feeds information to and from the host PC. A USB port, headset, microphone jack and headset jack sit on the keyboard's left face. They offer a great way to connect accessories without going behind the tower and ruining your cable management setup. You get to program the right row of M keys to do specific tasks in your favorite games.
There's plenty of key travel and every push feels satisfying thanks to the mechanical switches underneath their surface. Though comfortable, they are not at all quiet. You can hear this keyboard across a room without much effort. If your PC is in a den away from other people, you won't care. If your PC is next to the main television watching area like mine is, you'll end up on the receiving end of some upset VH1 watcher's glare. The comfort is worth the ambient noise.
The Razer Mamba Tournament Edition mouse included with the IdeaCentre Y900 RE is the best wired mouse I've ever used. Every button – and there are seven if you include the scroll wheel – is easily accessible. I don't like the rubber texture on the sides of the mouse or the scroll wheel. They come really close to being too sticky if your hand is sweating.
My main reason for liking the mouse is how sensitive it is to the slightest movement. There's a 16,000 DPI sensor on the bottom that detects everything. I really noticed the difference in sensitivity after going back to my usual mouse to play Planet Coaster, when there's a lot of required mouse movement. I always felt the pointer ended up exactly where I wanted it.
This mouse also features a braided USB cable that connects to the Lenovo IdeaCentre Y900 RE.
Because the highlight of this machine was the Chroma technology from Razer, Lenovo also provided one of its $649.99 Y27g RE curved gaming monitors that includes Chroma. I added my own recently acquired Razer Mug with Chroma. You can't buy it in stores.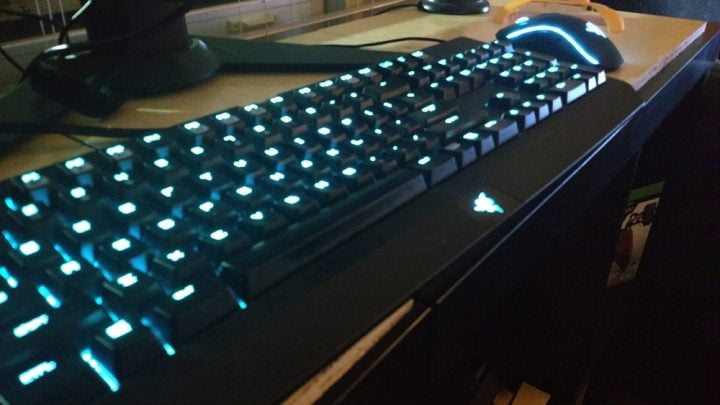 All of this stuff is linked and managed by Razer's detail-laden Synapse app. The app comes prepopulated with Chroma patterns and settings, but you can create your own or add more from the web. The mouse and keyboard each have a gaming mode, too, for customizing how they work inside and outside of your favorite titles. I was able to make specific rules for specific games, like disabling the Windows key for a strategy game because I got tired of accidentally seeing the Windows Start experience every time I missed the Control key.
In games, I stuck to highlighting only the keys I needed for that game. When outside of a game, I set all the Chroma accessories to strobe between different hues in their 16,000 lineup, which was cool. Razer hopes that you'll also want games that have Chroma certification. This would allow your mouse, keyboard and the Y27 RE Curved gaming monitor to immerse you in your games a bit more.
I own Minecraft and found the Chroma support to be great. Rocket League, Final Fantasy Heavensward, Stardew Valley, Star Trek Online, Rise of the Tomb Raider, Deus Ex Mankind Divided, Evolve and Overwatch all boast integration with Chroma. The experience was certainly cool, but I can't say that I would have purposely spent the extra money on the Y27 RE monitor and IdeaCentre Y900 RE just to get it.
Lenovo IdeaCentre Y900 RE Review: Specifications
Processing & Graphics
4.00GHz Intel Core I7-6700K Processor with NVIDIA GTX 1080 Founders Edition Graphics & 8GB of DDR5 RAM
Storage & RAM
256GB Solid State Drive & 2TB 7200RPM hard drive. 16GB of DDR4 RAM
Ports & Extras
·        Chroma lighting from Razer

·        Razer Mamba TE Mouse

·        Razer BlackWidow Chroma Keyboard

·        DVD Drive

·        7.1 Surround Sound with 6 audio jacks

·        802.11AC Wireless

·        Bluetooth 4.0, Gigabit Ethernet

·        Card Reader

·        4 USB 2.0 ports

·        6 USB 3.0 ports

·        2 front-facing audio jacks

·        1 PS/2 Connector

·        1 VGA port

·        1 HDMI port

·        1 DVI port

·        Optical Audio Out

Dimensions
8.12-inch x 19.82-inch x 18.85 inches. 33 pounds.
Lenovo IdeaCentre Y900 RE Review: Should You Buy?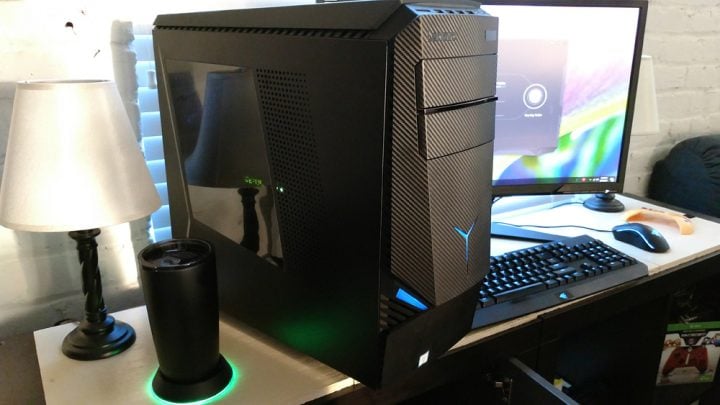 I can't in fact say that anyone should aim to buy the Lenovo IdeaCentre Y900 RE because of its Chroma features outright. Casual PC gamers and those just getting into the space should consider the Lenovo Y Gaming Cube, or the much more configurable Lenovo IdeaCentre Y900. You might just be better off getting the Razer Mamba Tournament Edition mouse for $89.99 and the Razer Blackwidow Chroma V2 for $169.99 separately.
That being said, Lenovo is aiming this PC at hardcore Razer fans for whom Chroma and having the best specifications is a way of life and those looking for a great setup with just a single purchase. The IdeaCentreY900 RE is perfect for this crowd. It's basically a Razer Battlestation Starter Pack. The machine can accept up to 64GB of RAM, double what's available in the regular Y900, and buyers get almost all the lighting and gaming accessories they'll ever need. If the ultimate gaming PC complete with accent lighting and little assembly sounds like something you'd be interested in, I can't think of a reason why you wouldn't go for this Lenovo IdeaCentre Y900 RE.