Lenovo IdeaPad 120S (11") review
Some people pay way too much for their laptop. The Lenovo IdeaPad 120S (11") is the PC you buy when your PC is just a way to respond to emails, listen to music and browse the internet.
This Windows 10 laptop costs just $179 directly from Lenovo and it includes only the basics. It has a solid plastic keyboard, a web camera and an 11.6-inch display that won't win any awards, but does let you see what you're doing in any situation. The built-in battery lasts for an entire day on a single charge.
If all that sounds like just what you need in your next PC, the IdeaPad 120S (11″) is the laptop for you.
Lenovo IdeaPad 120S (11") Design & Internals
For a PC that costs as little as it does, the IdeaPad 120S (11") is pretty sturdy. It's 0.7-inches thin from top to bottom and weighs just 2.53 pounds. Expect to forget this laptop is in your bag; Elementary school students walk to class with textbooks heavier and thicker than this.
The machine's entire frame – from keyboard deck to lid – is plastic. That's typical of notebooks in this price range. Because they're priced so low, buyers aren't really worried about magnesium and other premium materials. They'd sooner buy another one of these when their first breaks than spend a little more money to get a heavier notebook.
The IdeaPad 120S (11")'s frame feels like it can take a beating. The lid bends a little if you grab it by both corners and force it to, but the keyboard deck doesn't give any as you type away on its plastic grey keys. Lenovo paints the plastic shell to make it look like metal, which gives it a premium look even if it doesn't feel premium in your hand.
A very sensitive trackpad sits just below the keyboard's space bar. Lenovo didn't cut the precision trackpad technology that it uses on more expensive notebooks. So, you can zoom in or zoom out on pictures with two fingers just like you would on your multi-touch smartphone.
The IdeaPad 120S (11")'s port line-up doesn't force you into using technology and dongles you aren't ready for. A dedicated power port, USB 3.0 port, a HDMI port and a USB Type-C port all sit on the left edge of the IdeaPad 120S (11"). The right side of the notebook holds a second USB 3.0 port, a MicroSD Card Reader and a headphone jack. That's all you need to get through a day at school or at work. There are more expensive PCs that come with fewer ports than this.
So where are all the compromises? They lurk just beneath the surface. The 11.6-inch 1366 x 768 display isn't what anyone would describe as crisp or spacious. There's no touch, so plan on using the trackpad or a mouse if the trackpad is too small for your fingers. Also, there are just 2GB of RAM, 64GB of storage and an Intel Celeron N3350 processor inside the IdeaPad 120S (11").
Lenovo IdeaPad 120S (11") Experience
And with internals like those, expect very modest performance from the IdeaPad 120s (11").
If you need a machine to answer emails from and make Amazon purchases with, the IdeaPad 120S (11") is great at that. It can handle productivity apps, like Word Mobile and PowerPoint Mobile well. It's fine for browsing your favorite websites, too, and the low-end processor provides enough horsepower that neither apps nor your favorite websites take an excruciatingly long time to load. That being said, some flash-heavy websites do take a little time to fully render.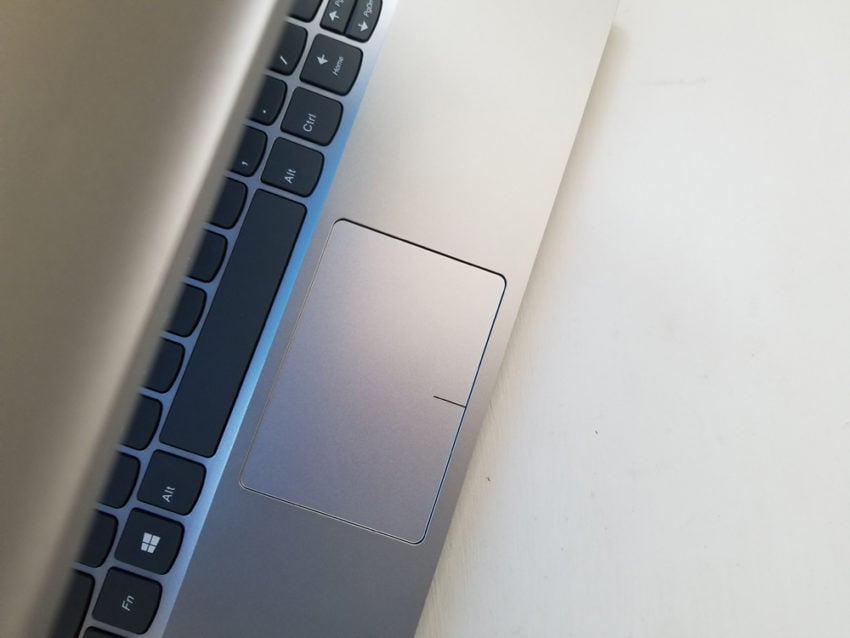 It's not great at doing a lot of things at the same time and that's due to the 2GB of RAM that comes inside. Windows 10 works best with double that amount. So, even though apps don't take forever to load, moving between them becomes tedious. Switching from one to another sometimes forces the first app you were in to load all over again. Don't even think about using the TaskView to manage more than three apps and your browser.
Some PCs let you add RAM after you buy them, but not this one. So, it's not like its limits on multitasking are something you can easily overcome. Very quickly I learned to have only three browser tabs open and Microsoft Word Mobile to write in. Anything more and the laptop became frustrating to use.
I wouldn't say this lackluster multitasking is a deal breaker, though. If you're interested in the IdeaPad 120S (11"), you want a PC that allows you to do what you need to do and nothing extra. These internals deliver that. They also forced me to confront my nasty habit of having way too many tabs open. For the money, it's not a bad deal. Just know what you're getting into.
Fortunately, you can easily overcome the laptop's storage compromise. Yes, you only get 64GB of built-in storage, but you're free to add more with the MicroSD card slot that's on the left edge of the notebook. As I keep all my music and pictures on a MicroSD card anyway, moving them to the notebook went flawlessly.
If you don't like flash storage, Microsoft gives every Windows 10 user 5GB of free online storage with OneDrive. Windows 10 Home, the operating system that comes installed on the IdeaPad 120S (11") will let you browse and sync your most important files in the background now that the Windows 10 Fall Creators Update is ready. Also, unlike your smartphone, you can free up storage by uninstalling some of the unnecessary apps and games that Microsoft and Lenovo install on the machine, like Bubble Witch 3 Saga and Candy Crush Soda Saga.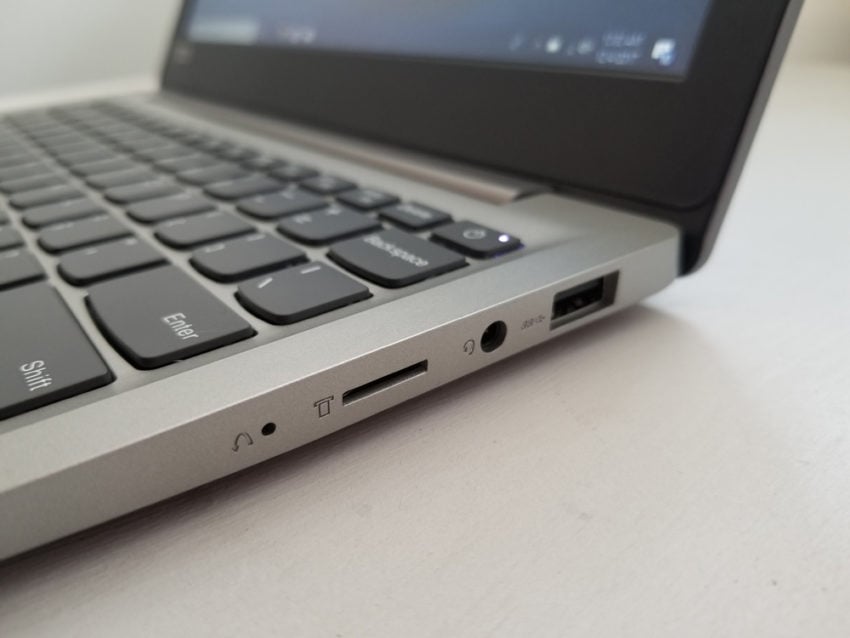 As for the 1366 x 768 11.6-inch display, it's a compromise that I think you can comfortably ignore. It gets bright enough that it can fight off fluorescent lights in a well-lit classroom or office just fine. Dimming the display to 40% still gets you a decent viewing experience and saves you battery power. No, the colors aren't exceptionally vivid and the darks aren't very black. There is some color shifting if you move your head to the right or left too much. However, none one of these things keep you from reading websites or enjoying Netflix on the IdeaPad 120S (11"), and I suspect that's all anyone thinking about buying it really wants.
Stick to keeping a few browser tabs open and the screen just bright enough that you can read and work. If you do those things, expect to get the promised 8 hours of battery life easily. This laptop's internals aren't powerful, but they are battery efficient. You can take notes in meetings, prepare a presentation or browse the internet during class knowing that you won't need to find a power outlet for a very long time.
Finally, the 0.3-megapixel web camera on this notebook is exactly what you'd expect. Pictures and video are grainy and are probably easily outdone by your smartphone's front-facing camera. Again, this isn't a dealbreaker. Just know exactly what you're getting into.
Lenovo IdeaPad 120S (11") Specifications
Processor & Graphics
1.10GHz Intel Celeron N3350 Processor

Intel Integrated Graphics 500

Memory & Storage
2GB of DDR4 RAM

64GB eMMC Storage

Display
11.6-inch 1366 x 768 Display
Ports & Extras

1 USB 3.1 Type-C Port
2 Full-Size USB 3.0 Type-A Ports
1 Headset Jack
HDMI Port
MicroSD Card Slot
Noble Lock Slot
Wireless AC and Bluetooth 4.1
0.3-megapixel Web Camera

Battery Life
8 Hours of Battery Life
Dimensions & Weight
11.33-Inches x 7.87-Inches x .69-Inches
2.53-Pounds
Should You Buy the Lenovo IdeaPad 120S (11")?
The truth is that many people overpay for their PC. They see signs advertising 4K displays, two days of battery life and the latest processors and they think, "I need all that." Not everyone does and the Lenovo IdeaPad 120S (11") is for anyone that realizes they have average needs and wants to save some cash.
If you casually browse the internet, check your email and occasionally watch online videos, spending $179.99 on the IdeaPad 120S (11") makes a lot of sense. It's not missing anything essential to getting basic tasks done – provided you're willing to do them one at a time instead of working in a half-dozen apps and switching between them.
[letsreview]

As an Amazon Associate I earn from qualifying purchases.