Lenovo IdeaPad K1 Review – Sturdy Design, Good Performance, And A Lot Of Apps
The Android tablet field is getting crowded with Honeycomb devices all vying for consumer attention with ever more fancy features. Look here, the Galaxy Tab is as thin as the iPad 2! No, no, the ASUS Transformer is better, it has a keyboard dock! Screw that, the Thrive has all the ports you need without adding a dock! And on and on.
So what does the Lenovo IdeaPad K1 bring to the party? Apps. Lots and lots of apps. Hey, it works for computers, right? The K1 might not strike you as remarkable because it doesn't have a superstar hardware feature. But a super thin casing, 15 ports, or a dock don't necessarily make the Android experience better. That's where Lenovo put their energy, and it pays off in an easy-to-use tablet that isn't model thin but is fashion mogul smart.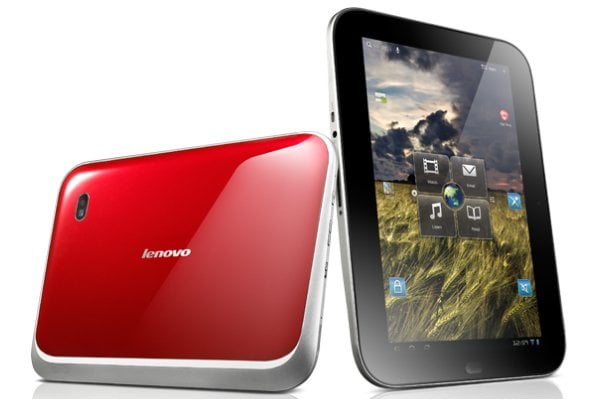 Design
Like the Toshiba Thrive, the IdeaPad K1 seems heavier than it is when compared to the lighter Samsung Galaxy Tab 10.1 or the Apple iPad 2. Granted, 1.6 pounds isn't that much, but I did start to feel it when holding the tablet for games or reading. The K1 isn't as bulky as the Thrive (0.5 inches to the latter's 0.62) and feels far thinner thanks to the tapered design.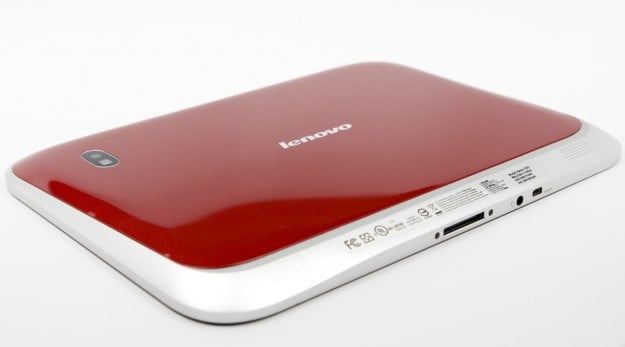 The K1 does all right in the looks department thanks to the multipart aluminum and plastic back. I'm not a huge fan of the bright red, but it's better than plain white or gray, the other two colors on offer. I appreciate the raised power button and volume rocker on the side, which makes them easy to find without looking. And overall the 10.4-inch wide body feels balanced.
Even though Google thinks the world should live without physical buttons, I'm glad that the engineers at Lenovo don't agree. The oval Home button on the right side (when in landscape mode) is also gesture-enabled; swipe down to activate the back function, swipe up to activate Menu (if available).
The 10.1-inch, 1280 x 800 resolution display looked a little dark to my eye as I used it, and sitting it next to the Galaxy Tab confirmed that observation. It's not as bright or crisp. The K1 has decent viewing angles for video and does all right indoors, just don't take it outside.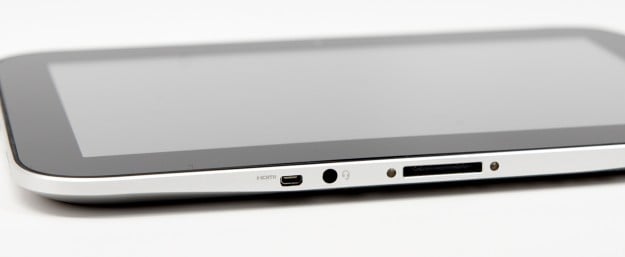 Among the port selection there's one conspicuously missing: microUSB. Just as with the Galaxy Tab and the iPad, the only way to charge or connect the K1 is via a proprietary connector on the bottom. Next to this is a combo headphone/mic jack and a micro HDMI port. Unless you're looking for it, you'll likely miss the microSD card slot on the left, as it's flush with the tablet's edge and only accessible if you stick a pointy object in the hole next to it. Not sure what the thinking was behind this, but it's apparent Lenovo doesn't expect you to change SD cards very often.
Software, UI, and Apps
Android purists will no doubt roll their eyes at the K1 for having not only a custom skin/user interface on top of Android 3.1 Honeycomb, but also a ton of pre-loaded apps. However much a pain or annoyance this is to the kind of customer that will search for the nearest root, it is equally an improved experience for people who value a good out of the box experience and ease of use. The apps on board neatly answer the question, "So, what can I do with this?"
I'm a fan of the useful widgets found on the 5 Home screens, including the centerpiece: the Lenovo Launcher. It's designed to take you to the most often used/needed apps. If the apps assigned to the categories aren't the ones you like best, just tap the gear icon to change any of them to your favorite app in that Zone, or really any app you want.
Given this, the persistent icon in the bottom bar at center for the Lenovo App Wheel – another customizable area for favorite apps — seems like overkill. But with 30 pre-loaded apps plus any that users add, I can imagine scenarios where one might lose track of all the apps available.
Of these infamous 30 apps, there are some duds and trialware, but quite a few that owners will be glad to have. I'm particularly glad to see several apps that serve multimedia needs, including Netflix (yep, you can watch anything from their instant library) for streaming and mSpot Video for purchasing/renting. Giving users the option of either Google Talk or ooVoo for video calling is also a good move. And on the productivity front, the full version of DocumentsToGo (view and edit) and ArcSync make it easy to do work.
Media Experience
The two speaker grills on the bottom of the K1 produce medium-quality audio. Nothing that will make you toss out your MP3 player, but good enough for watching episodes on Netflix or listening to your local public radio station. With medium background noise (high speed fan set to low) I didn't need to strain when watching a video with the tablet sitting a few feet away. However, if you're going to do this on a regular basis, best get some external speakers.
Video quality on Netflix wasn't crisp — I noticed some pixilation and artifacts — but all episodes played smoothly with no buffering problems. An HD trailer for Attack the Block played from internal storage played smooth and crisp.
Camera
The 2MP front-facing camera and 5MP rear camera (plus flash) sit on the long edge of the tablet where you'd expect them. The rear camera takes decent shots indoors with little noise. However, both indoors and outside we noticed muted hues and a washed-out result in still images and video.
The front-facing camera does best in balanced light and streamed a decent, but pixilated image when video chatting in ooVoo.
Performance
As with many aspects of the K1's hardware, the chip inside is the same as every other current Honeycomb tablet: 1-GHz Nvidia Tegra 2 CPU and 1GB of RAM. In my hands-on time with the tablet I didn't have many problems with responsiveness or lag, even when I had over 10 apps going at once.
If I overloaded on apps, Lenovo helpfully adds the ability to kill them from the recent apps menu. Yes, it's terrible to kill apps, I know. But sometimes it's useful to stop things you know you're not going to use again.
The only time I had serious trouble was when using the ArcSoft Movie Story app to create video. It struggled to even play videos I attempted to edit and crashed regularly. I didn't experience the same with Google Movie Studio.
The K1 lasted for 8 hours and 20 minutes on the LAPTOP Battery Test (continuous web surfing over Wi-Fi with the display at 40% brightness), which indicates that it will last all day for most people, even with medium to heavy use. This matches my experience. After over 16 hours of on and off use, including shooting video and playing games, I still had 27% left.
Price
The K1 only comes with one internal storage option, 32GB, but three color choices, as I mentioned. All cost $499, the same price as a Wi-Fi Samsung Galaxy Tab 10.1 and an Apple iPad with just 16GB of storage. The Toshiba Thrive also offers 32GB for that price.
Conclusion
The Lenovo IdeaPad K1 is a good tablet for mainstream users who are less interested in the pure Android experience and more interested in a device that works well and is easy to understand out of the box. This is still Honeycomb we're talking about, so it's not going to be as easy to use as iOS for the really tech-helpless. But if you have enough savvy to navigate Windows with few problems, the K1 won't present a challenge. Even though it's not skinny, featherlight, or packing a ton of ports, I'd still recommend Android tablet shoppers give it a close look.