Lenovo Legion Y720T Tower Review: More Space for More Stuff
Game graphics are always getting better. If you're going to invest in a gaming PC, it had better offer enough space to upgrade it in the future and enough horsepower today that you don't have to think about upgrades for a long time. The Lenovo Legion Y720T Tower delivers both.
The Legion Y720T Tower is future-proof. There's enough room inside the chassis for more hard drives, a second disc drive, a sound card and any other extra components you want to add. When the NVIDIA GTX 1070 graphics card begins to show its age, you can swap it out for another full-size graphics card without picking up a screwdriver.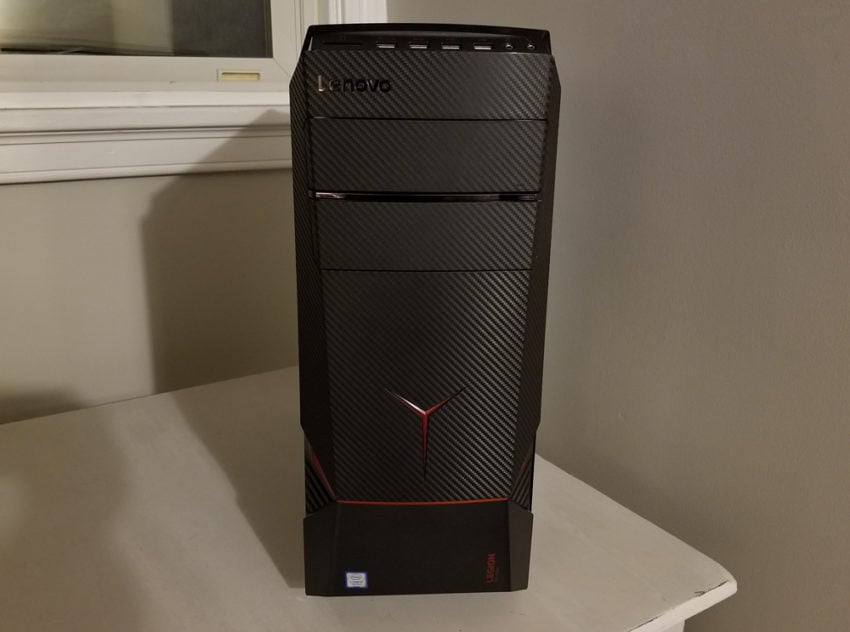 But, the Legion Y720T is also a great gaming PC by today's standards. It has a speedy 7th Generation Intel Core i5 processor, NVIDIA GTX 1050TI graphics card, 8GB of RAM and 1TB of storage for $899. Spending a little more lets you go even longer before your next upgrade.
Lenovo Legion Y720T Tower Design & Internals
Built like a tank, no one could ever mistake the Lenovo Legion Y720T Tower for being anything other than a gaming PC. It's around 9-inches thick, 18-inches deep and 19-inches tall. In short, it's huge.
The front and sides of the Legion Y720T Tower have a Kevlar-like texture to them that the top doesn't have. There are two spaces for optical drives hidden behind the textured front face. One is taken up by a tray-loading DVD drive. Thanks to this drive, you can play your classic PC games or burn DVDs with ease.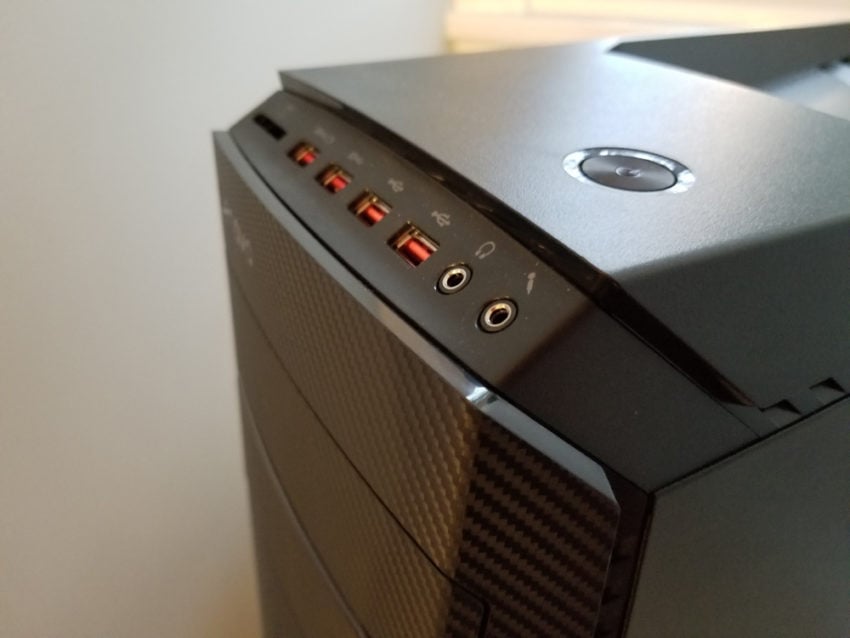 Above these drives is the front-facing connectivity center. There are four red USB 3.0 ports here, a headset jack and a full-size media card reader. This center makes it much easier to connect a hard drive, camera or a headset to your PC without having to undo your setup to get at the ports on its rear.
A ribbed vent and a massive button for opening the back of the case sit on the top of Legion Y720T Tower. When your dedication to LAN parties and gaming with a friend is so strong that you decide to move this 31.08-pound behemoth, you can use the built-in handle behind the front-facing ports to securely carry it from place to place.
The back of Legion Y720T Tower has more ports. There are 2 HDMI ports, 3 DVI ports, another headphone jack, a line-in jack, optical audio, 2 USB 2.0 ports, a single PS/2 connector for older mice and keyboards, ports for surround sound speakers and an Ethernet port. Don't worry about the Ethernet port if you don't have Ethernet cables running through your home. There's also, Bluetooth 4.1 connectivity and 802.11 AC Wi-Fi connectivity built into the machine.
Lenovo went for ultimate accessibility with the Legion Y720T Tower. Each one of its panels can be removed. To add more storage or swap the video card, just press the top button embedded in the ribs and the side panel comes out. The front panel that hides the drives and has Lenovo's now signature glowing red Y logo detaches for cleaning. This panel isn't as easy to remove as the side panel, unfortunately. It has tabs instead of a dedicated opening button.
Internals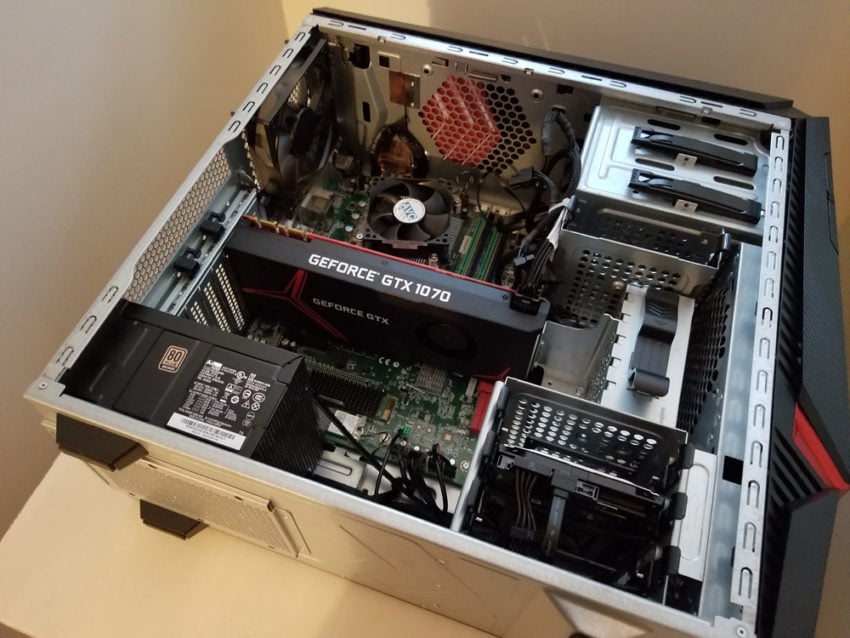 The more money you spend, the longer you can go before experiencing first-hand just how easy the Legion Y720T is to upgrade.
The $899 model comes with a 3GHz 7th Generation Intel Core i5-7400 processor, 1TB 7200 RPM hard drive, 8GB of DDR4 RAM and an NVIDIA GeForce GTX 1050TI graphics card that has 4GB of dedicated RAM. This is enough to get you gaming, but the lack of a solid-state drive will leave you with some reasonably slow loading times in your games.
Spend $1,749.99 and get you a Legion Y720T with a 3.6GHz Intel Core i7-7700 processor, 16GB of DDR4 RAM, a 1TB 7200 RPM hard drive, a 128GB solid-state drive and an NVIDIA GeForce GTX 1070 with 8GB of dedicated RAM. This is the model that Gotta Be Mobile received for testing.
Online, Lenovo also has AMD based models to choose from if you aren't a fan of Intel's processors.
Lenovo Legion Y720T Experience & Performance
What you're buying with the Legion Y720T is a quality gaming experience with only the compromises you can stomach. That's true of both performance and its overall design.
When you're paying this much for your PC, you want it to stand out. At least, that's why I think gamers invest in keyboards with multi-colored LEDs and cases with glass sides. The Legion Y720T doesn't capture your attention or imagination. You can dim the front-facing red logo on the machine, but that's about it. Any lights you add to its case will remain hidden by its black metal exterior.
But looks are only part of the overall equation. You also want utility and that's where Legion Y720T delivers. It's definitely not short on space. It can hold four hard drives in total, plus you can add another optical drive that opens out of its front face. You won't cut your fingers trying to change out the RAM, CPU and CPU cooler.
At this point, building your own gaming PC is easy. Millions turn to Lenovo and other makers because they'd rather get a finished product than a box of parts that they have to piece together themselves. There's no worrying about how all your components will fit together or managing drivers once you've got the system up and running.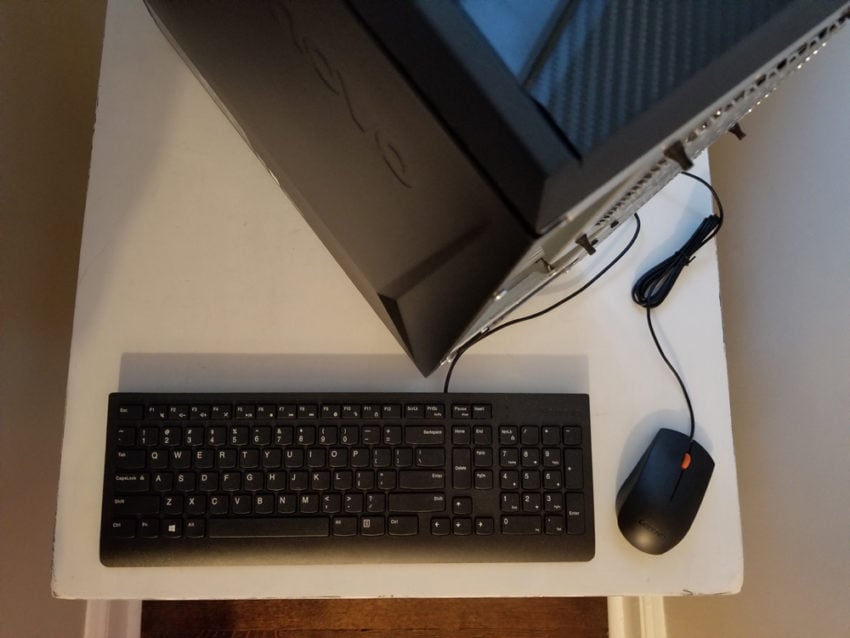 The Legion Y720T comes with a keyboard and mouse, though both are as uninspired as the computer's case design. They're both wired and aren't specifically made for gaming, so plan on upgrading to Lenovo's Wired Gaming Keyboard and Wired Gaming Mouse if you want your accessories to match the system's design.
Performance
As for performance, Gotta Be Mobile's model delivered as expected. Halo Wars 2, Gears of War 4, Quantum Break and Planet Coaster all looked great on the machine when paired with a 1080p monitor.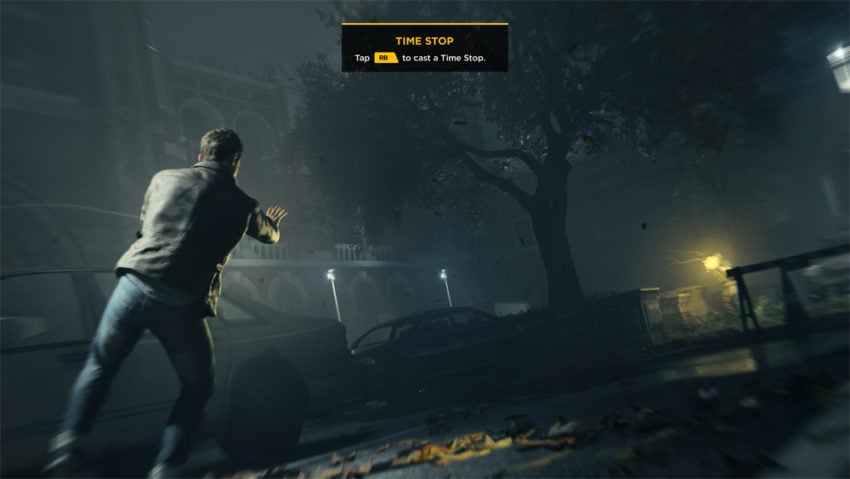 This is a PC that can handle games at their highest graphics settings. With HD settings on, Gears of War 4 averaged 60 frames per second. That was with its character details, shadow quality and world detail set to ultra. Switching to its 4K resolution caused the game to dip to an average of 40 frames per second. I had a similar experience in Quantum Break, where 4K resolution pushed the game to 30 frames per second or lower.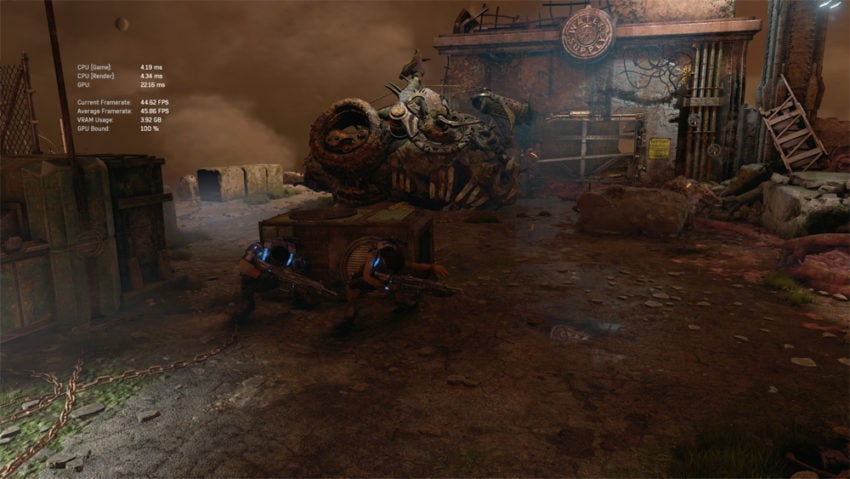 CPU-intensive games can really tax the machine's frame rate. Planet Coaster would dip to around 20 frames per second with HD resolution set and 5,000 guests in my park. That's because the game's simulated theme park guests taxed the Intel Core i5 processor in the Legion Y720T Tower heavily. Even with the lower frame, the game still looked fantastic.
For today's games, the Legion Y 720T Tower is a fine machine. Just plan on upgrading its graphics card to the latest models to get both high frame rates and 4K graphics at the same time.
Lenovo Legion Y720T Tower Specs
Processor & Graphics
Up to 7th Generation Intel Core i7-7700 Processor

NVIDIA GeForce GTX 1070 with 8GB of RAM

·       (NVIDIA GeForce GTX 1050TI with 4GB of RAM)

Memory & Storage
16GB of RAM

256GB SSD + 1TB 7200 RPM

Ports & Extras
Rear Ports

·       2 USB 3.0 Ports

·       4 USB 2.0 Ports

·       VGA Connector

·       DVI

·       HDMI

·       Surround Audio

·       S/PDIF

·       PS/2 Port

Front Ports

·       2 USB 3.0 Ports

·       2 USB 2.0 Ports

·       Media Card Reader

·       Microphone Jack

·       Headset Jack

Dimensions and Weight
18.85-Inches x 19.82-Inches x 8.12-Inches

31.08-Pounds
Should You Buy the Lenovo Legion Y720T Tower?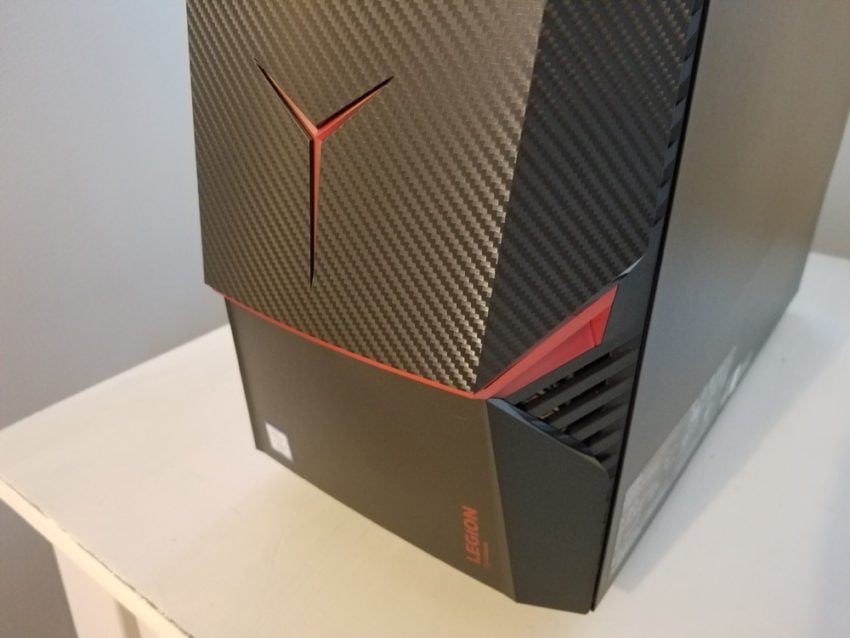 So, should you buy the Lenovo Legion Y720T Tower? It's a solid choice for PC gamers.
To be clear, a distinctive looking PC, the Lenovo Legion Y720T Tower is not. If you're looking for something that will turn heads at LAN parties and inspire adoring YouTube fans, this machine isn't for you.
Luckily for Lenovo, looks aren't at the forefront of the average gamer's mind. They want a PC that performs well the day they bring it home and has a solid upgrade path for the future. The Lenovo Legion Y720T Tower has both those things, despite its demure looks. That you can push a button and have access to all the system's major components is just icing on an already tasty-enough cake.
[Letsreview]

This article may contain affiliate links. Click here for more details.