Lenovo Miix 520 Review: Less Money, More Problems
With time, all things become better. It's an adage that's tested by the new Lenovo Miix 520.
An alternative to Microsoft's Surface Pro, the Lenovo Miix 520 is a tablet that can replace your laptop. It comes with a keyboard cover, a carry case and a digital pen, so you don't need to fork over more money to take advantage of all that it offers. It has new quad-core 8th Generation Intel Core processors, making it an unstoppable powerhouse. On top of all, it's priced right at just $999.99.
All this means the Miix 520 is a better value over rivals even as it fails to be a better Windows 2-in-1 than they are.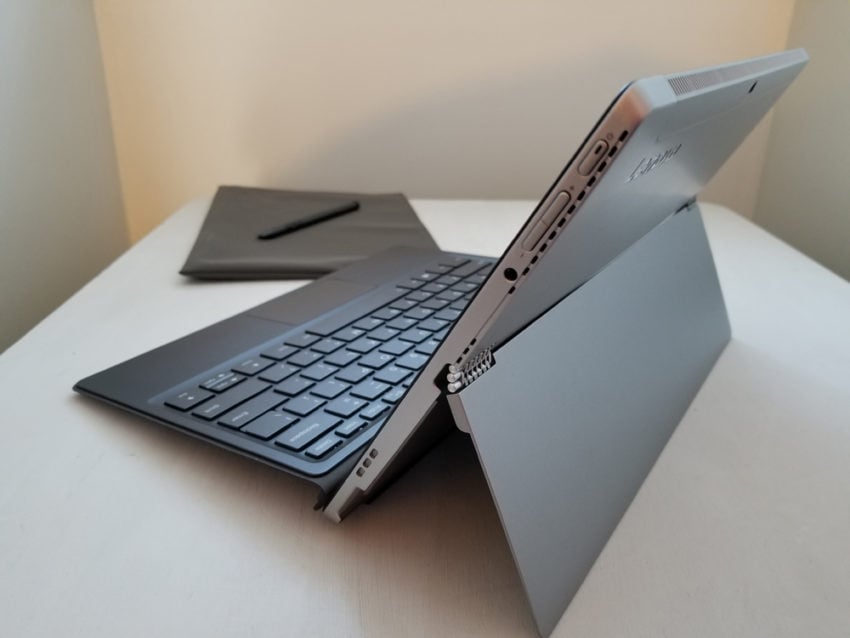 Lenovo Miix 520 Design & Internals
Part of the reason the Lenovo Miix 520 still falls short is its design. It's unchanged from the previous models. And it wasn't as if the tablet had a solid foundation to start with.
Certainly, Lenovo gets points for using premium materials and making a tablet that feels substantial and rugged. The Miix 520 has a polished magnesium and hardened glass body. It only comes in an unpainted silver, which is great because it won't easily show scratches.
For any device that's going to replace a tablet, weight and thickness are important measurements, though. The Miix 520 is 0.65-inches thick and weighs 1.98-pounds. That's heavy for any device looking to replace your tablet. With the detachable keyboard, the entire thing weighs 2.65-pounds.
I immediately noticed the device's weight as I removed it from its packaging. If felt ungainly in a way that other PCs in this category just don't. The laptop's curved body does little to compensate for that feeling either. Lenovo's engineers tried to compensate for the device's thickness by tapering its edges. The result is a tablet that feels bulbous as you carry it in your hand from place to place.
A 12.2-inch 1920 x 1200 resolution display sits in the center of the Lenovo Miix 520's front. Only a 720p web camera sits beside it. There's an 8-megapixel camera above the device's sturdy fold-out kickstand.
In keeping the same design as the last generation, Lenovo has kept ports in some very controversial places. Sound pours from two stereo speakers along the device's left and right edges instead of directly at you. The dedicated power port is in the middle of the device's left edge, which makes it stick out when you're charging. A USB 3.0 Type-A port and a USB Type-C port sit above this power port.
There are no ports on the right-edge of the Lenovo Miix 520, which is smart. That's where the power buttons and volume buttons are. Below them is the headset jack. Their position is bad for a few reasons. Expect to fend off your headphone cables as they continuously drift over the included keyboard as you type. Second, side-mounted power buttons become an issue in portrait mode when you are reading, sketching or taking notes.
The Lenovo Miix 520's keyboard accessory connects through a slot at the bottom of the device with a refreshing click. It has backlit keys, plenty of key travel and a smooth multi-touch trackpad that's embedded in a sea of soft-touch plastic. The front of the cover is plastic too, but it mimics a leather texture.
Internals
The Lenovo Miix 520 is a powerful machine that you will spend significantly less on compared to what the competition offers.
At the heart of this device is the 8th generation Intel Core i5 processor. It has four processing cores, giving the Miix 520 more raw power for apps, programs and games than Core i5 devices using Intel's last generation processors, like the 2017 Surface Pro. Intel HD 620 graphics and 8GB of RAM back up this processor. More horsepower for less money is always good.
Besides the USB 3.0 Type-C port, USB 3.0 Type-A port and headphone jack, the Miix 520 has a MicroSD card slot behind its kickstand. Unless you have a huge media collection, it's possible you won't use this SD card slot ever. The device has a spacious 256GB SSD. That's double what you get with Microsoft's device at $999.99.
On paper, the weakest part of the Miix 520's impressive spec sheet is its 12.2-inch display. With a resolution of 1920 x 1200, it's nowhere near as sharp as other devices in this category. Built-in Wacom technology allows you to sketch and draw with an included pen that detects up to 4,096 different levels of pressure. That's on par with the sensitivity that other devices in this class offers.
Lenovo Miix 520 Experience
Using the Lenovo Miix 520 every day causes some mixed emotions. On one hand, you're happy to have this much power and portability at this price. On the other hand, it is rare that you see a device this compromised by strange design decisions.
Lenovo boasts that using the Intel Core i5 processor allows the Miix 520 to perform up to 40% better than PCs using last-generation processors. It does perform well. There's no lag as you open any part of Windows 10, and everything transition flows smoothly as if your mind simply willed your apps and programs open. Solid performance on any PC running Windows 10 is a high compliment. Years after its release, the operating system still studders and drags on machines with less than 8GB of RAM.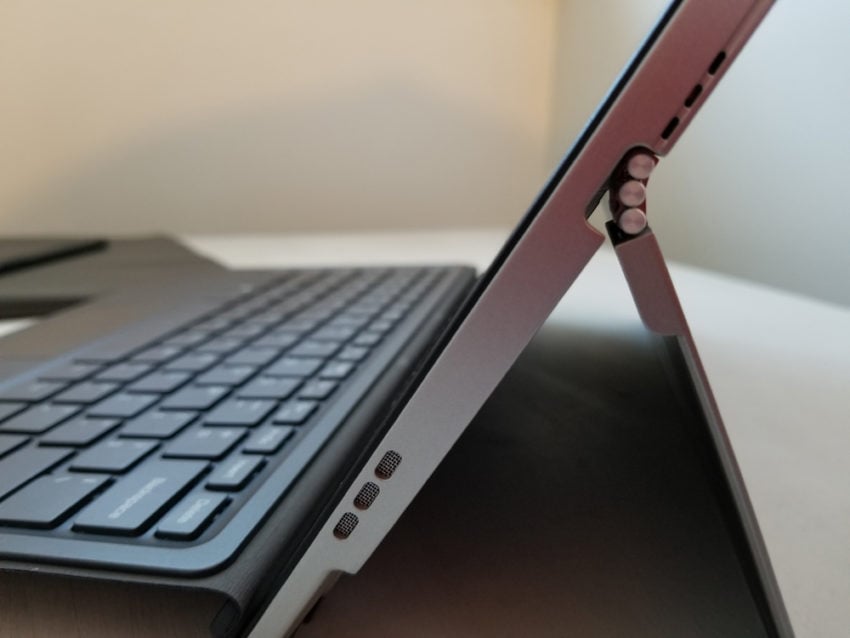 Then the fan kicks on and shatters the illusion for you. Other devices in the class have really quiet cooling systems. After all, no one wants to hear a fan as they watch a movie in bed or read a book curled up in their favorite chair. The Miix 520's fan is always running and it gets annoying when the processor is under heavy load.
I had my reservations about the display inside the machine, but it won me over. No, videos aren't as crisp as on a Surface Pro, but the display gets bright enough to fight off glare. It's good enough that I stopped noticing the difference in resolution when compared to my usual PC, the 2017 Surface Pro. While unsightly, the huge bezel that surrounds the display gives you a safe place hold the tablet without accidentally tapping anything.
Very poor placement aside, the connectivity options you do get are solid. In the long run, a USB Type-C port will prove more useful than the MiniDisplay port other devices use.
Finally, even the included accessories are solid. The keyboard cover has backlit keys, plenty of shortcuts and lots of key travel. There's absolutely no keyboard flex and its small trackpad is slick and sensitive. The Lenovo Active Pen 2's metal body feels great in the hand and there's no lag. Just a press of the pen's top opens Windows 10′ Ink WorkSpace area or whatever app you want it to. I do wish it had a rubber eraser.
But then there's the truly bizarre. Lenovo gives you this excellent pen with no real convenient place to put it. A plastic loop that slots into the USB Port feels clunky at best and deprives you of an essential way to connect accessories. The pen loop on the included slipcase holds the pen just fine, but that's another accessory you need to keep close by.
All that horsepower absolutely hammers the device's battery. Lenovo estimates 7 hours with average usage, but it's closer to four hours with moderate use and the display at 40% brightness. I fear, that for the average person, a little less performance is perfectly acceptable if they can go an entire day without needing to charge. A device with last generation Intel Core i5 processor and no fan gets around 10 hours of battery life.
As I feared, the power button and speaker placement are problematic in Tablet Mode. Don't rest the device on this edge in your lap or you risk accidentally turning it off. The power button's LED indicator would be very useful for knowing when you've successfully turned the device on – if only you didn't have to move your head or turn the device to its side to see it. It is very easy to accidentally muffle one of its stereo speakers since they are on its edges.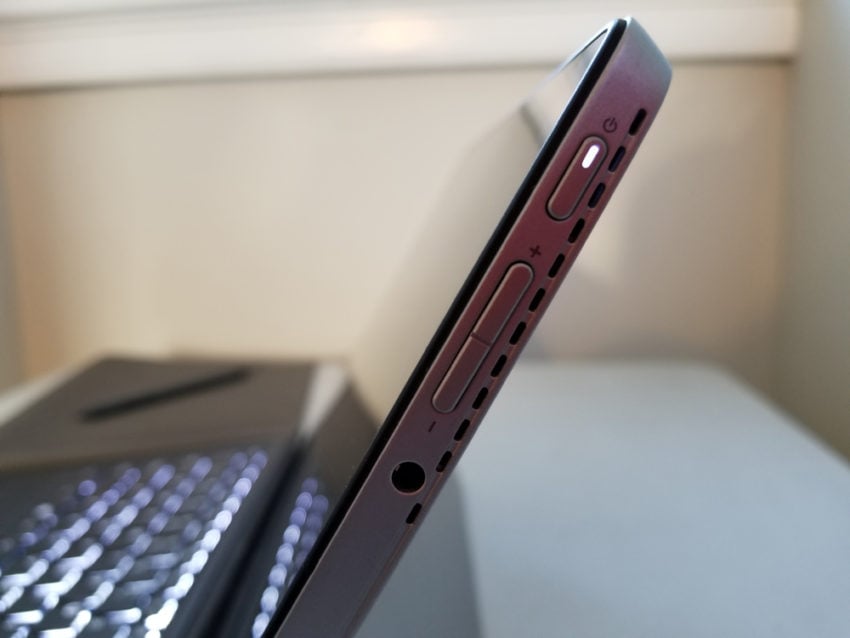 Finally, the Miix 520's support of unique Windows 10 features is mixed. A Windows Hello scanner or a fingerprint reader for signing in is essential at $999. Yet the Miix 520 doesn't have either. The device does improve on Microsoft's Cortana personal assistant though. A microphone array allows her to hear you from around 13 feet away, which is around the size of a modest room. This I liked.
Lenovo Miix 520 Specs
Processor & Graphics
8th  Generation Intel Core i5-8250U Processor

Intel HD 620 Graphics

Memory & Storage
8GB of RAM

256GB SSD

Display
12.2-inch 1920 x 1200 display with Touch and Pen Input
Ports & Extras
1 USB 3.0 Type-C Port

1 USB 3.0 Type-A Port

Headphone Jack

8 Megapixel Camera

720p Web Camera

Dolby Audio Speakers

MicroSD Card Slot

Lenovo Active Pen Support (Included)

Lenovo Miix Keyboard Cover (Included)

Battery Life
4 Hours

7.5 Hours, According to Lenovo Benchmarks and Your Usage

Dimensions and Weight
11.81-Inches x 8.07-Inches x 0.63-Inches

2.65-Pounds with Keyboard Cover

1.98-Pounds without Keyboard Cover
Should You Buy the Lenovo Miix 520?
Not enough about the Miix has changed in a year to make the Lenovo Miix 520 the best Windows 2-in-1 that you can buy. If anything, changes other devices makers have implemented in their own PCs have whittled away at potential Miix 520 customers. You're giving up a better tablet experience, longer battery life, Windows Hello sign-ins and getting a heavier bulkier machine in return.
However, cash rules everything. If you want as much raw horsepower as your budget can allow – regardless of the quality of life extras and battery life it costs you, the Lenovo Miix 520 is for you. Just $999 a for an Intel Core i5 processor, 8GB of RAM, 256GB of storage and every accessory you need is a steal. Compare that price to the $1,557.99 a 2017 Surface Pro with similar specs, a Signature Type Cover and a Surface Pen would cost you, and the savings is almost unreal.
The Lenovo Miix 520 isn't a better PC than the 2017 Surface Pro, but it is a far better deal.
[letsreview]

As an Amazon Associate I earn from qualifying purchases.