Lenovo Readies Two Android Tablets, Windows Tablet for U.S. Launch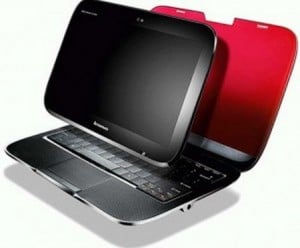 Lenovo, the world's fourth largest PC-maker, is gearing up to launch several tablet models this year that includes two Android slates for summer under its IdeaPad and ThinkPad brands in the U.S. market. The company had began to aggressively target the mobile market segment in its home market of China with its LePhone and LePad products, and now it hopes to have a touchscreen tablet for the consumer market under its IdeaPad brand in July, followed by an enterprise-class ThinkPad tablet in August.
In an interview with The Wall Street Journal, Lenovo's COO Rory Read says that the tablets will range in price from $450 to $900, depending on configuration, and will both sport a 10-inch display with Android Honeycomb.
At CES, Lenovo had demonstrated the LePad with its unique U1 hybrid dock. The slate portion, which runs Android, can be docked to a keyboard dock, much like the Asus Eee Pad Transformer, to add a keyboard and touchpad, and be utilized in a notebook form factor. However, unlike the Asus model, when docked, the LePad tablet becomes a powerful Intel Core i5 notebook that runs in Windows 7 mode, giving users extra flexibility and versatility. In this way, the LePad becomes the notebook's display, and users will probably not have to decide if they need a PC or if they need a tablet.
The ThinkPad tablet will also include a capacitive touch stylus for signature capture, according to Read. The capacitive touch stylus won't be the more expensive variant that's being bundled with the HTC Flyer as it isn't the active digitizer variety.
Additionally, beyond Android tablets, Lenovo will be also readying a 10-inch Windows tablet before the year is out. Lenovo is already a mainstream name in the Tablet PC market with its ThinkPad X Series tablets, which are high-end convertible tablets running on premium Intel chips. It's unclear whether the Windows tablet that Lenovo intends to launch will be a slate with high-end components, or a more consumer-grade variety that runs Atom-based processors.
Users can also expect 7-inch slates as well 'later in the cycle.'
Smartphone users hoping to get a Lenovo branded phone experience in the U.S. will have to wait another 12-18 months, according to Read, who says that the company will focus on China and emerging markets right now. The U.S. smartphone market is crowded and highly competitive, and Lenovo intends to build out scale in other markets before entering the U.S. market.
Read says that tablets will account for up to 15% of the computer market in the next three years, and that 'netbooks are pretty much over.'

As an Amazon Associate I earn from qualifying purchases.