Cheap Android tablets are a dime a dozen these days. The trick is finding one that does a little of everything, does it well, without costing too much. The Lenovo Tab 2 A10 is exactly that. It features a big 10-inch full HD display, two loud speakers with great sound, a powerful processor and a micro-SD slot perfect for watching movies, playing games, or reading and browsing the web. This is our Lenovo Tab 2 A10 Review.
Many shoppers this holiday season are likely looking for a great multimedia, reading, or gaming experience for friends or family, without breaking the bank. We've had a month to enjoy Lenovo's budget tablet released earlier this year, and it's the perfect all-around tablet considering the $179 price point at Best Buy.
Read: Lenovo Tab 2 A8 Review
Earlier this year Lenovo released the Tab 2 in two sizes. The small and portable A8 mentioned above, and the well-rounded and easy to use Tab 2 A10 we've been enjoying. It has a simple design, enough features to make most owners happy, a big HD screen, and excellent battery life. And that's what most are asking for these days, which is why this is one tablet worth considering.
Competing against the iPad or the latest tablet from Samsung or Google is a tough task, which is why the Lenovo Tab 2 is aiming for the mid-range budget shopper instead. It might not be extremely thin, lightweight, or made of aluminum, but it has everything one would need from a simple yet cheap tablet.
We liked the fact that Lenovo was able to deliver a 10-inch screen with a full 1080p HD display, 16GB of storage, a micro-SD slot to expand storage for apps, games and music, and two extremely loud and clear speakers with Dolby Atmos technology all for under $200. This tablet is perfect for watching Netflix, YouTube, or playing the casual game and reading while lounging on the couch.
While we'd love for it to be easier to hold, maybe a little thinner, and feel more premium, for $179 (originally $199) it doesn't need to be. It isn't the best tablet money can buy, but it delivers just enough in all areas to make it a worthy tablet for most users. Shoppers will see tons of cheap Android tablets on sale during the holiday season that will be very tempting. It's smart to avoid $50 no-name tablets and instead consider more expensive, and more reliable options like this one.
Display & Design
The display and design are two things that separates this tablet from most of the budget competition. It has a 10.1-inch 1920 x 1200 Full High-Def display that looks great while reading or watching movies, with thin bezels around the screen for a great viewing experience, and perfectly placed buttons that make it easy to hold and use.
There's nothing on the bottom or right side, so most users hands won't get in the way of speakers, accidentally hit buttons, or make it hard to hold. Instead it has a USB charging port, the volume rocker and power buttons all on the top left, away from where you'd hold it. Making the design rather excellent.
Then, our favorite aspect, are the dual speakers around back on each side of the 8 megapixel rear camera. The dual speakers have Dolby Atmos sound technology, which can be controlled and tweaked to perfection. And while we'd rather them be on the front, they are still extremely loud and won't get covered by hands, so users will never have a muted experience like so many other phones and tablets.
The design is nothing special, and the Tab 2 A10 is made completely of plastic. It doesn't feel too lightweight or cheap, which is good, but it doesn't feel premium either. It's a middle ground, which is expected considering the price. It comes in Midnight Blue, or White, with a soft-touch grippy back that makes it easy to hold. Some tablets are slippery, but that isn't the case here.
Specs & Performance
Lenovo's tablet doesn't have the latest and greatest of everything, but given the $179 price point it's a pretty well-rounded tablet that delivers just enough to make it a great purchase. It runs Android 5.0.1 Lollipop, like most tablets available today, and could see an update to Android 6.0 Marshmallow at some point. It's nearly stock Android, with a few changes by Lenovo, which makes performance quite snappy.
It's fast, smooth, easy to understand and use, and is a typical Android experience that many know and love. Most of the software changes are visual, like the font, on-screen buttons, or the settings menu. It's an otherwise stock Android 5.0.1 Lollipop software that works great with what's under the hood. Here's the full details for those curious.
Lenovo Tab 2 A10 Specs
10.1-inch 1920 x 1200 Full HD LCD Display
Quad-Core MediaTek Processor with 2GB of RAM
16GB internal storage, micro-SD support (up to 64GB)
Android 5.0.1 Lollipop
8 Megapixel Rear and 5MP front cameras
Dual Rear-Facing Dolby Atmos Speakers that sound great
7,000 mAh battery
Simple plastic design
The best aspect of the Lenovo Tab 2 A10 aside from the price and full HD display, are the speakers and battery life. Most tablets that come in under $200 end up having a low resolution display, outdated software, a terrible speaker, or a small battery that barely lasts a day. There's always some sort of compromise in terms of specs, but not with this tablet.
The 7,000 mAh battery lasts for days, and nearly a week with light usage. Although I did have some heavier usage moments where it only lasted 2-3 days. That being said, standby battery is excellent. Using it here and there on the couch, then reaching for it 4-5 days later, there was always 40-50% leftover. Other tablets I'm often searching for the charger, when the Lenovo has plenty of juice for some YouTube or Netflix. The screenshot above is after over 4 hours of screen-on time.
That aside it's a pretty standard Android affair. The pulldown bar has quick controls to easily change the Dolby settings, it has it's own app, then there's some neat gesture controls for quick-launching apps while the screen is off. As shown in the screenshots above. Then, continue on to see why the speakers are one of the best aspects of this tablet.
Speakers & Camera
Again, most cheap tablets skimp somewhere. Here that's probably the plastic design, because everything else is pretty good considering the price. The speakers are loud, crisp, and clear, and can be customized thanks to the included Dolby Atmos technology inside.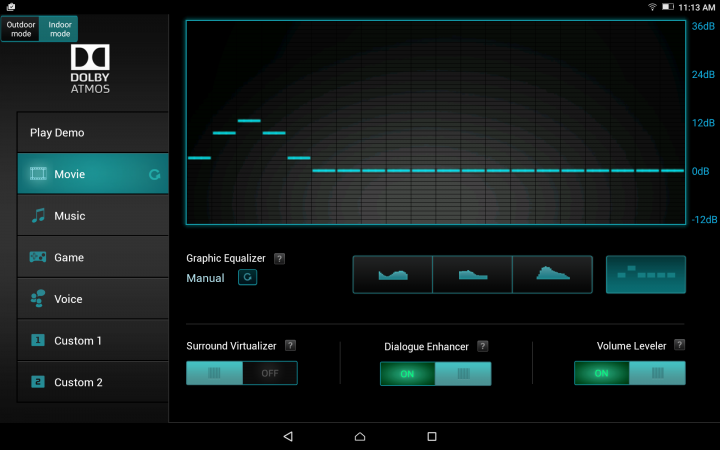 It has an indoor and outdoor sound profile mode, which makes sound fuller while outdoors so everyone can hear it, and more crisp and clear while sitting on the couch. Not to mention presets for improved audio while watching movies, listening to music, playing games, or watching YouTube videos with a lot of voices. Which is increasingly more popular with kid videos, or those who watch gamers record themselves and upload them to YouTube. It's perfect for all of these.
The sound is great for Netflix. It's loud with plenty of bass during music, or surround in movies. Then just open the Dolby app (shown above) and change the sound profile in seconds, or it can be customized to the users desire with the slide of a finger.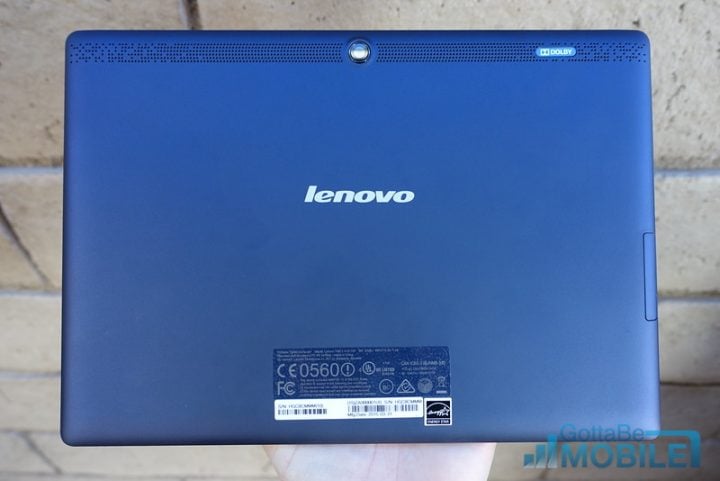 And while cameras aren't all that important on tablets, Lenovo didn't forget about that either. The Tab 2 A10 has a decent 8 megapixel rear camera, and a 5MP camera on the front for selfies or video chatting with Skype. Again, nothing top of the line here, but well-rounded in almost every single category.
Above are a few photos samples for those curious as to how well the camera performs. There's no flash, but it does have a decent auto-focus, HDR mode, anti-shake for video, face detection software, geo-tagging, 40 shot burst mode with the camera, and full HD video recording. The zoom could use some work, but otherwise the camera was pretty average when you take into account the price of this device.
Final Thoughts
In the end this tablet isn't perfect, but it's not bad either. While it could be better in some areas, it nails most of the important aspects in terms of a media consumption device. It has a decent design, a pretty great display, with excellent battery life and sound. Not to mention a micro-SD card to expand storage and fill it full of apps, games, movies or music. For buyers movies will look and sound great, the battery will last long enough to watch more than a movie or two, and the additional storage means owners won't have to worry about running out of space after they add movies and games to it.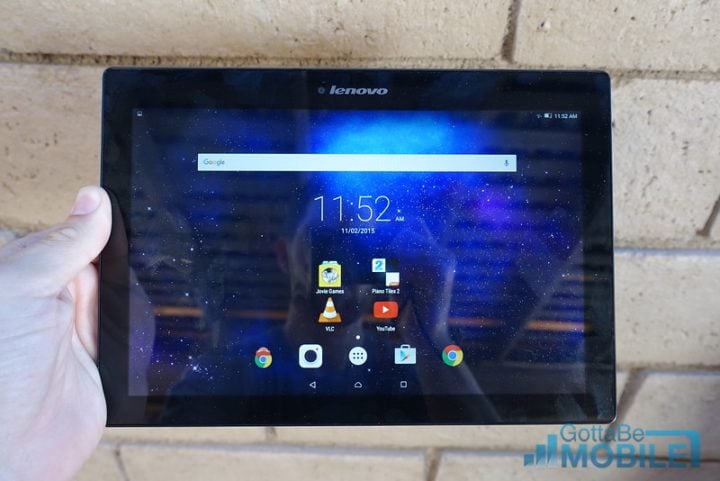 While there are plenty of other excellent options that cost more or have smaller screens, it will be hard to find as complete of an experience in the 10-inch form factor that can match the $179 price point of the Lenovo Tab 2 A10. The screen has more glare than we'd like, the camera could be a little better, and the build quality is sub-par at best, but then again, this tablet is less than $200.
It might not be the best tablet, but it's certainly a great experience for a wallet-friendly price. This is one of many tablets we'd recommend this holiday season.

As an Amazon Associate I earn from qualifying purchases.