Lenovo ThinkPad T470 Review
Small businesses and large enterprises can't use just any laptops. Their notebooks need decent displays and solid battery life. They must have solid frames that can handle abuse and be easily fixable when something goes wrong. The Lenovo ThinkPad T470 has these things, and a clean version of Windows 10 to go along with them.
The ThinkPad T470 is Lenovo's budget-friendly business laptop. Lenovo.com sells it for as little as $881.10. It boasts the latest Intel processors, storage options, a fingerprint reader and two docking options too. In fact, there's very little business users need that this workhorse does not have.
Lenovo ThinkPad T470 Review: Design & Internals
The ThinkPad T470 isn't as stylish as some other laptops. Its soft-touch frame is  charcoal in color so that it doesn't attract much attention in a meeting. Gently rounded edges make the notebook comfortable to carry in your hand from place to place. That's a big contrast from the laptops with sharp edges out there that feel like they might slip through your fingers at any moment.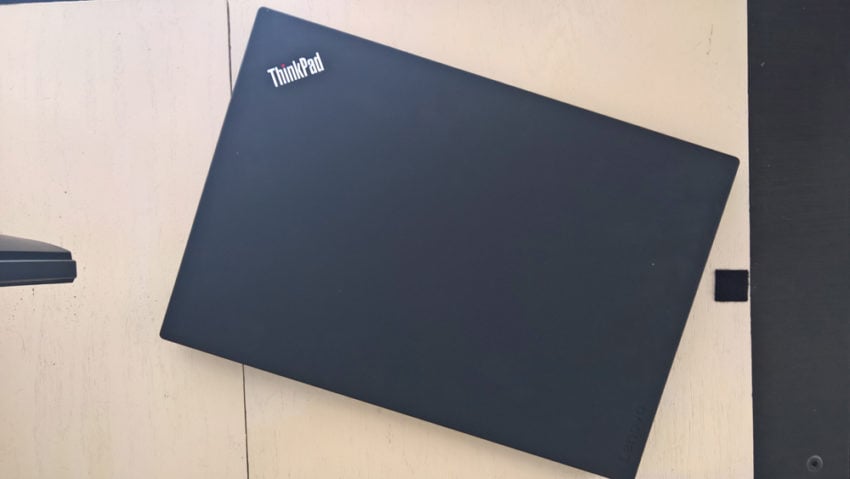 Lenovo says this laptop meets 12 different military durability checks, which explains why it doesn't flex or bend. Those checks include high-vibration, temperature shock, humidity and mechanical shock. The ThinkPad T470 is more likely to survive a drop than some other notebooks I've used recently.
You should expect to wipe and dust this laptop off often. The soft-touch plastic shows fingerprints.
This PC has every port you need to connect a mouse, keyboard, monitor or smartphone. The charging port, USB 3.0 port, Thunderbolt 3 port and SmartCard slot are on the left edge. A headset jack, HDMI port, two USB 3.0 ports an Ethernet port and an SD card slot are on the right edge. If you've already grown used to a docking setup, there's a Lenovo docking port on the bottom. Use the Thunderbolt 3 port to connect to third-party docks.
This notebook is an eighth of an inch thick and weighs 3.49 pounds with a 3-cell battery. Adding the 6-cell battery pushes its weight to just under 4 pounds. Thankfully, you can ditch the weight created by extra batteries when you want.
The ThinkPad T470 has a 3-cell battery embedded in its body and an external battery slot. You're free to swap the external battery without ever turning the laptop off. Swapping battery packs in this machine is like fueling a jet without it landing. You will love this feature if you find yourself running from meeting to meeting with a dead laptop.
Lenovo ThinkPad T470 Review: Features & Performance
The least expensive model of the ThinkPad T470 Lenovo sells online has a 14-inch 1366 x 768 resolution display, a 7th generation Intel Core i5 processor, Intel HD Graphics 620, 4GB of RAM and a 500GB hard drive. All models sport integration mobile data. You can go up to an Intel Core i7 processor and 32GB of RAM.
Gotta Be Mobile's review unit had the same Intel Core i5 processor and Intel HD 620 graphics. A 256GB Solid State Drive, 8GB of RAM and a 14-inch FHD 1920 x 1080p display were inside it.
7th Generation Intel Core processors offer better performance when you're watching 4K videos. Computers with them have longer battery life and slightly better performance than 6th Generation Intel Core processors, too.
The ThinkPad T470's battery life is spectacular. Expect 11 hours while browsing websites to research your next project and writing your next presentation. Adding a high-capacity battery in the external slot could get you as much as 27 hours of battery life, according to Lenovo. Unfortunately, I didn't have a high-capacity battery on-hand to try that for myself.
You don't hear much fan noise coming from the machine while working. The laptop does kick on the fan to cool the processor when you're ready to do something demanding, though.
I had no problem with the ThinkPad T470's performance at all. Windows 10 apps, programs essential to my job – like Photoshop – don't drag on this machine. Google's Chrome browser is notorious for its bad performance on Windows 10. I used it all week on the ThinkPad T470 without noticing a hiccup. I'm confident that any productivity app you need for your business will run on this laptop just fine.
If a worker says that their ThinkPad T470 is behaving badly, it's more likely a software issue than a hardware problem. You're prepared either way. Every version of this laptop has vPro technology that lets IT departments configure it remotely. VPro processors handle virtual machines well so that you can install two operating systems on the T470. Windows 7 and Windows 8 can't be installed on the machine directly from Lenovo. That's what makes that dual-operating system option useful.
Lenovo doesn't stuff the ThinkPad T470 with extra software. The company only added software essential for managing the notebook's settings. Microsoft installs Candy Crush, March of Empires and Sling TV in Windows 10 Pro. Remove those and you have a very, very clean Windows 10 experience.
The Lenovo ThinkPad T470's Windows Hello ready fingerprint reader sits to the left of the keyboard. It's fast and almost always works. You will want to program it with three fingers from your dominant hand for the best experience.
Lenovo's legendary ThinkPad keyboard works just fine here. Key presses feel a little softer than other notebooks, but I wouldn't declare it awful because of that. Shortcuts make disconnecting Wi-Fi, turning off the keyboard and adding a favorite to your web browser easy. Each key has a LED light behind it so that you can see it in the dark. A TrackPoint in the middle of the keyboard lets you move around Windows without lifting your fingers.
This notebook's precision trackpad has two-finger and four finger gestures. These gestures let you switch apps and get to your desktop quickly. Zooming in with the trackpad feels like you are enlarging a photo on an iPad.
Replacing the keyboard and the internals of this ThinkPad T470 requires fewer screws, Lenovo says. The second battery is always accessible, too. Experienced IT departments large and small can get this machine running again without having to send it back to Lenovo for service.
Lenovo ThinkPad T470 Review: Specifications
Processor & Graphics
2.6 GHz 7th Generation Intel Core i5 processor

(Core i3 and Core i7 Options)

Intel HD Graphics 620

Memory & Storage
8GB of DDR4 2400 MHz RAM

(Up to 32GB of RAM Optional)

256 GB Solid State Drive

(256 SSD, 1TB SSD 500GB Standard Drive Options)

Display
14-inch 1920 x 1080 IPS Display with Touch

14-inch 1366 x 768 HD Display without Touch

14-inch 1920x 1080 FHD IPS Anti-Glare Display without Touch

Ports & Extras
·            Intel Dual Band Wireless-AC

·            Gigabit Ethernet

·            1 HDMI Port

·            3 USB 3.0 Ports

·            Headset Jack

·            Memory Card Reader

·            Kensington Lock Slot

·            Stereo Speakers

·            720p Web Camera

·            Backlit Keyboard

·            Micro SIM Card

·            SmartCard Slot

·            Fingerprint Reader

(Optional Mobile Data)

Battery Life
18 Hours of Battery Life with Two Batteries

27 Hours of Battery Life with Removable High-Capacity Battery Option

Dimensions & Weight
13.25-inches x 9.15-inches x 0.79-inches

3.49-lbs with Standard Capacity Batteries

3.92-lbs with High Capacity External Battery
Lenovo ThinkPad T470 Review: Should You Buy?
The Lenovo ThinkPad T470 is the same great ThinkPad business notebook with new tricks. It's not exciting and that's ok.
It can last through marathon working sessions without you needing to charge it every five hours. It's easily serviceable and powerful enough to handle anything that the modern office worker or small business owner can throw at it. The ThinkPad T470 has every port you could need and two docking solutions for when you encounter a port its engineers forgot about.
If you're looking for a workhorse for your business, put the ThinkPad T470 on your shortlist of candidates. In fact, I'd considering crossing every other business notebook you've looked at already off that list.