ThinkPad Tablet Review [Editor's Choice] – Built For Business
Almost as soon as tablets became the hot new thing in consumer electronics, corporations and small business users wanted in on the action, too. While the form factor makes for a sweet portable computing experience, deploying tablets isn't always feasible due to security concerns and basic usability issues.
It's no surprise that Lenovo would create a tablet to tackle these concerns given their vast experience in the business notebook market. They're a company that knows tablets from back in the days when they ran Windows and had keyboards attached.
The ThinkPad Tablet is designed with both comfort and productivity in mind and comes pre-loaded with over a dozen business-focused apps. Plus, an optional stylus coupled with NTrig's display technology and apps that recognize and transcribe handwriting mean that you may not need a paper notebook ever again.
At $499 for the 16GB WiFi version, this tablet starts at the same price as Apple's iPad, yet offers much more for the same price in terms of ports and productivity. But does that make it the right tablet for your business?
Hands On
Design
This tablet looks the way you'd expect a product with ThinkPad branding to look. It's basic black with a rubberized, soft-touch coating to the back and is just curvy enough to be comfortable to hold. You won't find sleek lines and a skinny chassis, but you will find an array of useful ports. It's a business tablet, after all.
Measuring 10.3 x 7.2 x 0.57 inches and weighing 1.6 pounds, it's about average for a tablet that isn't the iPad 2 or the Galaxy Tab 10.1.
The front of the ThinkPad is all smooth, glossy glass, broken up only by the physical buttons at one end. Here Lenovo sets the ThinkPad apart from most Honeycomb tablets by including a Home and Back button. These functions are available on screen, but having physical counterparts is useful if the screen stops responding. A one-touch browser launch button and orientation lock fill out the row.

Most of the ports line the edge next to the buttons. Here you'll find the combo headphone/mic, mini HDMI, micro USB (for charging and connecting), and proprietary docking connector. A port cover hides the SIM card and full SD card slots. On the bottom edge a sliding door covers a full USB 2.0 port. The ThinkPad's one speaker sits next to it.

The port for the stylus sits on the left side at the bottom; the volume rocker near the top. The power button is all by itself on the top edge.
Gorilla Glass makes the 10.1-inch display resistant to scratches and damage from impact (not completely impervious, though). The glossy surface attracts finger smudges fast, and it doesn't take long for the screen to get dirty. Just as with the iPad, if you don't clean the screen regularly the touch performance dwindles just enough that you'll notice and go in search of a cloth. I ended using the stylus most of the time partially because I like it and partially to keep the screen from getting dirty so fast. I wish the glossy surface wasn't so reflective — anytime the screen went dark the display became a mirror.
Out in sunlight, the display was still visible as long as the screen brightness was up close to 100 percent. Direct sunlight is a problem thanks to the gloss, but you don't have to step into complete shadow in order to see what's on the screen.
Enterprise Features, Apps and Accessories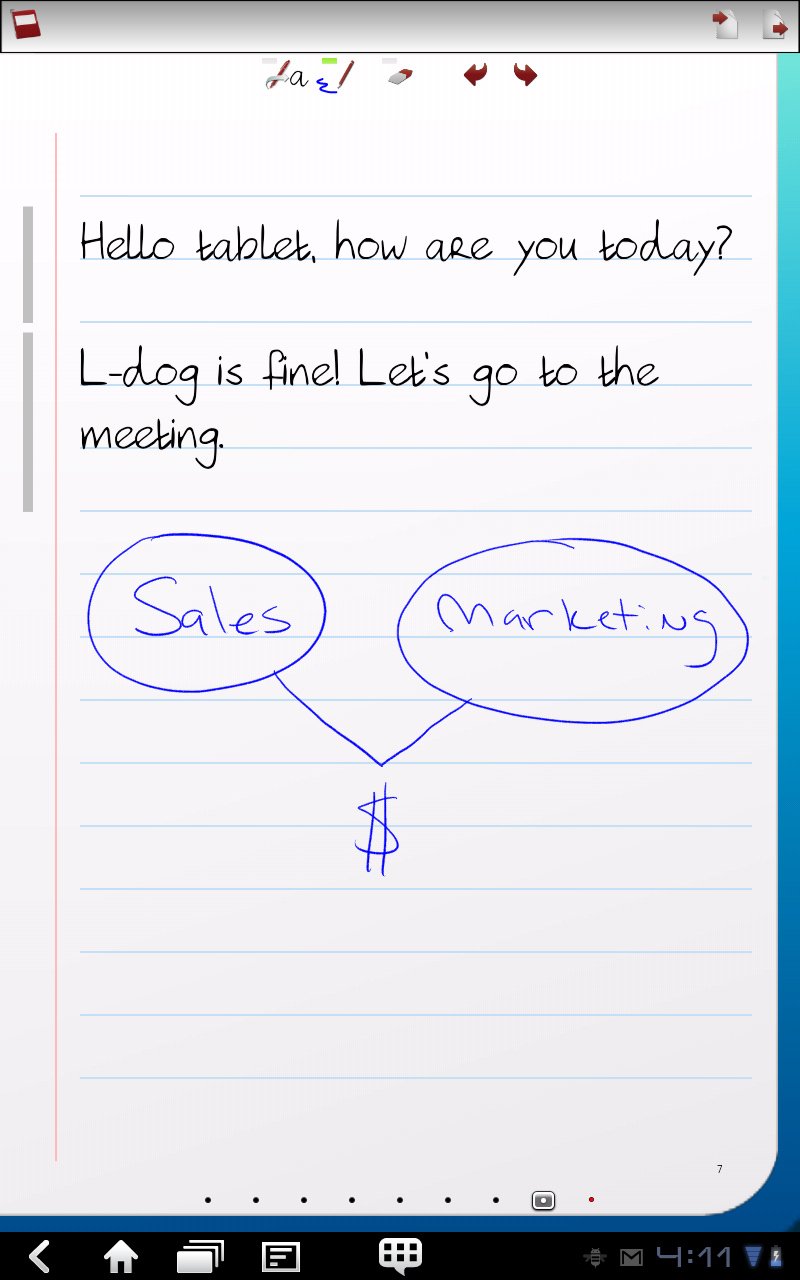 Enterprises ranging from large corporations down to small businesses and individual entrepreneurs will find the ThinkPad Tablet eminently suitable for their needs. The tablet's built-in security and management features, coupled with a robust parcel of pre-loaded apps, make it business-ready right out of the box.
Documents To Go (full version) — View, edit, and create MS Office-compatible documents. Includes word processor, spreadsheet, presentation, and PDF reader.
Lenovo PrinterShare — Send files to Wi-Fi or cloud printers.
USB File Copy — Makes it easy to move files between internal storage and USB or memory cards.
MyScript Notes Mobile
ArcSync — Sync and back up files.
eBuddy — Multiple platform instant messaging.
ooVoo — Video conferencing (up to 6 participants).
PokeTalk — VoIP calling.
In addition, the security features and apps will please both users and IT managers.
The Citirix Receiver app allows users to access virtual desktops, apps, and data in the within the XenDesktop and XenApp infrastructure.
For tablet protection, companies can purchase Computrace services which can track the tablet through the Absolute Software app on board. If the ThinkPad is lost or stolen, an IT manager can take control of the device, trigger commands, lock it, delete sensitive data, and trace the device, even if the thief does a factory reset.
A 30-day trial of McAfee Mobile Security is included to protect against Android malware, back up data, and help track down stolen units.
For large deployments, IT Managers can use LANDesk management to restrict and control tablets to keep employees on task. You can push apps and updates, lock down app installation, and push encryption.
One enhancement I don't see is improvement to the Mail program. Currently, the app will connect to Exchange email servers, but the two-way sync isn't the best. Plus, calendar and contacts sync don't work as well as they should. I'd have liked to see Lenovo tackle this problem.
Lenovo backs each ThinkPad Tablet with a 1 year warranty. Bump it up to 2 or 3 years plus priority and onsite support for $59 – $394.
Aside from the software, enterprise buyers should consider adding the digitized stylus to their order. It costs $30 extra and is a very valuable accessory.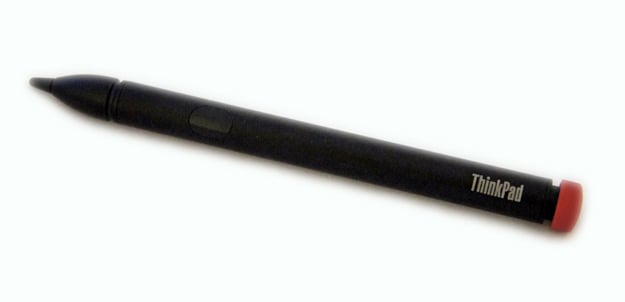 Read Our Review of the ThinkPad Stylus and Pen-Input Apps With Video Demos

The $99 Keyboard Folio Case isn't as necessary, though it will up the potential productivity of users. It connects via the full USB port so fast typists won't feel frustrated by the lag that sometimes plagues Bluetooth keyboards. The keyboard also includes an optical mouse where the TrackPoint would usually sit.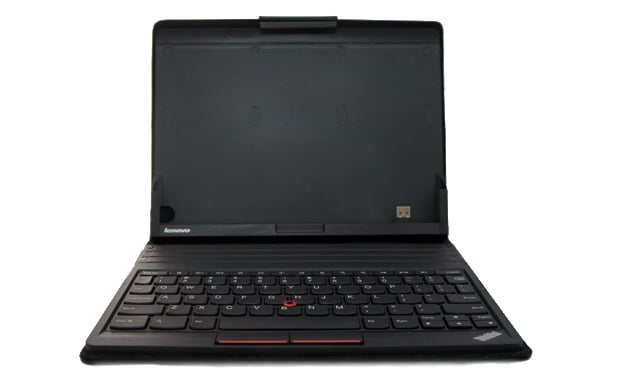 Read Our Review of the ThinkPad Keyboard Folio Case
Performance
No surprises under the hood here — a 1GHz Nvidia Tegra 2 dual-core processor, 1GB of RAM, and 16GB, 32GB or 64GB of internal storage, depending on the model.
The ThinkPad Tablet performs similarly to other Honeycomb tablets, though I did note occasional lag when switching between apps and moving between Home screens. Some apps took a second or two longer to load than average, such as MyScript Notes and DocsToGo. But when playing games, watching video, and writing in MyScript Notes, the tablet proved speedy.
Wi-Fi performed nominally well, loading websites at an acceptable rate when up to 20 feet from the router.
Battery life doesn't quite reach the 8.5 hours Lenovo claims in continuous use, but I have been able to get between 5 and 7 hours altogether out of it. Using it off and on throughout the day for playing games, watching video, checking email, surfing the web, and taking notes, I was able to go all day without needing to plug it in. It also doesn't use much power when sleeping — I once left it for over 14 hours and only lost about 2% battery life.
User Interface and Apps
Lenovo provides some upgrades to the underlying Android 3.1 operating system, but these modifications aren't as in your face as Samsung's TouchWiz UX. It looks more like they took some cues from HTC in terms of widgets and interface tweaks.
Little things improve Android's usability like adding more items to the Quick Settings area on the notification bar (Attached Display, Email Sync, and GPS on/off toggles, more) and giving users the ability to kill a task from the recent apps menu on the left by tapping the X.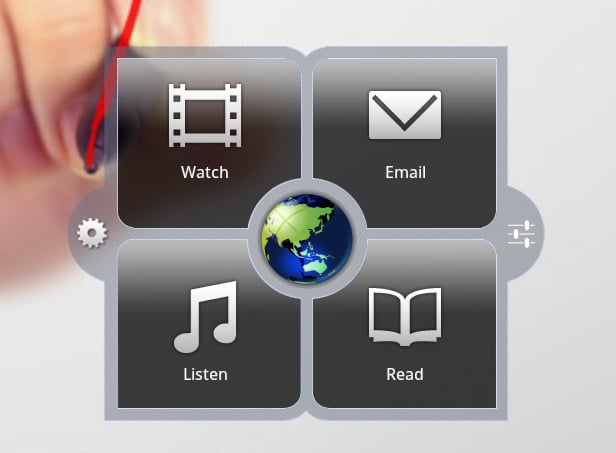 A large Launcher widget dominates the main Home screen, inviting users to Watch, Email, Listen, or Read. A quick link to Settings anchors the right side, putting many of the most important apps right in front of you. The Lenovo App Wheel, launched from the icon at the center of the bottom bar, feels like overkill. Both of these elements are customizable, at least, and deletable/ignorable if you don't need them.
In addition to the Android Market, there's also a Lenovo App Shop. Normally, I find company-specific app stores redundant. However, Lenovo checks all of the apps they list for compatibility with the ThinkPad Tablet. With Google's Market most of the apps do work, but you have to install them before you know in some cases. Plus, Lenovo concentrates on listing apps appropriate to the tablet's target audience.
Cameras
The rear-facing 5MP camera doesn't take stunning pictures, but I've come to accept that this is par for the course with tablets. Outdoors, pictures lacked fine detail and sharpness and lighter colors tended to fade. Indoors colors come out better and the white balance settings helped in medium-light situations. The biggest drawback is the lack of flash on the back — I guess Lenovo doesn't expect people to actually use the camera much.
Thinkpad Tablet Camera Sample
The front-facing 2MP camera delivers decent but slightly pixellated images during video chat sessions. Be sure you're somewhere with good light for self-portraits, though.
Multimedia Performance
Videos, images, webpages and text all look great on the 10.1 inch, 1280 x 800 resolution IPS display, which offers nice wide viewing angles.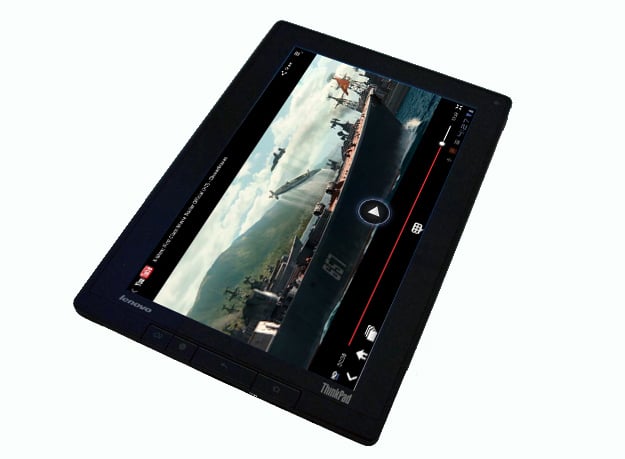 Both SD and HD video content is a pleasure to watch. However, the ThinkPad's speaker volume is terrible because there's only one small speaker grill. Even with the volume all the way up, it's hard to hear audio when watching movies or TV episodes if there is even the slightest background noise.
If you're going to take advantage of the many multimedia apps included, such as Slacker Radio, mSpot Music, Netflix, or mSpot Movies, be sure to grab a good pair of headphones or some external speakers beforehand.
Price and Configurations
Currently there are only WiFi versions available from Lenovo.com, but 3G-ready tablets will be available this month. Buyers have the option of a 16GB model for $499, a 32GB model for $569, and a 64GB model for $669. Other than internal storage, there are no differences between these models.
Conclusion
Lenovo's ThinkPad gets closer than most other tablets to being a useful, productive machine as well as a nice portable multimedia and gaming machine. It has the hardware, ports, and feature set to satisfy business users and enough security and control to keep IT managers happy.
This tablet isn't just for business users — consumers will find a lot to like here, too. It's not the sleekest tablet you can buy, but does that matter as much as usability?
Despite the poor audio experience and the slight occasional lag, it's one of the best Android Honeycomb tablets on the market, which is why it gets our Editor's Choice award.
Pros
More ports than most Android tablets
Comfortable design
Crisp, bright display
Robust suite of pre-loaded apps
Business-focused security features
Stylus support
Cons
Average performance
Poor audio quality and volume
Mediocre cameras
Gallery
Specs
OS
Android 3.1
UI Skin
Lenovo
Display
10.1 / 1280 x 800
CPU
1GHz Nvidia Tegra 2 dual-core
RAM
1GB
Storage
16/32/64GB
Wireless
802.11b/g/n
Mobile Broadband
3G (optional)
Bluetooth
2.0
Ports
USB 2.0, micro USB, mini HDMI, docking connector, 3-in-1
card reader, SIM card slot
Cameras
5MP (rear); 2MP (front)
Sensors
Accelerometer, Gyroscope, Assisted GPS,Ambient light sensor
Battery
3250 mAh Li-Poly

As an Amazon Associate I earn from qualifying purchases.