Lenovo ThinkPad X130e – An Education Laptop Students Might Actually Want To Use
Education systems and school administrators looking to outfit their students with laptops have a new choice in the ThinkPad X130e, Lenov's newest notebook for the K-12 set. Built to withstand slightly less than gentle treatment at the hands of kids, this rugged little machine is built to last. Add to that some robust internal specs and the top of the line ThinkPad keyboard and this should be a hit with everyone from teachers and admins to students and parents.
The ThinkPad X130e resembles a X120e (also 11.6-inches), but instead of clean, straight lines it looks a bit like it's wearing a puffy jacket. That would be the extra ruggedization built in. There's a top rubber bumper to absorb impact on the sides, reinforced corners, a stronger bezel to protect from cracks if kids carelessly carry it by the screen, and hinges that can take more opening and closing than the average laptop. Even the ports are reinforced to keep them from wearing out too fast.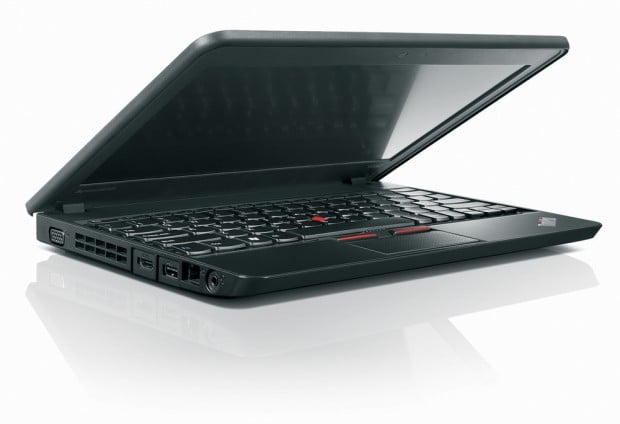 Despite all of this, the laptop doesn't look like the typical machine made for students. The ones that look a little bit like toys and not cool at all. Perhaps the X130e doesn't reach cool status — it does look more like something an adult would use. It wouldn't surprise me if a few adults went for this for themselves.
It actually feels and look pretty good. The keyboard is just what you'd expect from a ThinkPad (get them typing right early!) and I like the inclusion of the TrackPoint in addition to the touchpad. The keys are the new Lenovo style but still have good travel and tactile feedback. And since the laptop is wide enough to accommodate a normal size keyboard, kids won't have to adjust too much when switching and growing.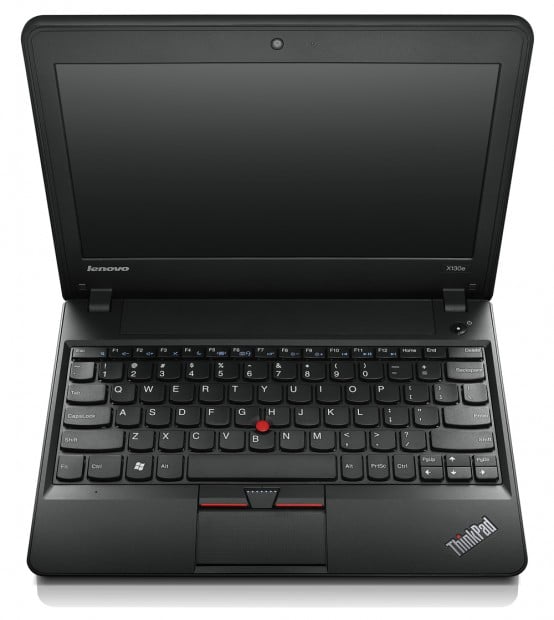 The rugged elements don't add a lot of weight. At 3.9 pounds the X130e is a bit heavier than the typical ultraportable but still within the range of carryable without putting a lot of strain on kids' backs.
Aside from that, the X130e has all the other hardware specs you'd expect. There are three CPU choices: AMD Fusion E-300 and E-450 (with AMD Radeon graphics built in) or Intel second generation Core i3-2367M ULV (with integrated graphics). You can configure it with up to 8GB of RAM and a 320GB or 500GB hard drive. Other specs include Wi-Fi (g/n) with optional mobile broadband (WiMAX), Bluetooth 3.0, low-light webcam, VGA, HDMI, Ethernet, and 3 USB ports, a card reader, and either a 6-cell (8.5 hour) or a 3-cell battery. Buyers also have a choice of Windows 7 installations from Starter Edition up to Professional.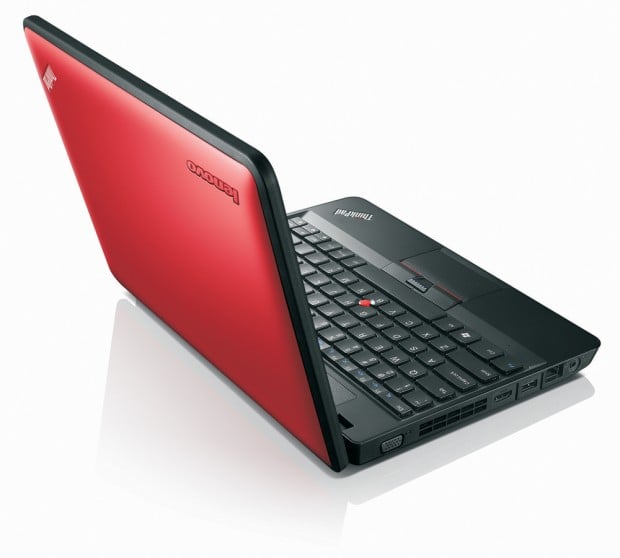 Software-wise, Lenovo offers a wide range of utilities and services for schools, including BIOS modifications. There are tools that help diagnose problems so students or teachers won't have to call the IT department, plus backup systems that store student's work in case the hard drive is damaged. And of course Lenovo offers protection packages to keep the laptops running for as long as possible and to recover them I lost or stolen.
If the school really wants to instill some spirit in the students, they can order the X130e in school colors or even have the logo on the lid.
The ThinkPad X130e starts at $469 and will be available on Lenovo.com starting December 20.

This article may contain affiliate links. Click here for more details.