Let the Tablet Shopping Season Begin!
It has been a big week in Tablet land with Apple finally announcing its iPad Mini and the early reviews of Microsoft's Surface RT hitting the Internet, prior to some consumers getting their hands on that device on Friday. Monday will be a big day as well with Google making some Tablet announcements. Amazon, having previously announced its entrants into this year's Holiday Tablet Derby has some models in consumer hands and others still to come. The bottom line for all of this for consumers is that the choice for consumers could not be more clear or more confusing.
As I've been saying for quite some time now, picking a Tablet has more to do with which company's ecosystem you want to buy into than it does with picking up a piece of hardware. Yes, the hardware is important, and consumers look to have quite a few choices at quite a few price points to choose from on the hardware front. Make no mistake though, once you buy a Tablet you're buying into a digital world view that is defined by Microsoft, Apple, Google, or Amazon. Unless of course you're like me and you like to dabble in each of those worlds. But for most consumers, it will come down to one choice. I'm guessing that there are more than a few consumers out there who don't realize the full impact the ecosystem has when they are looking at these devices, or the sexy commercials. We're reaching a point where not only do the hardware and the ecosystem matter, but how those choices fit in with what you currently use for your computing chores and increasingly your entertainment choices. Here's my take on some of the choices.
Clouds, Storage, Media
Apple, Amazon, Google and Microsoft all want you, your data, and your content in their respective Cloud. To some degree your media choices are limited by content companies who allow those four to let you use their content. Chances are with video you'll find most of what you're looking for with Apple and Amazon, with Google and Microsoft currently lagging behind. Unless your tastes are really special, you'll find pretty much any of the music you're looking for wherever you go. If books are your thing then Amazon is the clear leader here, and not just on its own devices, because you can load up a Kindle App on any of the other platforms. iBooks and what Google makes available pale in comparison in my view, and Microsoft, who I bought my first eBooks from, just isn't in this game.
If you want to mix and match (Google Drive on an iPad or Microsoft's Skydrive on Android as examples), you can do that as well with all but Microsoft Surface currently. If you want to use Amazon's MP3 player or Google's Music Player you can mix and match on all platforms except Microsoft. You can, through 3rd party solutions, sync your music from iTunes on other platforms (excluding Windows RT). Apple, Amazon, and Android also currently give you access to third party media clients. Do you notice a trend there? I would hope you do. Again, I imagine that we see third party Cloud solutions for data and content on Surface in the future, but if you want to be portable now, you need to look at Android (including Amazon) or Apple. I guess a reverse of this would be when we'll see an xBox music App on the other platforms. Of course there are third party streaming alternatives as well, and again you can have good luck with those currently on all but Microsoft's Surface RT platform.
With regards to data, if you want to use a third party solution like Dropbox, you're safe at the moment with all but Microsoft. Expect that to change, but currently there is no Dropbox (or other third party Cloud Storage) App for Microsoft's Tablet.
Apple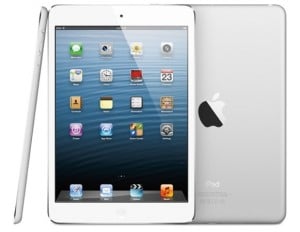 Apple's iPad Mini shows that Apple wants to expand by getting smaller. Apple has either lost all control over its vaunted secrecy apparatus, or has decided it needs to combat its competitors with some serious leaking. In either case, I think we're seeing some signs of nervousness in Cupertino. As with the iPhone 5 there was nothing announced about the iPad Mini that we didn't already know.  The iPad Mini will help Apple continue its dominance of the Tablet sector, but because Apple came in with a bottom line price point of $329 for a 16GB device, it left some room for its competitors who know that there is a price sensitive consumer out there. Apple has the most mature ecosystem offering Apps, media, and, more importantly, a base that developers can count on creating for. The content is there, as is the ability to do some work. And now, if you want to play in Apple's walled garden, you have two Tablet sizes to choose from. If you're looking for the most mature ecosystem and hardware, Apple is the leader here and while it now has some real competition it will remain so for the immediate future.
One thing, in my opinion, that Apple had going for it was its release cycle predictability. Apple created some uncertainty this week by replacing the existing new iPad with a refreshed model that includes the new Lightning Connector and a faster processor. It is too early to say if that means that we won't see an updated iPad in the spring (Apple's schedule so far). I found it intriguing yesterday that most of the coverage from the Apple event seemed to bypass this newer new iPad, if not outright dismiss it as not worthy of an upgrade for current new iPad owners. If Apple chooses to update its hardware more frequently, that essentially puts consumers who relied on past predictability in a bind. But so goes life.
Microsoft
After taking its time trying to get in the Tablet game, Microsoft is now in it with its own device, the Surface RT, as well as those from OEMs. This is a big gamble on Microsoft's part and no matter how it turns out, the folks in Redmond should be commended for taking it. From the looks of the early reviews, the Surface RT hardware is a nice version 1.0 addition. But surprisingly the software needs some work. (I could say this about Apple as well, as I'm not that impressed with bugs in iOS 6. Fascinating that two companies who love software so much are having these difficulties.) Most reviews of the Surface RT mention the dreaded lag and that's a bit disconcerting. There appear to be some bugs to work through as well. I look forward to making my own judgments on the Surface RT this weekend. Not surprisingly, Microsoft is taking knocks for not having enough Apps ready at launch, especially given that x86 Windows Applications won't run on the RT platform. If you're looking for Apps today, the Surface RT probably isn't your choice. That story might change in the next six months, or it might not given that the Pro version of these Tablets are scheduled to launch after the first of the year. The chicken and egg question will be how many developers will work with both the RT and Windows 8 platforms. Microsoft has a significant amount of media content available, but it appears that some of it (movies and TV) is more expensive than its competitors. It's xBox Music will probably satisfy most new users, but those who have a music collection already established will have some challenges.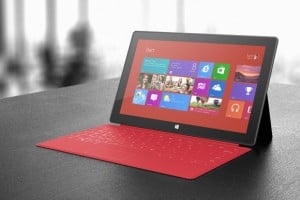 Microsoft's strategy with hardware and software may be getting clearer, but I have to admit that I remain concerned about its marketing. Like many, I don't think Microsoft has done enough to educate consumers (and reviewers) about the difference between RT and Windows 8. There is no question in my mind that this will be a pain point. As kind of an example of this, let me point to the fact that there were very few mentions in any of the early reviews about OneNote. Not only were their very few mentions, but from what I know, OneNote could have easily been a "show off the new platform" App when Microsoft laid out the reviewers guide and guidance. Tableteers who have been around won't find this surprising because for some mysterious reason Microsoft doesn't like to talk that much about OneNote. I'm not talking about Inking here (the Pro Tablets will offer better Inking experiences than the RT Tablets). I'm talking about the non-Inking features of OneNote. It is a good thing OneNote is included on all of the Surface RT Tablets. It is confusing that it isn't featured by the folks who created it. This points up how many divisions there may still be within Microsoft in my view. That said, thankfully OneNote did get featured in the keynote earlier today.
Google and Android
We'll know more (not much) on Monday after Google makes some announcements. What we do know is that Google and its partners are still plugging away at Android Tablets. That's a good thing. The Nexus 7 (and its sequel) will own a piece of the market, and the rest will be available but not make significant gains in my view. Let me just say this, the 10 inch widescreen Tablet format just doesn't work in my opinion. (We saw some complaints about this as well in the Surface RT reviews.) Google's ecosystem is still ramping up when it comes to content, but shows signs of competing well in the future. They certainly have the money to spend on content licensing. Doing so sooner rather than later would help them signficantly. Google is working hard to try and define its Tablet strategy, but still suffers from an App market that seems far too content to use smartphone apps instead of Apps optimized for Tablets. Don't get me wrong here, there are some very nice Tablet optimized Apps for the Android platform, there just aren't enough of them to drive developers into thinking that this is the way to go.
Amazon
Content is king here and Amazon makes no secret about its strategy to have you buy content in its online stores. As long as Amazon can continue to provide low cost Tablets as a way of selling us stuff, then it will continue to be a major player. Amazon is known. Amazon is comfortable. Add low price to that and you get a mix that makes an Amazon Kindle HD an easy impulse buy come the holidays. In the last month, I've watched several children in our programs using Kindle Fire devices. These kids come from different economic backgrounds, and while anecdotal, I find watching them use the devices speaks volumes about what their parents are buying.
Keep in mind that Amazon wins on several fronts relating to content. Amazon Prime members can view free video content on the iPad. Well that eventually extend to Windows and non-Amazon Android in the way that Kindle books do? I'm not so sure. I bet Amazon would love it too. Not so sure about the gatekeepers at Android and Windows.
For those who are App crazy, Amazon's selections still lack when compared to Google's own Android Play Store possibilities. Is this a real concern? I'm not sure, but if you want the latest and greatest, than Amazon's Fire lineup isn't necessarily for you.
Price Point
This is going to have an impact for many and not for some. Apple and Microsoft are aiming for the high end of the market (defined as starting price of $500). Google and Amazon seem content with the lower end ($200). All well and good. This pretty much leaves other Android Tablet makers and possibly Windows RT Tablet OEMs trying to figure out how to compete. Will it all come down to price? Yes for those who are price sensitive and maybe for those who want a good Tablet for the holidays. Don't discount the fact that many consumers will be looking in stores at display units before ordering online or making a store purchase.
I'm excited to see how this all shakes out. Consumers are going to have some interesting choices to make and Apple is going to finally have some real competition for your dollars. I've focused here on the big four as I see them. Keep in mind that other vendors and OEMs want to compete with Android and Windows as their OS as well. We've been hearing about The Year of the Tablet for so long now that it is beyond a cliché. That said, I think we're looking at the next two months as the first real period wherein there will be real competition on so many fronts. I say that's a grand and wonderful thing. Happy Tablet shopping.

As an Amazon Associate I earn from qualifying purchases.