LG Confirms Optimus 3D Ahead of MWC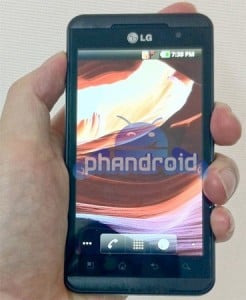 After rumors of a 3D smartphone coming from LG, the handset-maker has confessed to its ambition of delivering a 3D-capable smartphone prior to the device's debut at February's Mobile World Congress in Barcelona. Though not a lot of details are revealed at present through the company's press release, LG is saying that its Optimus 3D smartphone will be capable of 3D recording via a dual-lens camera system along with a glasses-free 3D display.
In the 3D smartphone space, LG will have to battle Sharp with the latter's Galapagos line of smartphones and tablets. Additionally, it is Sharp's glasses-free 3D display that is making way into Nintendo's 3DS handheld gaming device.
LG's tablet is also speculated to be 3D-capable as well. The G-Slate has been hinted as being able to display and record 3D content.
It's still unclear at this point whether LG will be utilizing NVIDIA's rumored and forthcoming Tegra 2 3D chip for its 3D smartphone and tablet computing products.
Via: Engadget
Press Release:
LG TO UNVEIL WORLD'S FIRST FULL 3D SMARTPHONE AT MOBILE WORLD CONGRESS 2011
FOR IMMEDIATE RELEASE
LG TO UNVEIL WORLD'S FIRST FULL 3D SMARTPHONE AT MOBILE WORLD CONGRESS 2011
3D Recording-Viewing-Sharing of Life's Precious Moments Anytime, Anywhere
SEOUL, Feb. 1, 2011 – At this year's Mobile World Congress, LG will unveil the LG Optimus 3D, the world's first 3D smartphone offering consumers a full 3D experience right in the palm of their hands.
The LG Optimus 3D addresses the lack of 3D content issue — one of the biggest problems facing the 3D market — with a complete platform for a one-of-a-kind experience on a mobile device. LG's most advanced smartphone to date will feature a dual-lens camera for 3D recording, a glasses-free LCD panel for 3D viewing and diverse connectivity options such as HDMI and DLNA for 3D content sharing anytime, anywhere.
Further details and a live demo of the LG Optimus 3D will be offered at Booth #8B178 at MWC in Barcelona from February 14 to 17.