LG DoublePlay Rumored for Launch on T-Mobile on Nov. 2
In addition to the speculated HTC Radar 4G Windows Phone Mango launch on November 2nd, T-Mobile USA may also be eyeing the same day to launch the Android-powered LG DoublePlay. Both handsets were announced previously and most recently, T-Mobile's website had listed both handsets as coming soon.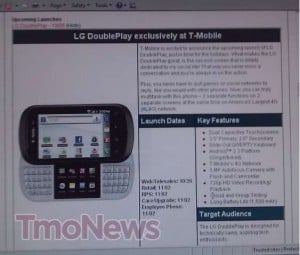 The LG DoublePlay is perhaps more geared at the mid-range and entry-level smartphone demographic. The features and form factor of the phone will position LG's handset against rival Samsung's Sidekick 4G as both devices have a sliding QWERTY keyboard in landscape mode that will make it easier to compose and respond to messages. Like the Sidekick, the DoublePlay also features cloud text, a feature where users can compose and respond to text messages from a computer, rather than from the phone itself.
The DoublePlay does employ a unique form factor. The handset will have a larger touchscreen that will slide over a smaller touchscreen. The smaller touchscreen can be used to display more information or manipulate control of the Android OS. Additionally, flanking the smaller touchscreen is a split keyboard.
Pricing is still not yet announced for the handset. T-Mobile's computer system states that the handset may be available for website and telephone orders as early as Wednesday, October 26, with a full retail launch on November 2 in retail stores.
Via: TmoNews

This article may contain affiliate links. Click here for more details.