LG Esteem: An LTE Price 'Revolution' for MetroPCS
Regional contract-free carrier MetroPCS is rumored to be getting an Android smartphone by the name of the LG Esteem soon, and now we're seeing some leaked shots of the LTE-capable device and it bears a striking resemblance to Verizon's LG Revolution, another 4G LTE handset. What's unique about the Esteem isn't its name, specs, or 4G LTE support, but rather its contract-free pricing at just $350 after a $100 mail-in-rebate according to a tipster to Android Central.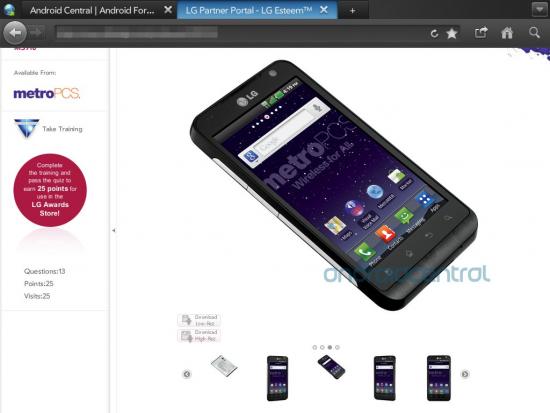 When compared to some high-end Verizon 4G LTE devices at launch–the Droid Charge and Droid Bionic both launched at $300 with a two-year contract and the carrier is now currently selling the 4G LG Revolution for $200 on contract–the pricing of the Esteem definitely makes 4G LTE technology more affordable.
Like the Verizon Revolution, the LG Esteem for MetroPCS will have a 4.3-inch LCD display, 5-megapixel rear camera, and front-facing camera. The device will operate on MetroPCS's CDMA/LTE network. Android Gingerbread comes pre-loaded–the Revolution shipped with Froyo–along with LG's custom UI.
At this time, though, MetroPCS isn't really advertising how fast its 4G LTE speeds are; the carrier just says, "The MetroPCS 4G network is designed so that customers can enjoy a richer multimedia experience." On the other hand, Verizon says that 4G LTE is up to ten times faster than 3G speeds, and can deliver up to 16 Mbps on the download side.