LG Finally Announces Optimus G Pro for Japan
LG has finally taken the wraps off of the much rumored Optimus G Pro, a high-end smartphone that's designed for the Japanese market. The device will allow LG to compete more effectively in Japan against devices like the HTC J Butterfly, which has quad-core processing and a full HD 1080p display.
The LG Optimus G Pro has been confirmed for a Spring availability by Japanese carrier NTT DoCoMo and the device will feature a 5-inch full HD 1080p display, which is a step up from the gorgeous 720p HD panel that we saw launching on the Nexus 4 and the original LG Optimus G, along with a quad-core Snapdragon S4 processor clocked at a slightly faster 1.7 GHz speed, and a capacious 3,000 mAh battery. The device will run Android 4.1 Jelly Bean out of the box, so you'll get access to Google Now's intelligent voice search feature.
The large 5-inch display may categorize the Optimus G Pro as a phablet, a category that spans a smartphone, thanks to a mobile form factor, but also a tablet given that the larger screen estate may lend itself to increased productivity on the go.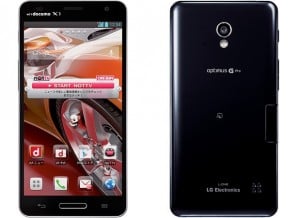 The device does have similar features to the original Optimus G. Like the OG, the G Pro will have 2 GB RAM, 32 GB internal storage, 4G LTE support, a 13-megapixel camera, and a micro SD expansion card slot.
In terms of aesthetics, the device has a similar button layout as rival Samsung's Galaxy S3 with a hardware home button in the center just below the display flanked on either side by capacitive touch buttons for the back and menu key. The Optimus G Pro does not make use of the trio of buttons found on LG's Nexus 4 smartphone. Also, it appears the Optimus G Pro doesn't have the glass back found on the original Optimus G and the Nexus 4.
It's unclear if the Optimus G Pro will be launching in other countries outside of Japan. However, if you're in Japan, you can expect to see the handset land starting April, according to Engadget.
In addition to the Optimus G Pro, LG is also rumored to be debuting an Optimus G2 this year. There have been conflicting rumors about the device's launch date with some rumors pointing to a Mobile World Congress debut next month.

As an Amazon Associate I earn from qualifying purchases.