LG G3 Android 5.0 Lollipop Release Dates Arrive
In February the LG G3 Android 5.0 Lollipop update initially started rolling out in the United States on multiple carriers, following a release in other regions around the globe, and today we've learned when T-Mobile will push the update for its G3. Earlier this week we saw the LG G2 get Android 5.0 on Verizon, and now today the T-Mobile LG G3 Android 5.0 release has been announced.
Owners with the LG G3 on AT&T and Sprint have already received the latest software, and Verizon started it but then quickly delayed the release, and it's still missing in action. The last major carrier is T-Mobile, and as of yesterday it's available via their online tool to download and install the update, but for those who want the regular over the air method, we now have all the details.
Read: LG G3 Android 5.0 Update: What US Owners Need to Know
LG's promised to deliver the Android 5.0 Lollipop update within 90 days for owners, which it met, but not in the US. In December it hit Korea, India, Poland, and parts of Europe, then parts of the US in February. Yesterday LG made the T-Mobile LG G3 update available online via their update tool, and this morning T-Mobile confirmed the release date is April 7th.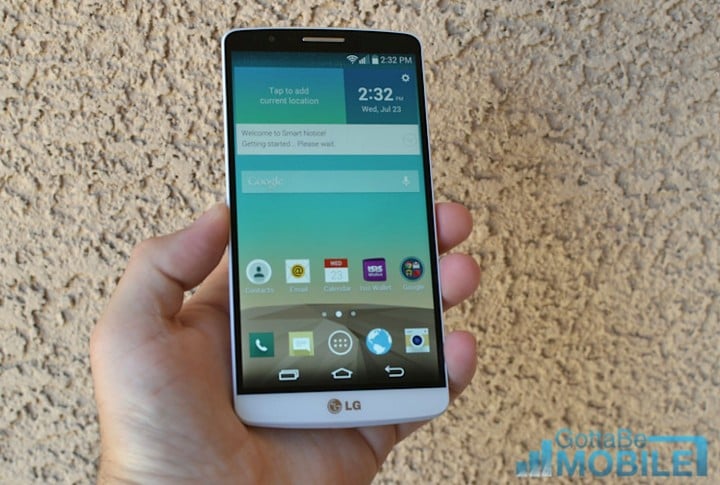 Last year LG announced its brand new flagship G3 smartphone in May. Delivering one of the best overall devices in 2014 with top-tier specs, an impressive 5.5-inch Quad-HD display like the Nexus 6, and extremely small bezels delivering a big screen in a small package. Those waiting for the update to Android 5.0 Lollipop will be happy to know the rollout is going smooth, and now it's hitting even more users.
Typically updates come as an over the air (OTA) software update. A notification arrives on the users device prompting them to download and install the update, and the entire process typically takes less than 5-10 minutes. However, the T-Mobile G3 has yet to see that OTA, but the latest software is available for those wanting to do it manually.
We've seen it before, but users who don't want to wait for T-Mobile to push the G3 Android 5.0 Lollipop update, you can manually download and flash it using LG's software update tool as we reported yesterday.
#Lollipop Update: @TMobile #LGG3 software update available on 4/7 for download #uncarrier pic.twitter.com/OOqhTe7VaT

— Des (@askdes) April 2, 2015
Today though, just one day after LG started offering the update through its own online tool, and T-Mobile's spokesman Des took to Twitter and announced that the LG G3 Android 5.0.2 Lollipop update will start rolling out over the air (like most updates) starting next week on April 7th. That's next Tuesday.
Once the LG G3 Android 5.0 update arrives next Tuesday all major carriers in the US will be on the latest software except for one, that being Verizon. They kicked off the LG G2 Android 5.0 update this week though, so it's highly possible those with a Verizon LG G3 will see the update arrive next week as well.
The LG G3 update will be delivering a new look and feel to the Android operating system. With Android 5.0 Lollipop users get more features, an improved notification tray and lock screen, neat animations and effects, improved battery life (for some) and a lively feeling operating system.
Read: Android 5.0 vs Android 4.4 KitKat: What's New in Lollipop
So far we're hearing most LG G3 owners on AT&T, Sprint and around the globe are enjoying the update, at the same time there's also a large amount of users that are frustrated with problems after the LG G3 Android 5.0 update, so users should proceed with caution.
For now we have no details regarding the LG G3 Android 5.0 Lollipop update for T-Mobile, or if the carrier changed any additional things, but when Sprint pushed it live last month they released some details regarding the upgrade. Here's the changelog:
Material Design for fluid animation, multicolored themes and 3D views
More efficient battery use
Android TV support
Notifications on the lock screen and customizable options with prioritized notifications for events, reminders, messages and calls
Updated Lock Screen features allow users to quickly access notifications and active apps
Enhanced low vision and color blind capabilities for added Accessibility
Integrated location menu enables users to easily activate GPS, Wi-Fi and mobile networks, while simultaneously checking the battery usage of apps running location service capabilities
Enhanced Messaging with Google Hangouts™ support for SMS and MMS and a larger assortment of updated Emoji icons
Upgraded Google Mobile Service™ apps automatically back up photos and video and can open, view, rename and share Google Docs and files
Most likely all of the changes and information detailed above will be the same for the T-Mobile LG G3, but we can't say for sure. When it does start finally arriving next week for owners we'll know for sure, and T-Mobile typically posts changelogs over at its user support forums.
Users will be able to enjoy tons of new features, an improved look, Wi-Fi calling and VoLTE (HD Voice) calling and more as part of the software update. Give it a try today, or wait for it to arrive automatically come April 7th.

As an Amazon Associate I earn from qualifying purchases.